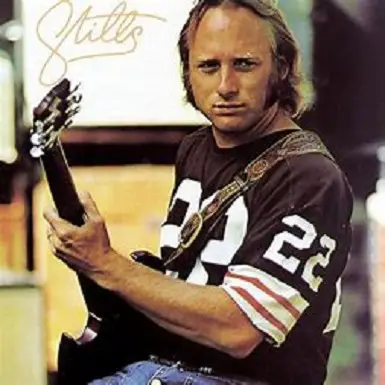 By 1975 there is a sense that Stephen Stills has reached something of a crossroads.
Several months on from the extravagant, at times ego-riven 'resumption' tour of folk-rock supergroup Crosby, Stills, Nash & Young (their first performances as a quartet since 1970), this jaunt across the United States in the summer of 1974 saw them fill stadiums from one coast to the other.
But plans for the album that had also been part of the CSNY reunion remit had by now been shelved, personality clashes and alternative agendas sending Crosby and Nash back to their two-together comfort space, while Young had continued serving his solo career anyway, releasing the brilliant 'On the Beach' during the tour with the equally gripping 'Tonight's the Night' about to see the light of day.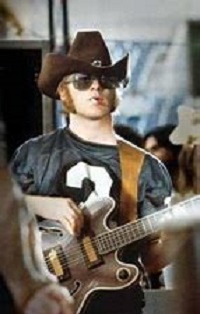 Stills on the other hand, an inventive guitarist and accomplished songwriter, had not released an album of new material bearing his name since 'Down the Road' (April 1973). The second offering from an impressive group of players main man Stills gathered around him who collectively were named 'Manassas,' this follow-up to their sublime 1972 self-titled debut set had its moments without ever reaching the lofty heights of its double-album predecessor.
Indeed, to find an LP with just his name on the sleeve meant going back to June 1971 and 'Stephen Stills II' an eclectic, sometimes erratic collection that much like the 'Manassas' sequence was enjoyable but not in the same class as the record that precedes it. His debut solo work 'Stephen Stills' (November 1970) proved a defining album of the era and one enhancing Stills' reputation as a major talent – forged through his contributions first to seminal LA folk-rockers Buffalo Springfield, then Crosby, Stills & Nash, following on into their extended line-up with Young.
The notion of Stills standing at a new threshold was further emphasized by him having just signed a new solo contract with CBS/Columbia, who undaunted by his recent studio activity, signed the Dallas-born thirty year-old to a three album deal – the first release to emerge from this arrangement being 'STILLS' in the summer of 1975.
Like much of Stephen Stills' solo catalogue to date it would incorporate the mix of rock, soul and blues that had become his trademark, yet for all its undoubted high spots would leave the impression an even better album was lurking just below the surface. Infinitely superior to the two LPs he would subsequently record for CBS – 'Illegal Stills' (1976) and 'Thoroughfare Gap' (1978) – 'Stills' contains some strong material, arguably his last of such consistency, leaving an overriding feeling of frustration at a good LP that could, indeed should, have been great.
Featuring eleven Stills' originals and a Neil Young cover, the overall cohesion is impaired by production duties being shared between three different parties, (Stills himself, Bill Halverson and the Albert brothers), with one track resurrected virtually intact from sessions that took place in 1971. Another, according to the artist, 'sat for four years before it was recorded' while 'Shuffle Just as Bad' on side two was revived from material omitted from the second 'Manassas' album.
The personnel involved also reflect different stages of how Stills has spent the past few years. At various junctures members of 'Manassas', musicians from his current touring band, L.A. session stalwarts Leland Sklar (bass) and Russ Kunkel (found at the drums on the '74 CSNY tour) all make appearances along with Crosby and Nash and a yesteryear contribution from Ringo Starr – although the most prominent sideman is guitarist/harmony singer Donnie Dacus, who takes the second-in-command brief that had been the position of former-Byrd Chris Hillman in 'Manassas.'
Dacus receives an immediate co-write credit on opening cut 'Turn Back the Pages,' one in a number of tracks that find Stills in contemplative mood. While sometimes content and at other moments conflicted, he never sounds quite as angst-ridden and for that matter antagonistic as contemporaries Young ('Tonight's the Night') or Pete Townshend ('The Who By Numbers') on albums featuring their songs in the same year.
Always capable of writing an engaging hook Stills sets up the song in soulful manner, his opening words ('I thought I knew you/But didn't know myself'), portraying confusion, but in the main body of the piece such thoughts have been replaced by more assertive statements:
'Turn back the pages/Who remembers names, who remembers faces/Turn back, don't drive yourself crazy/Life is too short for repetitious changes.'
With its changes of pace and melodic shifts it is unmistakably Stills (who also plays an impressive guitar solo) falling as it does somewhere between what he had done with Manassas and where L.A. rock/soul combo Little Feat currently stood – the track not only a solid introductory offering, but also serving in restoring him to the US singles charts.
If the first-up song evokes one Los Angeles based band of the era, then 'My Favorite Changes' which immediately follows brings to mind another – the guitar-licks, performed by Stills, not dissimilar to those of 'Life in the Fast Lane' although it predates the Eagles song by over 12 months.
While the changes referred to in the title are those of a musical variety (chord progressions in other words), in a song about the process of songwriting, Stills comes up with lines that look back but also comments on where life has lead him. Referring to his pregnant wife, Stills at the time was married to French singer-songwriter Veronique Sanson whose best known song, 'Amoureuse' was a 1973 UK hit for Kiki Dee, the composer seems both exalted and fearful of their circumstances:
'And this part reminds me of my lady, she loves me, she's waitin' at home/And the baby she's making, I tell you its frightening how she trusts me so.'
Despite the undeniable charm of this polished mid-temp rock track, Stills sending a message to someone from the past ('If you're still listening I hope you remember the kid with the big white guitar and sad stories to tell') and jotting down a cheeky memo to self, ('Here I stand tryin' so hard to find one more clever line for this song of mine'), the piece was not to the liking of everyone – noted New York rock scribe Robert Christgau, in a scathing review of the LP, saving most of his vitriol for this track which he described as 'pathetic.'
Rarely in favour among a section of the music press, even during his early-70s purple patch, (Young on the other hand feted no matter how eccentric his output), Stills appeared to generate resentment for his abundant talent rather than absence of it, although being so assured in his own ability probably didn't help – that said, 'pathetic' was completely over the top and for the record, plain wrong.
Written in conjunction with Dallas Taylor, the long serving drummer having worked with CSN/CSNY and with Stills at every stage of his solo career, 'My Angel' is a nicely constructed piece built on layers of keyboards all performed by Stills. Taylor and ex-Manassas percussionist Joe Lala also make their mark on a track that frequently appeared in the CSNY set list of the previous year, when the jazz overtones were more prevalent.
To a large extent 'In the Way' is another virtual solo performance (former Joe Walsh sideman Kenny Passerelli doing the honours on bass) and with him, Dacus and ex-Flying Burrito Brother Rick Roberts adding strength to the background vocals it is not hard to imagine the piece as a vehicle for CSN – particularly when the voices merge on the line, 'Think about tomorrow like it was today/Leave you only sorrow, feelin' lost, in the way.'
For 'Love Story' Stills enlists the stellar rhythm section of Sklar and Kunkel, again playing a variety of keyboards himself on a sad, often poignant lament in which he describes an encounter with a woman after their paths cross in the street. Depicting their time together in brief, almost cinematic detail, Stills describes his own state of mind as, 'Help me I need somebody gentle to love me/My life is a miserable comedy of strangers posing as friends/I know they don't know who I am.'
This somewhat downbeat outlook is not far removed from some of his musing on 'Stephen Stills II' ('Open Secret' being one), which is perhaps not a surprise as the song dates from that period, Stills revealing this fact in the sleeve notes. Such is the excellent musicianship and moving vocal, however, it is hard to imagine how it could have been better performed in the intervening time.
In contrast to his sombre mood there, 'To Mama from Christopher and the Old Man' finds him positively jaunty, life moving on to the point where his wife has given birth to a son (named Christopher), the sentiments those of a man in ebullient frame of mind.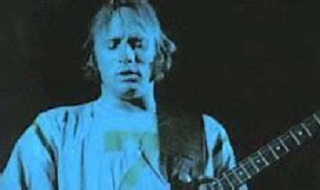 Using only touring band drummer Tubby Ziegler for musical support, the piece has the same upbeat, engaging quality of 'Johnny's Garden' from the Manassas debut, Stills utilizing acoustic and electric guitars in singing of the delights, but also self-doubts brought on by fatherhood:
'Christopher's watching me carefully now/Wonderin' who I am, listenin' to the sound/He knows the best and worst of me now/I don't think I could go on if I let him down.'
In opening side two 'First Things First' was familiar to those who had thronged to the CSNY shows, being another song Stills had debuted on the tour, the studio backing vocals of Crosby and Nash planting a fine song firmly in their domain – offering food for thought on just how good a 1975 CSN album would have been with tracks of this quality and the best material from the largely impressive 'Wind on the Water' offering of Crosby and Nash.
The overall smoothness gives it the feel of a James Taylor recording of the time, thoughts of what might have been never more prevalent when his erstwhile bandmates join him for the lines, 'And I know the price of freedom is gettin' more than a little high/In these angry days of sorrow/We find the meaning of a lie.'
His take on 'New Mama' gives the album some of its hardest rocking moments, Stills doing a good job on one of those chunky, two verse Neil Young guitar songs, (this one also based on the vagaries of parenthood), that sometimes feel they could have done with a third – but 'As I Come of Age' contains no such ambiguity, Stills having the basic track of this piece up his sleeve since 1971.
Another song cut in London at the 'Stephen Stills II' sessions – Ringo doing a typically dependable turn on drums – there is no surprise in hearing him compose such an excellent autobiographical ballad, just wonder at Stills choosing to keep it in his vault all this time. Penciled in as the working title of the album, to its original form he adds organ and bass, Dacus a guitar solo with Crosby and Nash called up to provide harmonies.
Had a proposed CSNY album materialized, the song would have been an obvious inclusion and in being omitted from successive Manassas albums one wonders that if that was Stills' intention before finally using it himself.
If one of his erstwhile ensembles were indeed earmarked for that track, then 'Shuffle Just as Bad' had already been tried by Manassas only to be deemed surplus to 'Down the Road.'
Which proved a shame as their version (cut as 'Fit to be Tied'), would have improved that record, giving full reign to the blues/rock element that outfit were able to conjure at any given moment. Here Stills tones down the blues inflections, although his fluid guitar work meshes effectively with some excellent organ fills from Jerry Aiello, someone already ofay with the song having guested at sessions for the second Manassas album.
As the title suggests 'Cold Cold World' (co-written with Dacus), finds Stills making some terse observations on a situation clearly causing him despair – the focus of his ire a disintegrating friendship in which he casts himself as the injured party. On a brooding track where the prominent role is given over to Aiello on piano and organ, Stills saves his most pained vocal for the lines:
'Feel like dirt, they've taken my pride/And what's worse I've been so betrayed/And it hurts, it hurts you deep down inside/It's a cold world, when it's your friends.'
Piano is also to the fore on closing cut 'Myth of Sisyphus,' Stills and James Gang drummer Jimmy Fox the only musicians to be credited as the album ends in a quiet, somewhat disquieting manner – the writer alluding to unhappiness affecting his wife, 'Are you mad with heartache/Got a country house and you a Parisienne,' and a life not without its tribulations, irrespective of being a famous rock star:
'Cos everything, including you, is on the line.'
Performed at several shows on the CSNY '74 tour, (in Greek mythology 'Sisyphus' was symbolic of continuing a futile struggle, sadly prophetic in regard to Stills and Sanson who would divorce in 1980), 'Myth of Sisyphus' showed just how adept Stills continued to be in writing concise, affecting songs – yet when the album was released even work of this stature could not stave off reviews (Christgau aside) that at best were mixed.
Even less flattering was a 1978 appraisal in the Rolling Stone Record Guide that lumped 'Stills' in with 'Illegal Stills' and 'Thoroughfare Gap' which collectively they describe as: 'garbage, the relic of a burnt-out career.'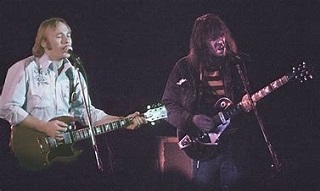 Undeterred by his low standing among reviewers, Stills, as we know, carried on making solo albums and also found time to join forces with Young for the disappointing 'Long May You Run' set (1976), before being heard to much better effect with Crosby and Nash on their pleasing 'CSN' album of the following year.
All of which fails to banish the air of frustration that hovers above 'Stills.' His last solo album to enter the US Top 20, Music Week declared in their review that 'nobody plays laid-back West Coast music better' while the initial reaction of Rolling Stone included the opinion it was 'a concerted effort at candid expression, but with only middling results.'
Renowned CSNY biographer Johnny Rogan later announced 'Stills' as 'an exceptional set of songs which he would struggle to equal on later recordings' – but even praise such as that cannot dislodge the thought that had Stills gone into the studio with one producer, a designated support band and clear sense of purpose, a mid-70s masterpiece should have been within his grasp.
In looking for reasons why the album failed to maximize its potential, ultimately the best explanation came from the man at the centre of it all.
'I short circuited there for a while,' Stills later said, reflecting on this period of his career, 'too much drinking, too many drugs. What can I say.'
STEPHEN STILLS – STILLS (released June 23 1975):
Turn Back the Pages/My Favorite Changes/My Angel/In the Way/To Mama from Christopher and the Old Man/First Things First/New Mama/As I Come of Age/Shuffle Just as Bad/Cold Cold World/Myth of Sisyphus;
Hello – hope you enjoyed another exclusive production from SAMTIMONIOUS.com
In order to create the best experience for when you drop by to read a page or two, those with the power to ordain such things (me, actually), have decided to remove all external advertising from the site – in other words articles will no longer be subject to intrusive pop-up ads. BUT – and ain't there always one – should you wish to make a donation toward the on-costs of the most entertaining and original blog-site around, please press on the – 'DONATE' – button below. It will be greatly appreciated.
Stay safe everyone and thanks for dropping by – best wishes Neil
SAMTIMONIOUS.com – films, football and fabulous music at The Dominion of Opinion
NEIL SAMBROOK is the author of 'MONTY'S DOUBLE' – an acclaimed thriller available as an Amazon Kindle book.