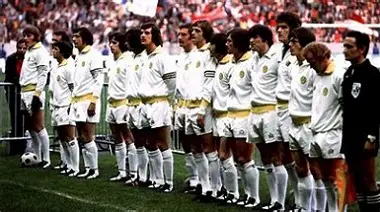 Given it was the year they were relegated to Division Two you could be forgiven in thinking the quote '1974 didn't really happen did it?' would have originated from a Manchester United source.
Forgiven, but in fact wrong (many United followers expressing their thoughts on the matter in much stronger terms), the comment was actually made by Jimmy Page, virtuoso guitarist of 70s rock titans Led Zeppelin. After taking flak for their fitful 1973 release 'Houses of the Holy' (negative critical reaction having no effect on gargantuan sales), the most successful band of the era spent much of 1974 keeping a low profile after their detractors, in football parlance, had gone in with both feet – Led Zep forever destined to have an uneasy relationship with the music press.
While they were never likely to lose their status as a top division rock act, there was a distant parallel with Manchester United. If followers of other major bands, say The Who and the Rolling Stones, (encouraged perhaps by Pete Townshend and Keith Richards who never hid their antipathy toward Zeppelin), were laughing up their sleeves at Page and co being brought down a peg or two, similar glee was apparent among supporters of their rivals at the fall from grace happening at Old Trafford.
That said, without them the top level of English football had a curious look as the 1974-75 season began, things becoming no less strange as the most peculiar campaign of the decade unfolded. If an opening day fixture list that had newly-promoted Carlisle United visiting Chelsea while across London Tommy Docherty's relegated Reds made the Division Two trek to Orient was hard to fathom, things had already taken on a sense of the unreal with Brian Clough appointed manager of champions Leeds United – a team whose sometimes belligerent methods he had often been quick to criticize.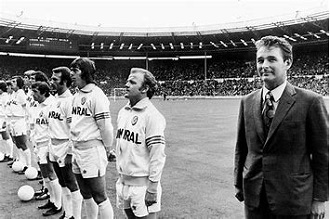 Few expected the Elland Road transition from Don Revie, who had departed to become manager of England, to Clough would go forth without hitch, although most would have envisaged his tenure lasting more than 44 days.
It was, however, still time enough to include a bizarre Charity Shield curtain-raiser when FA Cup holders Liverpool beat Leeds in a penalty shoot-out – this after a stunned Wembley crowd had seen Kevin Keegan and Billy Bremner sent-off for fighting, each player then performing the eccentric ritual of discarding their shirts as they headed to the tunnel. The FA, viewing the act as bare-chested effrontery, imposed lengthy suspensions on each player.
Indeed, crimes and misdemeanors surrounding Leeds United were to bookend the season. In the space of ten extraordinary, at times inexplicable months, they shared in the Charity Shield contretemps, quickly curtailed the managerial stay of Clough and experienced their most disjointed league campaign in years – but under the guidance of former Blackpool and England full-back Jimmy Armfield, an experienced, close-knit group of players went on to reach the European Cup Final.
But on a contentious, ultimately calamitous night they were beaten in controversial fashion by West German champions Bayern Munich – defeat greeted by widespread disorder by some Leeds supporters who rioted in the stadium and surrounding streets.
For the second season running the prestige of a European final had been marred by a hooligan element among the support of an English club, the spectre of crowd trouble now, sadly, a weekly feature of the domestic game and while a fracas on the terraces was commonplace, the game itself had developed a sense of mid-decade inertia.
Under new boss Revie, the England team had recovered a little of the ground lost in failing to qualify for the 1974 World Cup, signs of modest progress evident in a couple of noteworthy victories during his first twelve months in situ – although overall judgement for many would be reserved until qualification (or not) for the 1976 European Championships had been secured.
At club level, due to managerial changes or depreciation in playing strength, (sometimes both), a number of early-70s strong-armers left trophy territory for limbo land – hence a claustrophobic, strangely convoluted title race that saw Derby County land their second championship in four seasons and surprise winners of both the FA and League Cup.
Indeed, as one challenger after another failed to hold their nerve in chasing down the League Championship, the football displaying the greatest flair was found downstairs in Division Two where Manchester United whizzed to promotion on the back of numerous attacking performances.
In the same week in early March 1975 when Cardiff City became the latest side to be ripped apart at Old Trafford, some reviewers were writing in glowing terms of a new (double) album entitled 'Physical Graffiti.'
For Manchester United and Led Zeppelin parts of 1974 might not have been up to much – but 1975 was definitely happening.
TWENTY GREAT GAMES of 1974-75:
MANCHESTER UNITED 3 SUNDERLAND 2 – (Division Two) 30/11/1974:
In all its goalmouth glory, this enthralling encounter is lasting proof of just how dynamic, perplexing and downright exciting English football often was during 1970s. At a time when the national team were looking for a sense of direction, the domestic game, for all its terrace travails, was able to conjure drama of the highest order – emphasized by a magnificent match where levels of skill and excitement completely belie two teams of second division status.
That a pair of Division Two sides could produce such a gripping fixture was not only testament to the strength of the Football League – but also begged the question of what two accomplished teams were doing outside the top flight to begin with.
Indeed, Manchester United after being relegated the previous season, made an immediate return to the top tier although Sunderland, despite being promotion contenders for the most of the campaign, needed another 12 months before making the climb – but at Old Trafford on an afternoon when winter was just around the corner there was little to chose between them, United winning by the odd-goal in five after scoring first, but trailing 2-1 at half-time.
Within 90 seconds of Stuart Pearson firing the home side into an 11th minute, Sunderland have hit back with two goals from Billy Hughes – the second resulting from glorious interchange of passes with Bryan 'Pop' Robson.
During 45 minutes of unrelenting ebb and flow Lou Macari goes close to levelling, United indebted Alex Stepney for keeping them in the contest when he denies Hughes a hat-trick, Sunderland, if anything, prompted by a superb range of passing from Tony Towers, more likely to score again.
But with no let-up in the intensity it is United who strike first after half-time, Willie Morgan on hand to steer home a Pearson cross, Old Trafford then sent into rapture when Sammy McIlroy fires in what proves the winner. Football matches of this magnitude are generally thought to be once a season affairs – but due to the dynamic style Manchester United had adopted another was always looming on the horizon………….
SHEFFIELD WEDNESDAY 4 MANCHESTER UNITED 4 – (Division Two) 7/12/1974:
Seven days after their epic against Sunderland, Manchester United and thousands of their followers crossed the Pennines to Hillsborough where a fixture of equal enthralment ensued.
In some respects this match had a bigger bearing on the season for United than the one a week before. During a remarkable first half, United take the lead through full-back Stewart Houston, lose central defender Jim Holton with a serious leg injury, (the Scottish international would not play again all season and forced into a defensive rethink, Docherty would adopt slightly more caution thereafter), but reach half-time trailing 3-1 as Wednesday, with goals from David Sunley, Colin Harvey and Bernard Shaw, make light of their modest league position.
After the break United stay on a course of all-out attack, Plan A producing goals for Macari and Pearson – but with adventure rather than composure being the order of things, Sunley exploits a gap as Wednesday regain the lead. With a last hurl of dice the visitors go all out to draw level, an outbreak of penalty box pinball ending with Macari shooting through a crowd of players to equalise.
The upshot of a match where both sides looked equally adept at attacking but inept in defence was United sustaining their promotion bid, although from now on with greater defensive diligence. As for Wednesday no such lessons were heeded and by the time Old Trafford knew top flight football was back on the cards, Hillsborough was also gearing up for leaving Division Two – The Owls relegated with a fortnight of the season left.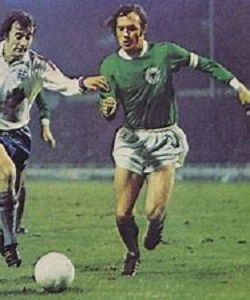 ENGLAND 2 WEST GERMANY 0 – (International Friendly) 12/3/1975: Eight months into what would prove a three year tenure as England manager comes the undoubted highlight of the frustrating, ultimately fractious reign of Don Revie.
True, it is a friendly and the reigning World Champions at times look a couple of degrees below boiling point, but that is not to pour cold water on a fluid England display. The springboard is midfield domination by the trio of Alan Ball, Colin Bell and Alan Hudson, who play with positivity, control and, in the case of Stoke man Hudson, notable flair – the Germans clearly wrong-footed by the notion of a modern play-maker being utilised by England.
With good players playing in their rightful positions England look an assured, well-balanced team. It would be overstating the case to say West Germany are as nonplussed as England were when beaten by the same opposition at Wembley in a European Championship quarter-final three years before, yet on this occasion it is the home side who look inventive and quick on the uptake.
They receive a stroke of luck when Bell opens the scoring midway through the first-half, his close range effort deflecting past German goalkeeper Sepp Maier off a defender, but the second just after the hour owes nothing to good fortune. England captain Ball is sent away down the flank by a quickly taken free-kick from where he delivers an immaculate cross to the far post – where Newcastle centre-forward Malcolm MacDonald is waiting to head home.
Back in 1967, the last time the World Champion team were beaten at Wembley, the victors claimed the title for themselves. Nothing so fanciful was proclaimed in the aftermath of this triumph, although England were rightly praised for playing with such attacking conviction.
But what looked promising in Spring was faltering by Autumn, Hudson and Ball already discarded as Revie reverted to caution in trying to sure up European Championship qualification – failure to qualify the price of his diffidence.
STOKE CITY 4 MANCHESTER CITY 0 – 1/2/1975:
At a time when it did not pay to turn up at the Victoria Ground without application or in the wrong frame of mind, Manchester City look guilty of both in this Potteries pummelling.
Often formidable on their own patch, City were experiencing a season of woeful away form – bottom of the table Carlisle won more matches on their travels – and with Alan Hudson pulling the strings for a Stoke side with title aspirations, the visitors are sent back up the M6 with another away day drubbing to contemplate, having already been thumped at Highbury, St. Andrews and Anfield.
In comparison to the way City defenders appear to be wading through treacle Hudson darts across the quagmire surface, drifting wide to supply the cross from which Ian Moores heads Stoke in front on the stroke of half-time, scoring the second with a precise low drive shortly after the break. Moores is on target again as the away side sink further into a Boothen bog – things wrapped up when Geoff Hurst, not for the the first time in his lengthy career, is found bearing down on goal with only seconds to play.
The people on (and off) the pitch knew it was all over – even before the former England striker once again scores with a rising shot.
ENGLAND 5 v SCOTLAND 1 – Home International 24/5/1975:
Still unbeaten under Don Revie and in credit with the critics following the impressive 2-0 Wembley defeat of World Champions West Germany three months earlier, old foes Scotland came looking to end the honeymoon with their first win beneath the Twin Towers since their elevation to 'World Champions' eight years before.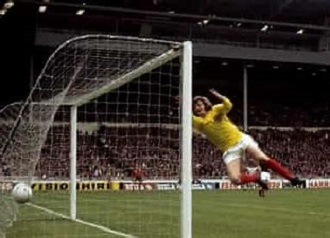 But any thoughts of reclaiming the crown by beating the team who beat those currently holding the 'best in the world' title were in tatters inside ten minutes – by which time England, in sparkling form, are two up through Gerry Francis and Kevin Beattie.
After being humbled at Hampden 12 months earlier and flattered by the 2-0 margin of defeat, England show no signs of letting the visitors off so lightly. Colin Bell scores on 40 minutes in taking things ever closer to a rout – a suspicion of the East Germany referee feeling sorry for Scotland coming on the stroke of half-time when from the award of a generous penalty Bruce Rioch reduces the arrears.
After the break Francis again and David Johnson are on target before England declare on posting their biggest Wembley total against Scotland since the 9-3 of 1961. Afterwards skipper Alan Ball, a veteran of the 3-2 1967 reversal tells his victorious team-mates, 'that's as good as it gets' – a somewhat prophetic remark in view of the World Cup winner having unknowingly just played his last international and England not defeating Scotland again until 1978, a year in which they and not England would be playing in the World Cup finals.
ARSENAL 0 WEST HAM UNITED 2 – (FA Cup quarter-final) 8/3/1975:
Despite no further trophies coming their way after the halcyon double days of 1970-71, in the two seasons that followed Arsenal remained a significant league and cup threat. But a modest 1973-74 showing gave indication things were not as they once were, the current Division One campaign also providing little for the North Bank to engage with.
But an FA Cup quarter-final home draw was nothing to be sniffed at, particularly as visiting West Ham were competent mid-table merchants and no more. On Highbury turf showing the consistency of a sodden cabbage patch Arsenal see the chance for glory slither out of sight (if there are instances of the ball turning its circumference, the accepted method of deciding whether a pitch was playable, they are not in the highlights), the conditions, as they rarely do these days, make pitch practicalities part of the game plan – in other words play positive and forward.
For all the slipping and sliding of the home side in trying to move the ball, it is West Ham who come out best in turning the circumstances to their advantage. In closing down Arsenal attempts to play their way downfield they force errors, young striker Alan Taylor managing to stay upright in a penalty box of skating rink proportion to score at close range.
In the second half Arsenal have their moments but once again it is West Ham who find a way to truly master the mud – Trevor Brooking finding just enough grass from where he can deliver a perfect pass into the path of Taylor who advances to fire home.
Signed from fourth division Rochdale earlier in the season, Taylor would repeat the feat of scoring twice in both the semi-final and final as West Ham went on to win the FA Cup – and lift their first major honour in eleven years.
WOLVES 7 CHELSEA 1 – 15/3/1975:
There was a strong sense of symmetry attached to this mid-decade March afternoon. In the preceding years both clubs had reached a European Final, lifted a domestic honour apiece (Chelsea also winning the Cup Winners' Cup) and won no shortage of plaudits for their stylish play, but never enough points to make a serious title challenge.
But by the Spring of 1975 it was starting to look strangely precarious. Wolves had basked a little too long in their 1974 League Cup glory, the glitz factor down at the Bridge severely reduced by the departures of star-turns Peter Osgood and Alan Hudson – suitable replacements still not found twelve months after their exits.
On the other hand the only thing symmetrical about Chelsea on their visit to Molineux was a defence going around in circles as Wolves picked them apart at will. While the first half was closer than the 3-1 interval scoreline suggests, Chelsea collapsed on conceding a fourth – the game becoming a procession toward their goal as the spectre of relegation begins to loom, even for a team with a host of experienced players.
In the event Chelsea did go down, while Wolves for their part, continued to score plenty and concede too many in recording another mid-table finish – the worrying portents going ignored as 1975-76 turned into a relegation battle they were unable to win.
Indeed, the next time Chelsea visited Molineux it was for a top of the table encounter – and in sharing the points from a 1-1 draw in May 1977, Wolves secured the second division title with the visitors taking what they needed to clinch promotion back to the top flight.
LEEDS UNITED 2 BARCELONA 1 – (European Cup semi-final first-leg) 9/4/1975:
Arriving as they did with Dutch masters Cruyff and Neeskens in their ranks and capacity to mix it when necessary, there was perhaps only one thing Barcelona had not factored into the planning – namely, nobody had gone to the Elland Road in the past ten years and taken liberties. Anything the Spanish giants could come up with in terms of dash and devilment, Leeds, even in their first, somewhat traumatic, post Don Revie season, were well capable of matching.
With abrasive centre-forward Joe Jordan posing the kind of aerial threat to which the visitors were unaccustomed, the Scottish striker needed only ten minutes to create havoc – his downward header falling to Billy Bremner, whose prowess as a finisher was the most overlooked aspect of his game, the Leeds skipper firing home smartly from eight yards.
Despite dominating a tense, frequently tempestuous contest, Leeds pay for not increasing the lead when Manuel Asensi drives home a 66th minute free-kick, although Barca can only maintain parity for twelve minutes – Allan Clarke pouncing to score in customary fashion after Jordan had once more done the heavy lifting.
Given Barcelona were content with having an away goal and Leeds relieved if not relaxed at having a lead for the trip to Spain, the Nou Camp second leg promised to be a night of nerve-jangling, cliff-hanging proportion…………..
BARCELONA 1 LEEDS UNITED 1 – (European Cup semi-final second-leg) 23/4/1975:
Even in the long reign of Don Revie, there had not been such a challenge for Leeds United – hopes of reaching the European Cup Final resting on keeping a clean sheet or scoring at least one in the Catalan capital.
The second part of that equation comes to pass after just seven minutes when Jordan again serves as provider, creating the opening that allows Peter Lorimer to score with a crisp drive. In the face of a desperate home side who want to respond quickly, while at the same time having players who want to referee as well as play, Leeds, while not taking a backward step, show a nice line in defiant composure – the seen-it-all-before brigade seeing them safely through to half-time.
As their resistance and temperament continues to receive a stern examination, goalkeeper David Stewart shows his mettle with a number of brave saves, the visitors holding out until the 69th minute when a headed goal from Manuel Clares give Barcelona renewed hope. Their chances of a spectacular comeback improve further ninety seconds later when Leeds are reduced to ten men with the sending off of Gordon McQueen – the Scottish central defender shown a red card for giving scorer Clares a retaliatory slap after the two had contested a high ball.
Now having to display even greater resolve in keeping the home side at bay, Leeds find the collective and tactical discipline they need, Stewart emphasising their all-round determination in throwing himself bravely at the feet of Cryuff in deflecting the ball to safely. Their professionalism, particularly when down to ten men through the last twenty minutes, capped not only the greatest night in the history of Leeds United, but amounted to the best display by an English club in Europe the decade had so far produced.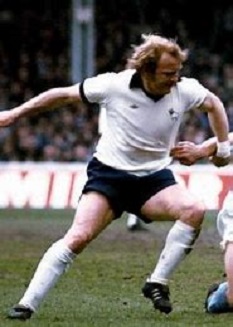 MANCHESTER CITY 1 DERBY COUNTY 2 – 28/12/1974:
Due to the high media profile of Malcolm Allison and Brian Clough during the early 70s (and associated glory of winning trophies), in the wake of both leaving their jobs, each club, on the face of it at least, were still finding their way through the aftermath.
City were on their third full-time boss since the Spring 1973 departure of Allison (one of whom, Ron Saunders, had guided them to the 1974 League Cup Final but resigned soon after), former captain Tony Book now six months at the helm after retiring as a player.
In the opposite dug-out was Dave Mackay who had played under Clough at Derby before returning to the Baseball Ground to succeed him – the connection between them other than managing clubs they had both each served as players was sharing the 1969 Footballer of the Year Award, the only time the honour has been jointly won.
Among the signings Mackay had so far made was that of former Maine Road favourite Francis Lee, the ex-England striker disappointed at being allowed to leave the club for whom he had performed with such distinction – his return, to use words uttered by BBC match commentator Barry Davies proving 'interesting…….very interesting.'
Ahead at half-time due to a sweetly struck shot from midfielder Henry Newton, Derby, who among the title-chasers would best hold their nerve through the coming months, were pegged back on the hour by an example of the incisive finishing that had long since been the trademark of Colin Bell.
But shortly afterwards Lee found himself in possession twenty five yards out, his advance towards the City goal noted with interest by Davies – the subsequent twenty yard drive that flies into the net sending the player and commentator into rapture, the BBC man imploring viewers to 'look at his face, just look at his face.'
On our television screens Lee, with arms aloft, was smiling broadly. Not for him keeping emotion under control in scoring against his former club, personal triumph turning to collective success in his goal winning the match – triumph in the longer term arriving four months later when Lee picked up a League Championship winners medal with Derby, adding to the one collected with City seven years before.
EVERTON 1 FULHAM 2 – (FA Cup fifth round) 15/2/1975:
And there we were, those of us who live beyond the land of Evertonia, thinking all the antipathy toward Welsh referee Clive Thomas was based purely on a hugely contentious decision in the 1977 all-Merseyside FA Cup semi-final, when he disallowed what looked a legitimate Everton winner. Wrong.
True, their shock FA Cup fifth round defeat at home to second division Fulham is not all down to the Treorchy 'traumitiser' (which might not be an actual word, but then again there is not another referee of the era who courted controversy like Thomas), but his decision to rule out a Mick Lyons goal that would have put Everton 2-1 up is nigh-on inexplicable – most of the near 46,000 inside Goodison Park and Granada TV commentator Gerald Sinstadt baffled as to what infringement has taken place.
Just a few minutes before centre-half Roger Kenyon has headed the home side level after Viv Busby had given the Londoners a first half lead, momentum clearly with the Toffees as the last quarter hour approached.
Just as bewildering however – and leaving Sinstadt equally indignant – is Thomas stepping in to rule out a second Fulham goal midway through the first half when he adjudges Jimmy Conway to be offside. Conway is clearly beyond the Everton defence when he scores, but the call is undoubtedly wrong as the winger is played onside by the ball being played last by a defender – the referee reacting to what he thinks has happened with the forward being in yards of space, rather than being aware of what has actually taken place.
Ultimately it does not matter to Fulham for whom Busby scores again late on as they claim a famous victory from a contest that is already their eighth FA Cup tie of the season (and it is only round five). Their number including former England internationals Bobby Moore and Alan Mullery (named 'Footballer of the Year' a couple of months later), the Craven Cottage outfit going on to play 11 FA Cup matches that season, the last of which is a 2-0 defeat against West Ham in the final.
After tumbling out of the FA Cup, Everton, currently sitting top of Division One, embarked on a five match unbeaten run, their league title challenge faltering with defeats against two of the bottom of the three in the final straight. Two seasons later and a few weeks after losing in the League Cup Final to Aston Villa, for a few brief seconds salvation beckons when Bryan Hamilton scores at the lost knockings to apparently decide a last-four FA Cup meeting against Liverpool – only for Mr. Thomas to intervene again.
ASTON VILLA 2 MANCHESTER UNITED 0 – (Division Two) 22/2/1975:
While the first division title race was proving contrary and confused, in Division Two things were much more clearly defined, these two Villa Park protagonists already well ahead of the field.
In front of a near 41,000 crowd the home side strike hard and early, winger Ray Graydon scoring his 23rd goal of the season after just five minutes, with the lead quickly extended from an unlikely source – long-serving full-back Charlie Aitken netting with a powerful header to put Villa firmly in command.
The match seen through to a win that not only enhances their promotion bid, for Villa it also serves as the perfect platform for their imminent League Cup Final meeting with fellow Division One aspirants Norwich City.
Seven days later they duly triumph at Wembley and from there continue on in a rich vein of form that would see them win ten of their last twelve league games. Despite this impressive run of results it was still not enough to take the title, that accolade going to Old Trafford with Villa finishing second. Galvanised by the Villa Park defeat, United went unbeaten through their last eleven games (winning eight) to become champions by a three point margin – the third promotion spot taken by League Cup runners-up Norwich.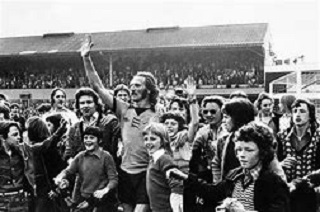 WOLVES 1 LEEDS UNITED 1 – 26/4/1975:
While in some respects an old-fashioned end of season affair, each club floating around in calm mid-table waters, the bigger picture shows the end of an era is nigh for both.
In the final match of a campaign full of fits and starts, the curtain falls not just on the past nine months where Wolves are concerned, but on the eight year Molineux career of charismatic Northen Ireland striker Derek Dougan, whose second half cameo as a substitute following an injury hit season would be his last twenty five minutes of league football – 'the Doog' having already stated his intention to retire from the professional game at the end of 1974-75.
His arrival at Wolves coinciding with their return to Division One in 1967, through the seasons that followed Dougan had been a talisman in the old gold, not just through the regularity of his goal-scoring and immensely productive partnership with the prolific John Richards, but status throughout the game as a media figure, occasional brushes with the football authorities, yet above all a player who drew people to football grounds – the game as a whole and Wolves in particular, they would be relegated the following season, poorer without him.
Before Dougan made his entry, Richards had put Wolves ahead against a Leeds side, who three days before had clinched a place in the European Cup Final with a monumental performance at the Nou Camp. In a time long before squad rotation, the visitors field practically an unchanged team from the one who drew with Barcelona, their renown for being resolute evident when they rouse themselves to level through Frankie Gray.
48 hours later, however, a trip to White Hart Lane exposes obvious fatigue, a 4-2 win for Spurs preserving their first division status at the expense of Luton Town – the forthcoming showdown with Bayern Munich representing the last chance for a group of players who have often been declared the best team in Europe, to finally substantiate the claim.
SPURS 2 CHELSEA 0 – 19/4/1975:
As a yardstick for changes that had occurred and were continuing to unfold as English football advanced through the 70s, this mid-decade London derby offers plenty of insight with regard to the current state of play.
In a relatively short time the stock of both clubs has fallen significantly, so much so the fixture is a meeting of two sides embroiled in a desperate relegation fight – the term used loosely given the on-pitch clashes between rival hooligans prior to kick off, the violence, captured by television cameras, leaving nobody in any doubt as to a problem growing in severity.
As for the match it is a fractious, frantic affair, the highlights a strangely compelling watch, ITV commentator Brian Moore describing it as 'the most important meeting ever between the two clubs.' The tension is evident in some crashing tackles, but nothing 1974 World Cup Final referee Jack Taylor cannot handle.
Fielding a surprisingly inexperienced line-up for such a vital fixture, Chelsea have the better of a tense first half, Pat Jennings twice saving Spurs with top drawer saves. With only one win in nine going into the game, the greater onus is on the visitors, but they are rocked when Steve Perryman scores at close range to put Spurs ahead, the lead extended when Scottish midfielder Alfie Conn drives in the second. Although though they still have two games left, Chelsea have the look of a side who know the cliff edge has just come noticeably closer, failure to win either of their coming matches sending them to the rocks below.
Despite a North London derby defeat seven days later, Tottenham manage to win in their final game of the season against a Leeds side preoccupied with an imminent European Cup Final to preserve their top flight status – staying up with 34 points, one more than Luton Town and Chelsea, who are consigned to Division Two along with bottom of the table Carlisle United.
CHELSEA 0 CARLISLE UNITED 2 – 17/8/1974:
As a Division One fixture the strangest to appear on the pools coupon so far in the 1970s. Stamford Bridge, so long the place where a swaggering home side took on hoi polloi visitors in front of a Directors Box populated by film star fans, now playing host to newly promoted Carlisle United, a team of low budget interlopers who had somehow arrived on the main stage of English football.
The marked difference between the two clubs, in perceived wealth at least, is reflected in the £225,000 Chelsea had just paid for Celtic and Scotland midfielder David Hay – the debutant, even at 1974 prices, costing more than the entire team being fielded by the Cumbrians.
But as was so often the case in 70s football (and this season in particular), things are not quite what they seem. Chelsea, already starting to skate on financial thin ice, open the season gripped by paralysis on and off the pitch – week after week of fitful displays resulting in an ultimately losing battle against relegation.
The ultimate irony to emerge from this sunbaked opening day encounter is that both sides would go down, but at least Carlisle enjoyed a week in the sunshine – victory at Stamford Bridge through goals by Bill Green and Les O'Neill, followed by wins over Middlesbrough and Spurs saw them go top of the table after three matches.
By Christmas they had swopped first place for last and would remain bottom most of the time thereafter, although it would be wrong to say Carlisle came and went without leaving a mark – beating Everton home and away cost the Goodison side dear as they finished three points behind champions Derby, against whom incidentally, Carlisle recorded a win and draw.
DERBY COUNTY 1 STOKE CITY 2 15/3/1975:
While it is all too easy for those of venerable vintage, such as your genial host, to fall into the trap of decrying the sanitized nature of Premiership-era football, we do have a point in regard to great players of the 1970s being able to apply their skills on any cabbage patch creation they were asked to play on – opposed to the talents of today who go from one billiard table surface to the next.
In describing the Baseball Ground as a cabbage patch – it seldom looked anything else during the 70s – for this exciting encounter between two sides among the first division frontrunners is doing a disservice to vegetable patches up and down the land. Despite the clag underfoot, both sides make strenuous efforts to play a joined-up passing game and although moves often come to grief in the swamp of centrefield, the intentions are always positive no matter how prohibitive the mud.
Derby go ahead through a typically instinctive finish from Kevin Hector but eventually fall behind to a brace from the equally redoubtable Jimmy Greenhoff, whose winner is a smartly taken diving header. The equaliser, however, is a superbly struck volley which a top striker today could no doubt execute – but whether they would do so with a heavy ball and in conditions better suited to rally-cross is something veteran football watchers would certainly argue the toss about.
LEICESTER CITY 3 LEATHERHEAD 2 (FA Cup fourth round) 25/1/1975:
Although devalued today beyond recognition (not least by the FA themselves), there was a time – this time in fact – when the allure of the FA Cup was enhanced every season by the escapades of a previously unknown entity.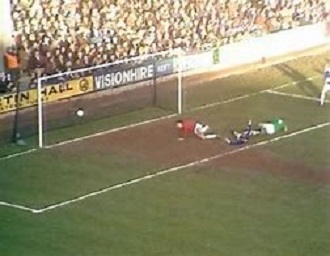 Such was the case in 1974-75 when Leatherhead of the Isthmian League won through every qualifying round and then knocked out two league clubs in reaching round four – where they were paired with first division Leicester City.
On deciding their non-league ground was not up to staging the tie when they were initially drawn at home, permission was granted for the fixture to be reversed – the build-up to playing at Filbert Street noteworthy for Leatherhead striker Chris Kelly (dubbed 'the Leatherhead Lip' by at least one newspaper), confidently asserting they were travelling north from their Surrey base to win the game.
But after half an hour what had made for good, if fanciful, copy suddenly looked to be based in fact – the part-time visitors in taking a 2-0 lead have reduced their highfalutin hosts to a defensive shambles and group of squabbling individuals as full-back Dennis Rofe and midfielder Alan Birchenall almost come to blows.
It is not just goals from Peter McGillicuddy and Kelly that caused Leicester to lose the plot, they have been caught out by some enterprising play as Leatherhead reach half-time with a two goal advantage – 'Match of the Day' commentator John Motson unable to resist a 'Kelly's Heroes' reference as the players troop off.
On regaining their composure Leicester eventually make their superior skill and fitness levels tell, winning through with goals from Steve Earle, Jon Sammels and Keith Weller – but almost fifty years later the fact mere mention of Leatherhead and Chris Kelly can trigger instant recall in a generation of football followers is testament to magic the FA Cup once had.
LIVERPOOL 5 TOTTENHAM HOTSPUR 2 – 7/9/1974:
While Spurs were not the first – or last – inductees into the 70s 'hammered at Anfield' club, the highlights suggest there were others who put up sterner resistance. Sadly it was all too much for revered manager Bill Nicholson who resigned the following week – his exit apparently prompted by a White Hart Lane dressing room containing players no longer responding to what he wanted them to do.
On this evidence they have not only stopped listening to a wise-old football owl, but are no longer communicating with each other – and if knowing better than him how come they give the impression of being a team who would have trouble defending a telephone box let alone one of the 18-yard variety?
True, Liverpool play well and Phil Boersma helps himself to an impressive hat-trick, but poor old Pat Jennings cannot help but looked stunned by the lack of cover in front of him – an expression he would wear for much of the season as Tottenham spend much of the time hovering around the drop zone before surviving at the very last.
Even with their joint lowest points total of the decade Liverpool, in their first season of Bob Paisley at the helm, still manage to finish second and although a campaign of relative underachievement (certainly by the standards of what was about to happen), on any given day they were still capable of swatting aside anyone the slightest bit wishy-washy.
Which may be a little harsh on this Spurs side considering how a much changed XI would turn up at Anfield four years later with two Argentine World Cup winners in tow – only to be whacked 7-0.
EVERTON 2 SHEFFIELD UNITED 3 – 19/4/1975:
Top with four games to go, fewer defeats than anyone else in the division and with a run-in comprising fixtures against two of the bottom three, it is hardly surprising that in the land of Evertonia, 1974-75 is viewed as the title that got away.
After beginning the final quartet of matches by tripping up at relegation threatened Luton, Everton regained some of the ground lost with victory at Newcastle – all of which meant there was still a mathematical chance of becoming champions for the first time since 1970, when Sheffield United rolled into Goodison on the penultimate Saturday of the season.
Playing much of the time through the excellent Martin Dobson, Everton take the lead with a superb effort from young Welsh striker David Smallman who scores his first goal for the club in fine style since a recent move from Wrexham. By virtue of a Gary Jones penalty the home side reach the break two goals to the the good, buoyed also by news that results elsewhere are going in their favour.
On the previous occasion they had reached half-time at Goodison leading by such a score was the December game against bottom of the pile Carlisle – who against the odds recovered to win 3-2 (on Easter Saturday Everton had lost 3-0 at Brunton Park as their title hopes received another dent). Indeed, during a campaign when their capacity for implosion would cost them dear a very good Sheffield United outfit, who have already rattled the woodwork through veteran full-back Len Badger, are quick to exploit concentration lapses amongst those in blue and white.
From an Alan Woodward corner Keith Eddy is left unmarked to score with a close range header, Bill Dearden cannot fail to level when Everton goalkeeper Dai Davies drops the ball at his feet – the turnaround completed six minutes from time when a sweeping move downfield results in Badger crossing for the majestic Tony Currie, who makes no mistake from eight yards.
Given they were prone to such waywardness it is perhaps no surprise Everton failed in their pursuit of the title – but an even bigger shock is that from just missing out on a UEFA Cup spot in 1974-75, Sheffield United would finish rock bottom the following season.
MIDDLESBROUGH 4 COVENTRY CITY 4 – 19/10/1974:
With Middlesbrough acquitting themselves well after winning Division Two the previous season and Coventry in the midst of what proved their best run of the season, things pointed to an entertaining afternoon at Ayresome Park. Few, however, would have forecast the eight-goal bonanza that ensued – neither defence emerging with much credit from 90 minutes taken from the Keystone Kops rather than a coaching manual.
The visitors are first to profit from the collective chaos, Scottish international striker Colin Stein having all the time he needs to put the Sky Blues ahead, the lead wiped out by a rasping drive from Graeme Souness (repeatedly pronounced 'Sour-ness' in commentary by Kenneth Wolstenholme), whose impressive all round play would in time bring him to the attention of Liverpool.
Just before half-time Graham Oakey inadvertently deflects a Sour-ness free-kick into his own net to put 'Boro ahead, the lead extended when Coventry defenders adopt an 'after you Claude' approach to David Mills tapping in a third. Unusually for a team under the tutelage of Jack Charlton, the home side are found wanting by a ball into the penalty area which David Cross heads home, the Middlesbrough defence scattered to all parts when Jimmy Holmes races through to level.
Even then there is still time for one more round of presents – Alan Foggon scoring with ease to put the home side back in front, only for Holmes to score a late leveler, commentator Wolstenholme remarking on a Middlesbrough defence 'just standing around.'
For Charlton's men it represented their most bizarre fixture of a season when they would finish seventh and have the third best defensive record in Division One. Coventry meanwhile, as they always did, gathered up sufficient points not to have any sleepless nights over being relegated – a 2-0 Highfield Road defeat to Middlesbrough on the final day leaving them 14th.
BAYERN MUNICH 2 LEEDS UNITED 0 – (European Cup Final) 28/5/1975:
Across the spectrum of 70s football there are few games, if any, as emotive as the 1975 European Cup Final – the contention of many being Leeds United were robbed of victory against the West German champions by a series of dubious decisions made by referee Michel Kitabdjian.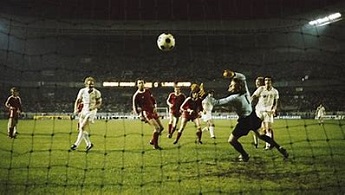 While he was later exonerated of any impropriety after a UEFA investigation, the governing body were extremely critical of the French official for his handling of the game – which if nothing else dispelled the notion a referee only sees colours not characters.
With a starting line-up including Don Revie-era stalwarts Paul Reaney, Billy Bremner, Norman Hunter, Peter Lorimer, Johnny Giles and Allan Clarke (with Eddie Gray among the substitutes), in what amounts to the culmination of all their endeavors through the years, Leeds begin as underdogs, a perception they quickly debunk by immediately taking the game to Bayern – their excellent approach work wanting for nothing except a couple of goals to enforce clear superiority.
In fairness they benefit from the first mystifying call made by Monsieur Kitabdjian, who declines taking strong action against Terry Yorath for a spiteful early foul on Bjorn Andersson that saw the Swedish stretchered from the field.
But from that moment onward it is Bayern who benefit from benevolent refereeing, Leeds having two strong penalty appeals turned down, incidents that both times involve Franz Beckenbauer (years later he admitted his surprise when the second, for a trip on Clarke, did not result in a spot-kick).
But if Leeds thought their night in Paris could not become any more frustrating they had seen nothing yet. Continuing to hold sway into the second half, the breakthrough appears to finally arrive in the 65th minute when Lorimer slams them into the lead. Referee Kitabdjian initially awards the goal and sets off back towards the halfway line only to be persuaded by Beckenbauer, the 1974 West German World Cup winning captain and one of the most famous footballers in the world at the time, to consult with a linesman – whose own movement back along the touchline suggests there is nothing amiss.
After they convene the referee runs back to the Bayern penalty area whereupon the West Germans are awarded a free-kick – the goal disallowed on the basis of Leeds skipper Bremner being marginally offside, although not in a position where he is directly interfering with play.
Whether the referee would have been swayed into a taking a second opinion, (the initial Bayern reaction is of conceding fair and square), by a player without the high profile of Beckenbauer is open to debate. But what is certain having the goal ruled out has a deflating effect on the Leeds players and stirs a violent reaction from their supporters – the first signs of a riot in the stands already visible when Franz Roth fires the West Germans into a 71st minute lead.
There is a sense of inevitability attached to Gerd Muller, the most clinical finisher in world football at the time, scoring a second for Bayern – their retention of the trophy assured at a moment when plastic seats, being used as missiles, begin whistling through the night air from the vicinity where most of the Leeds followers are gathered.
Afterwards manager Jimmy Armfield, while clearly aggrieved at the decisions that had gone against his team, showed admirable dignity in defeat, his graciousness in marked contrast to the vandalism perpetrated by a section of their support – misbehavior that brought the club a four year ban from European football, although that was halved following an appeal.
On the field Leeds could have gone no closer to lifting the European Cup and unlucky to have lost, it consigned a group of players, members of one of the all-time great club sides, to history without the prize they most coveted.
Sadly, there were darker nights still to come in relation to the misconduct of fans following English clubs in Europe.
Hello – hope you enjoyed another exclusive production from SAMTIMONIOUS.com
In order to create the best experience for when you drop by to read a page or two, those with the power to ordain such things (me, actually), have decided to remove all external advertising from the site – in other words articles will no longer be subject to intrusive pop-up ads. BUT – and ain't there always one – should you wish to make a donation toward the on-costs of the most entertaining and original blog-site around, please press on the – 'DONATE' – button below. It will be greatly appreciated.
Stay safe everyone and thanks for dropping by – best wishes Neil
SAMTIMONIOUS.com – films, football and fabulous music at The Dominion of Opinion
NEIL SAMBROOK is the author of 'MONTY'S DOUBLE' – an acclaimed thriller available as an Amazon Kindle book.