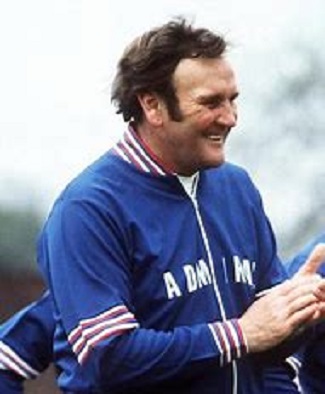 Following on from failure to qualify for the World Cup Finals of 1974, which had led to Sir Alf Ramsey being ousted as manager of the England team in April of that year, The Football Association cast its net in just one place when seeking a successor to the 1966 World Cup winning supremo.
Placing former Manchester City boss Joe Mercer in temporary charge for the Home International tournament and four early-summer friendlies, when these commitments had been met the FA finally divulged the identity of the man who had been their only choice in regard to leading the England team into the second half of the 1970s.
The sudden, if not surprise announcement on Thursday 4 July 1974, (the press briefed of developments by sources at Lancaster Gate for weeks before hand) that Leeds United had accepted the resignation of Don Revie in order for him to become England manager.
The story broke just three days before West Germany were to meet Holland in the World Cup Final – and although regaining the mantle of world champions was not mentioned in the brief of the new man (who told journalists 'any Englishman worth his salt would want to manage the England team'), then ensuring England qualified for the finals of the two major tournaments still to come before the 70s closed was taken as minimum requirement by all concerned.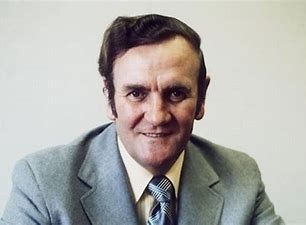 In order to lure Revie from Elland Road, where he had just guided Leeds to their second league championship in six seasons, the FA came up with a salary offer three times more than what they paid Ramsey, the new manager believing his salt was £25,000 a year.
But for this sizable outlay his employers were hiring a man who aside from two league titles had also tasted triumph in the FA Cup, League Cup and twice in the Inter-Cities Fairs during his 13 year reign, along with numerous near things in regard to losing cup final appearances and pipped at the post title challenges.
With Revie at the helm Leeds had become synonymous for a brand of football that mixed brilliance with hard-faced belligerence and although beyond Elland Road they were viewed more with antipathy than admiration, his impressive roster of achievements led the FA (or more to the point, influential vice-chairman and key power broker Sir Harold Thompson) into making Revie their only choice.
His credentials, however, were not the only ones that should have been up for consideration had Thompson and his cohorts been able to see beyond the end of their blazer sleeves.
While outspoken Brighton & Hove Albion manager Brian Clough was the preferred choice of those whose interest went beyond VIP treatment at international fixtures, his forthright, often self-publicizing views were an anathema to those with responsibility for appointing a successor to Ramsey. Clough had proven ability in extracting the highest level of performance from his players, who he instructed to play in a positive manner – emphasised in the 1972 League Championship success of Derby County (Clough resigning in October 1973 following a dispute with the Derby board).
While for appearance sake Clough should have been invited for interview (within days of Revie taking the England job, the Leeds board chose Clough to succeed him, a contentious appointment given his oft-made criticisms of their confrontational style, this uneasy union lasting just 44 days), there were also other English managers worthy of discussion.
At Ipswich Town Bobby Robson had assembled a dynamic, attack-minded team who he guided to UEFA Cup qualification in successive seasons, while Crystal Palace manager Malcolm Allison had an impressive resume from his time as first team coach of Manchester City – although his forceful opinions and colourful private life put him in the same 'non grata' category as Clough.
If Allison had renown as a forward-thinker, keeping him company was Chelsea boss Dave Sexton, whose FA and European Cup Winners Cup triumphs at Stamford Bridge were achieved with an emphasis on flair. Just as important, however, was an awareness of how football was developing beyond the English Channel, Sexton soon to adopt a pro-European policy across West London at Queens Park Rangers whom he would take to within a whisker on winning the league title.
Yet unusually for the FA, whose indecision was often said to be final, no other candidates were given the slightest scrutiny. With even Brian Glanville of The Sunday Times describing him as 'the obvious choice' no sooner had the appointment of Revie been rubber-stamped then notable changes, instigated by the new manager, relating to the national team came to pass.
In the the early weeks of the new 1974-75 season Revie invited eighty players to a meeting in Manchester, where they were informed of their potential to be in his plans if not to change the world then of the new-England he was looking to create. Yet if he thought insistence the FA triple the appearance match fee to £300 would gain favour with those who received an international call-up, Revie was badly mistaken, senior players quick to conclude his motivation – not theirs – in being involved with England was financial.
There was a rude awakening for him also in trying to foster improved relations with The Football League, to whom he went with a proposal of the league being more accommodating in regard to cancelling fixtures involving England players on the weekend prior to a (competitive) midweek international.
But league secretary Alan Hardaker had little time for requirements of the national team and none whatsoever for Revie, the two men having persistently clashed in the respective roles down the years – Hardaker going so far to call his old Elland Road adversary 'devious' and someone who was 'prepared to cut corners to get his own way.'
The meeting between Revie, Dick Wragg, Chairman of the International Committee, FA secretary Ted Croker and Hardaker took place at Football League headquarters at Lytham St Annes and according to The Times on October 24 1974, lasted 'six hours.' In truth it achieved little apart from give his employers insight into the lingering hostility between Revie and Hardaker – who afterwards related his misgivings to Football League staff about the new England manager, while apparently telling anyone at the FA prepared to listen they needed their heads examining.
Despite his apparent misreading of fixture and finance matters, the sense of change was clearly evident when England finally took the field under Revie, Czechoslovakia arriving at Wembley for a European Championship Qualifier on Wednesday 30 October 1974.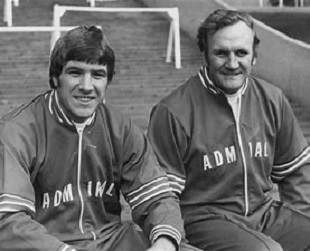 Trooping onto the field behind Liverpool skipper Emlyn Hughes, who had been retained as captain after being given the role by Mercer, England were eye-catching even before kicking a ball – the white tracksuit tops and kit worn by the team were flecked on the collar and sleeves with red and blue piping, the name of the manufacturer evident not least through their prominent logo.
But the newly-designed strip with its up to the minute 70s adornments prompts a Mr. Sambrook of Shrewsbury to comment when watching the highlights with his teenage son:
'Who are they playing for – England or bloody Admiral?'
For Revie the innovation in terms of his charges wearing an up to the minute strip was nothing new, the kits of Leeds United had been upgraded by the same suppliers 12 months before. But while the aesthetics might have been fresh, those pulling on the revamped attire had a distinctly familiar look – Queens Park Rangers captain Gerry Francis the only new face in a team where nine of the XI had been capped under Sir Alf.
108 days on since being appointed – curiously no September warm-up fixture had been arranged, England thus going straight into competitive action – Revie, like most of the near 84,000 crowd, looked on as the home side toiled to no great effect against a Czech side who were combative but offered little in the way of goal threat.
The introduction of West Ham midfielder Trevor Brooking and debutant QPR winger Dave Thomas on the hour brought renewed impetus to English forward play, Southampton striker Mick Channon breaking the deadlock in the 72nd minute. Two goals in quick succession soon after from Manchester City maestro Colin Bell ensured a satisfactory, if not resounding start.
England indeed looked smart in their new Admiral garb and showed flashes of promise (particularly when Brooking and Thomas entered the fray). But if Hardaker had apprehensions about Revie, then the manager felt likewise about the squad, reportedly voicing concerns to son Duncan afterward about the quality of player available to him – leaving behind at Elland Road a core of top drawer performers who knew exactly what he wanted.
This however, was talent now unavailable to him, the backbone of his reigning champions, (David Harvey, the Gray brothers, Gordon McQueen, skipper Billy Bremner, Peter Lorimer, Joe Jordan), all being Scottish.
With only one nation to progress to the 1976 European Championship finals from the qualifying group of England, Portugal, Cyprus and the Czechs, doubts over his squad notwithstanding, the first hurdle had been safely negotiated (even if in horse racing terminology it would be Czechoslovakia who would stay the entire course). The second fence, however, was to prove something of a refusal – as three weeks later England were held to a goalless draw by a willing, if limited Portuguese team in front of a slumbering Wembley.
The immediate recall of Elland Road stalwarts Terry Cooper (the full-back lasting just 20 minutes before injury forced him from the field in what proved his final international) and striker Allan Clarke perhaps indication of how limited Revie felt his options were but another clean sheet aside, it was a largely joyless night.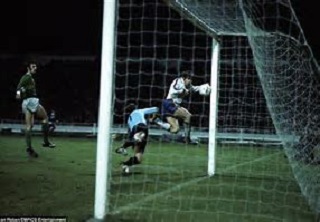 With the next fixture not for another four months, Revie spent the winter of 1974-75 scouring Division One in an attempt to strengthen his hand, the unusually long break between matches, particularly during a season, appearing to bring a shift in policy that suddenly became radical rather than reactionary.
For the visit for reigning world champions West Germany on Wednesday 12 March 1975, Revie blooded two first-cap orthodox full-backs in Steve Whitworth (Leicester City) and Ian Gillard (QPR) and restored '66 World Cup winner Alan Ball to the side as captain.
Most pertinently of all he gave a debut to Stoke City midfield man Alan Hudson, the former Chelsea player in such a rich vein of form he was given license to operate in a 'free role' manner – long since a strategy for several highly-regarded international sides.
On an evening when they looked inventive, balanced and effective, England seemed set to join that elite band, a near faultless display having the bittersweet irony of being their 70s high water mark and false dawn at the same time.
Even taking into account the absence of master marksman Gerd Muller, with eight of their World Cup winning group from the previous summer on show this was a very useful West German side, who in truth are given the runaround as England, their forward play orchestrated by an outstanding Hudson, move the ball with purpose and penetration. Ahead in the 25th minute when Bell scores at close range, their high energy showing is encapsulated in the second goal – skipper Ball sent away down the flank by a quickly taken free-kick, his inch perfect cross to the far post headed firmly home by Newcastle centre-forward Malcolm McDonald, the game effectively over as a contest by the 66th minute.
The promise of this performance manifested five weeks later into a pummeling of Cyprus, McDonald scoring every goal in a 5-0 victory, although tinkering in the full-back positions (Paul Madeley reinstated, a first cap for Kevin Beattie, the Ipswich central defender selected out of position), suggested Revie still had doubts concerning the defence, despite England still to concede on his watch – a run maintained a month later when recording a pedestrian 1-0 victory in the return fixture in Limassol.
After taking a sixth minute lead through Liverpool forward Kevin Keegan England failed in adding to the tally, their efforts all smoke and no fire with Revie already deciding he could do without the extra dimension Hudson could provide, his creativity not utilized again after Cyprus had been beaten at Wembley.
Six days after winning in Cyprus, on May 17 Revie took charge of his first Home International fixture, the only noteworthy feature of a tame goalless draw in Belfast against Northern Ireland being a sixth successive shut out. While they were breached twice by Wales at Wembley three days later, a brace on his debut from David Johnson ensured the unbeaten run under Revie continued, the Ipswich Town striker retaining his place for the visit of Scotland in a London encounter to decide the Championship.
By the time Johnson scored for the second match in succession a rout of the Scots had already occurred, goals inside the first eight minutes from Francis and Beattie giving England command of a match they never appeared likely to release – Bell and Francis again on target before Johnson rounded off a resounding 5-1 win.
If there was an instant when Revie had cause to think international management was not the ordeal often perceived, then walking away from the Wembley pitch with the satisfaction of just having inflicted a heavy defeat on your oldest rivals was his moment in the sunshine. But like the central character in a Shakespearian tragedy or key figure in a film where the climb to the top is followed by descent into chaos, the third act is where the fall from grace begins.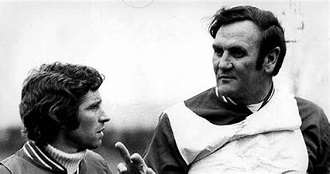 Back in the dressing room skipper Ball was telling team-mates a walloping of Scotland was 'as good as it gets' which would prove a prophetic comment given he had just, unknowingly, played his last game for England – the captain soon to be informed, in writing, by Revie that his services were no longer required. Ball remained bitter for the rest of his life in not being granted the courtesy of a face to face discussion concerning the end of his international career.
For Revie the drubbing of Scotland was to have 'end of the beginning/beginning of the end' connotations – on recording his one and only managerial win over the Scots the road from this point onward would become littered with pot-holes until it finally disappeared into the ditch.
In preparation for the crucial European qualifiers England faced in the autumn of 1975, a warm-up friendly was arranged against Switzerland on September 3, early goals from Keegan and Channon securing a 2-1 win in Basle, the captaincy in just his fifth international bestowed on Francis. But after six wins and three draws from his nine games in charge Revie was to suffer his first defeat in the match he could least afford to lose.
On a night when the drive and fierce competitiveness of Ball might have proved invaluable, come October 30 England succumbed to a 2-1 reversal in Bratislava, the overtly physical approach of the Czechs bringing them back into the match after Channon had given the visitors a 26th minute lead.
While Revie bemoaned the leniency of the Italian referee, critics were quick to lament his decision in restoring trusted, if veteran, Leeds campaigners to the team and although the plan could be said to have backfired he retained both for the visit to Lisbon the following month. Clarke took the field as a 70th minute replacement for his club-mate as their former Elland Road boss tried desperately to affect a match that had been locked at 1-1 since late in the first half.
But with England unable to add to Channon's 42nd minute equaliser and Portugal content not to lose, faint hopes of qualification were extinguished by virtue of a fitful and frustrating display.
In the aftermath Revie continued to assert England would not only qualify but do well at the 1978 Argentina World Cup (going as far in one interview to say they would be among the favourites), even if failing to make the European Championship finals was a strange way of going about things – the manager now facing the task of not just winning back the faith of the English football public but also the confidence of his employers.
With the prospect of serious summer football off the table (Czechoslovakia meanwhile advancing to become surprise winners of the 1976 European Championships), Revie awarded first caps to eight players as England began the year with a 2-1 over Wales in Wrexham, the fixture marking the centenary of the FAW. Four were retained in another experimental line-up who faced the same opposition in Cardiff in early May, the teams separated in this opening Home International by a goal from Crystal Palace winger Peter Taylor.
After Francis, Channon (twice) and Manchester United debutant Stuart Pearson were on target in a 4-0 win over Northern Ireland, Revie headed to Hampden for the first time as England manager. Despite the visitors taking an early lead through Channon, Scotland came back to win 2-1 – the final score flattering his men rather than the hosts who squandered several opportunities to score more.
Involvement in the American Bicentennial tournament later in May brought an only goal defeat against Brazil and 3-1 win over Team America (whose starting XI included former World Cup winners Pele and Bobby Moore). But sandwiched in-between was a morale-boosting 3-2 victory over Italy, a notable success given England came from two goals down to triumph against a side they would meet again later in the year having been paired with the Italians in a World Cup qualifying group, along with Finland and Luxemburg – from which only one would progress to the finals in Argentina.
The first step on the qualification road was solid enough, Pearson, Keegan (2) and Channon on the scoresheet as England recorded a 4-1 win in Helsinki. Yet a lacklustre showing in a 1-1 Wembley draw against Ireland early in the 1976-77 season brought little to enthuse over and there was not much comfort to be taken either from a scrappy 2-1 success in the return against Finland – Manchester City centre-forward Joe Royle putting England back in front after the Finns had cancelled out an early strike from Royle's Maine Road team-mate Dennis Tueart.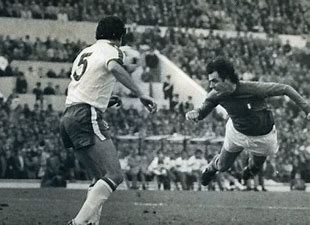 With goal difference always likely to be a factor in the final reckoning, a ragged second half showing against modest opposition did England no favours with the first head to head with Italy looming – but if they looked disjointed against Finland it would be nothing compared to their rotten display in the visit to Rome on 17 November.
Having watched Italy himself, Revie was aware at this juncture their side was built on a strong core of Juventus players (against England goalkeeper Dino Zoff and the entire defence – including 1982 World Cup Final goalscorer Marco Tardelli – all played for Juve), but in contrast he picked a side that did little more than reflect his muddled thinking.
Central defenders Roy McFarland (Derby County) and Brian Greenhoff (Manchester United) had never previously played together and although Emlyn Hughes was recalled for his experience he lined up in midfield rather than the back four – the sense of there being little method in this apparent madness emphasised by Leeds full-back Trevor Cherry operating in the middle of the field with QPR free-spirit Stan Bowles leading the attack in the unaccustomed role of centre-forward.
It was recipe for disaster and on the darkest day in his career as a manager, Revie witnessed England being outplayed from first to last. The only surprise was that for all their dominance Italy managed to score just twice, a first half goal by Giancarlo Antognoni of Fiorentina followed by another after the break from Juventus hero Roberto Bettega.
Years later Hughes recalled, 'they murdered us 2-0' while Trevor Brooking, who spent the game in an unfamiliar left-sided midfield role recalled: 'I think even coming off the pitch it wasn't a shock to have lost. Going out you were hoping it was going to happen for us, but you didn't quite have that belief.'
The subsequent hostility of the English press in reporting this ramshackle display left no doubt the honeymoon was over. Nothing short of a miracle would now see England qualify for Argentina, scribes and supporters alike convinced that after two years in the job and for all the changing of personnel and playing strategy, Revie remained no closer to knowing his best system or strongest team.
If the groans in Rome had been largely of his own making, then events suddenly picked up pace in conspiring against him. Five weeks into 1977 the visit of Holland in a friendly was for Revie a case of the wrong opposition at the worst possible time.
While Cryuff, Neeskens, Rep, Resenbrink, Krol and co popped the ball around in purveying the 'total football' that almost brought triumph at the 1974 World Cup, England for their part looked in complete confusion. Two first half goals from Jan Peters saw the Dutch to an easy win in a contest which for them became more exhibition game than international fixture given the paucity of the opposition.
On the back page of newspapers not a drop of ink was spared in highlighting just how far England had fallen behind those at the forefront of international football – a return to World Cup action in the form of a 5-0 Wembley defeat of Luxembourg with goals from Keegan, Trevor Francis, Channon (2) and Ray Kennedy, doing nothing to change opinion this had become a lame duck managerial tenancy.
By now it was hard to say whether the Home Internationals offered help or hinderance to the beleaguered England boss, a fortuitous 2-1 victory in Belfast secured late on by a goal from Tueart after Channon had cancelled out an early strike for the home side, did not prevent FA Chairman Thompson from telling Revie the performance had been 'a load of rubbish.' Now in the chair at the FA after years of being the power behind the throne, the relationship between Thompson and the manager was deteriorating on a daily basis.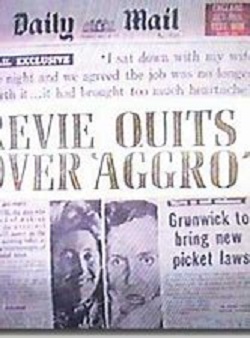 The clamour for Revie to go increased further a few days later when before a sparse crowd Wales recorded their first ever win at Wembley. The look on the faces of the England players at the final whistle, including the Liverpool contingent returning to the side after winning their first European Cup the previous week, a collective expression of cursed at having to be there.
Against the backdrop of his term of office being over should England lose at home to Scotland, events behind the scenes were apparently outpacing those to which Fleet Street was privy. In the time since there has been claim and counter-claim to the effect Revie had already made overtures with regard to a financial settlement for leaving his post, while on the other hand Thompson is alleged to have contacted Ipswich chairman John Cobbold to enquire the interest of Bobby Robson in taking charge.
But whatever the background machinations, the situation became further exacerbated by a 2-1 win for the Scots. The victorious vandalism by hordes of their supporters celebrating on the pitch afterwards went someway to overshadow the fact England had now lost four of their last six matches and lacked any semblance of direction and purpose – an 87th minute penalty from Channon in reply to Scottish goals from Gordon McQueen and Kenny Dalglish making the final score look closer than the game itself.
On the face of it draws against Brazil (0-0), Argentina (1-1) and Uruguay (0-0) on a tour of South America during the first two weeks of June was a commendable effort on behalf of Revie and his players, but all through the trip speculation on his future was rife. As the situation developed into a game of bluff and counter-bluff between willing adulterers' in a doomed marriage, neither of whom wanted to be the party initiating divorce proceedings, Revie maintained his thoughts were only on the remaining autumn qualifiers against Luxembourg and Italy – the FA hopeful each new day would bring his resignation and avoidance of protracted severance negotiations.
In the end it was Revie who chose to move first, using the occasion of his 50th birthday, July 10th 1977, to decide the time had come to quit, penning a resignation letter more likely to have started 'to those of no discern' rather than 'Dear Harold.'
But instead of posting it straightaway, for a reported £25,000, sold the story to Jeff Powell of the Daily Mail – whose July 12 headline for their exclusive read 'Revie quits over aggro'. The man at the centre of it all was at pains to state how much the pressure of being England manager had affected his family, adding, with a degree of self-pity: 'Everyone in the country wants me out, so I'm giving them what they want.'
In keeping with many of the chaotic, contradictory episodes from the second half of his reign, Revie, in what appears a retaliatory insult to his nemesis Thompson, had yet to inform the FA – secretary Ted Croker caught completely off-guard by media enquiries in relation to the story, as surprised as anyone that England were suddenly looking for a new manager.
Initial reaction fell somewhere between a degree of compassion for Revie who clearly had not taken the job to fail and rumours he was about to become manager of Manchester United – the Old Trafford vacancy caused by the recent sacking of Tommy Docherty, who was dismissed due to being involved in an extramarital affair with the wife of the club physio.
But all the sympathy and speculation came to an end when on July 13 when the Daily Mail revealed Revie had negotiated a lucrative contract to take over as coach of the United Arab Emirates national team. One round of the clandestine discussions was alleged to have taken place when Revie was reportedly on a scouting mission in Helsinki at the Finland v Italy World Cup qualifying match – this given as a reason for his absence from the England tour game against Brazil.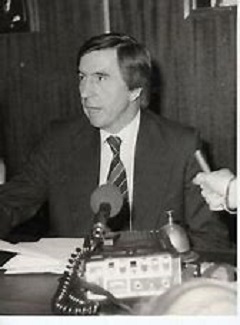 After coming out of their initial tailspin the FA were left seething by what Revie had done, his critics quick to decry him as a treacherous, conniving man, one who had made a mess of managing England and in realising World Cup qualification now seemed unlikely was not sticking around to take responsibility, instead walking away to the sanctuary of a massive pay day.
All of which still begged the question of whether he jumped before being pushed. Years later Revie claimed to have knowledge his sacking was imminent and exited while there was a well-paid job offer on the table.
In the cold light of day, neither party emerged from the affair with any credit. If the FA were planning to dispense with him they should have been up front about it, although by the same token Revie was wrong in plotting his departure behind their backs. Much of the aforementioned 'aggro' could have been avoided had they sat down and thrashed out an amicable solution – a 'by mutual consent' parting of the ways sparing Revie the embarrassment of being sacked, his new employers having more than enough cash to pay the FA what remained of his contract.
The reality however, was far, far different. Incensed by his desertion the FA hit Revie with a frankly ludicrous ten year suspension from working in English football, against which he mounted a legal challenge. But if there was satisfaction to be had from the High Court deciding the FA had overstepped their authority and finding in his favour, it was tempered by summing up remarks from the judge, who on closing the case in December 1979, said Revie 'had displayed disloyalty, breach of duty, discourtesy and selfishness.'
Neither would claims regarding his preoccupation with financial gain go away. Emlyn Hughes, whose dislike of Revie went back to their England days together, told the BBC 'Match of the 70s' series, 'I think he was virtually money-orientated,' while reiterating criticisms of Revie missing the point of what playing for your country was about.
When Hughes voiced these opinions in 1996, Revie sadly, was no longer around to refute them, a debilitating struggle with motor neurone disease blighting the last two years of his life before taking him to the grave at the relatively young age of 61 in May 1989.
There is no doubt that as England manager Revie made mistakes, finding the complexities of international management totally different to those he mastered with Leeds at club level. In retrospect his biggest problem was that in ruing what he privately thought was a lack of talent in the players available to him, he then fell into the trap of using too many in trying to address it.
He would, of course, not be the last England manager to leave the job under a cloud. Sven-Goran Eriksson and Sam Allardyce, for different reasons to Revie and each other, both left surrounded by notoriety, but neither would have to go through the courts just for the right to be employed in English football again.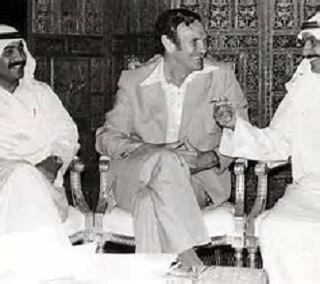 Indeed, if looking for similarities amongst those who followed then the Revie era has most in common with that of overseen by Graham Taylor in the early-90s.
Both went unbeaten through a first season that showed promise, only for the second to bring signs of things going awry, bad results in the third ensuring England would fail to qualify for the next World Cup (Revie and Steve McClaren the only permanent appointees not to take charge of England at the finals of a major tournament).
Revie and Taylor each went into the role with renown for forging a close bond within their squads, the entire club in fact, but with the national team, due often to the long break between fixtures, found players less responsive to their cosy methods of yore. It could also be said each discarded experienced performers too soon, only to hand out caps to numerous players in searching for fixes and solutions.
But seeking comparisons is not to overlook the different ways they are perceived today.
When Taylor passed away in January 2017, the FA expressed their sadness and spoke, rightly, about a man of great dignity, someone who remained as England manager until the road came to its natural end – unlike Revie, who walked away knowing the game was effectively up.
By all accounts he enjoyed a good standard of living in the UAE before returning to Britain in the mid-80s, but Revie did not live long enough to see a structure he helped put in place reap the reward of qualification for the 1990 World Cup.
At his funeral on May 30 1989 the FA chose not to be represented, which was a spiteful, insensitive slight, that also ignored the fact he had won six international caps as a player. Even then there was to be no satisfactory conclusion to the troubled relationship between England and Don Revie.
Hello – hope you enjoyed another exclusive production from SAMTIMONIOUS.com
In order to create the best experience for when you drop by to read a page or two, those with the power to ordain such things (me, actually), have decided to remove all external advertising from the site – in other words articles will no longer be subject to intrusive pop-up ads. BUT – and ain't there always one – should you wish to make a donation toward the on-costs of the most entertaining and original blog-site around, please press on the – 'DONATE' – button below. It will be greatly appreciated.
Stay safe everyone and thanks for dropping by – best wishes Neil
SAMTIMONIOUS.com – films, football and fabulous music at The Dominion of Opinion
NEIL SAMBROOK is the author of 'MONTY'S DOUBLE' – an acclaimed thriller available as an Amazon Kindle book.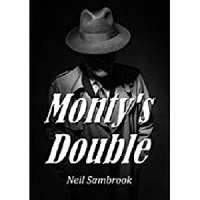 backs