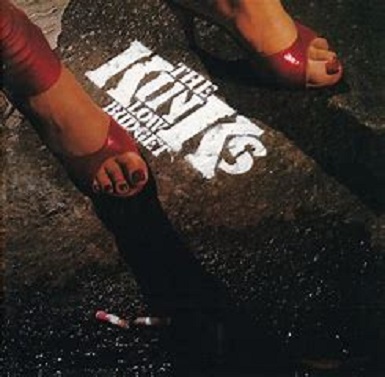 Take a Kinks album from any stage of their illustrious career and amongst some of the most exceptional rock music ever recorded chances are there will be no shortage of anomalies.
As the 1970s drew to a close and with the 15th anniversary of their ground-breaking debut single 'You Really Got Me' arriving in August 1979, three of their original four members, brother guitarists Ray and Dave Davies and drummer Mick Avory were still at their core.
Now joined by Jim Rodford, who had recently become their third different bass player in as many years, The Kinks had moved through a decade that brought release of nine LP's (two of which were doubles), this a prolific output compared with contemporaries such as The Who, for whom the 1970s amounted to just four studio albums.
Penned almost in their entirety by Ray, the plethora of 70s Kinks music to be found on these records ranged from brilliant to baffling, enthralling to erratic, often within the same LP – but for those taking an interest, it was ever thus with The Kinks and their glorious kontradictions.
Following on from the proto-punk overtones of their early singles, embellished by the fiery guitar work of younger brother Dave, Ray then took to satirising 'Swinging London' with a series of brilliantly constructed mid-60s singles proving himself grandmaster of the form – before outstripping not just what he had previously done but everybody else working in the same field on three minute masterpieces such as 'Waterloo Sunset' (1967) and 'Days' (1968).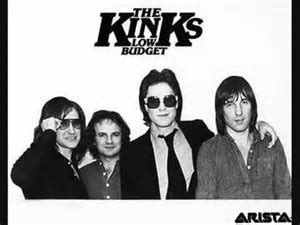 Celebrated in their home land, (Ray and Dave originating from the North London neighbourhood of Muswell Hill), where they notched up a four year run of high charting 45s, some 'behavioral issues' on a 1965 tour of America resulted in The Kinks receiving a four year ban from performing in the United States. Indeed, while some of their contemporaries were barred from a hotel chain for conduct unbecoming, The Kinks outdid them on this front as well being banned from an entire country.
Denied access to the North American concert circuit until the 60s were almost done, Ray concentrated the focus of his songwriting on the peculiarities, nuances and sometimes absurdities of the English class system, The Kinks ending the 1960s with the albums 'The Kinks Are The Village Green Preservation Society' (1968) and 'Arthur – or the Decline and Fall of the British Empire' (1969), both of which follow a linear narrative and are stacked with outstanding songs.
Magnificent in scope and imagination, neither made a mark on the charts and sank without trace.
Chastened he may have been at the failure of these two extraordinary albums to make any commercial headway, but Ray Davies remained undeterred in his thinking that albums where tracks were bound by a conceptual thread was territory The Kinks should inhabit.
Between 1970 and 1975 they put out albums that explored themes such as manipulation of acts by record companies (something of which they had first hand experience), urban displacement, impressions taken from touring, individualism being crushed to the point of extinction, schooldays – while using one LP to play out a soap opera on record.
Not that everything they released was a resounding triumph, 'Muswell Hillbillies' (1971) is a sublime effort, 'Preservation II' (1974) and 'Soap Opera' (1975) both a touch heavy-handed, but it was not until 1977 that Ray let his all-consuming engagement with the 'concept' album finally drop. 'Sleepwalker' was that rare breed of Kinks album not to follow a self-contained plot and with no lack of coincidence became their first of the 70s to register on the US Top 20 (Kinks albums having long since failed to make an impact on the UK charts).
Given the irony already prevalent throughout their history, the follow-up 'Misfits' (May 1978) was a superior recording, but fared less well chart-wise, leaving Ray faced with something of a quandary; concept albums were done and dusted, but if a record as reassuringly Kinks-like as this, with its three minute vignettes on fashion, friendship and every day flights of fancy could not improve their standing, then just what did people want from The Kinks?
Typically where they were concerned the answer was obvious and yet at the same time unforeseen. Escaping much of the punk scorn that came the way of their contemporaries as the 70s wound to a close, The Kinks were held up as standard bearers by those who dismissed Floyd, Queen and Zeppelin as dinosaurs, the vitality and sheer dynamism of their early hits the template from which a swathe of emerging bands were working from, whether in fact those groups realised it or not.
Having their back catalogue mined by the likes of The Jam, Van Halen and The Pretenders was also doing no harm to The Kinks' kudos – so rather than confuse the issue by heading out for pastures new, with 'LOW BUDGET' (September 1979) Ray decided to deal with the issue head on and remind everyone, including the welter of new wave acts currently receiving hours of radio air play, where this sound originated from.
If a succession of his 60s compositions would go down as marvels for all time, then with 'Low Budget' Ray pens a Kinks album purely for the times, one whose clear intention is ingratiating itself with an American audience and US radio stations. On that score he succeeded, the record is brash, belligerent, yet all too often they sound like any number of Kinks-copyists around at the time – force rather than finesse the order of the day.
Which is not to dismiss 'Low Budget' as a complete dud, although in parts it does sound horribly ham-fisted. Where they once led the field in pop craft, The Kinks in reasserting their relevance come across as hoary veterans, working themselves into a sweat to show there is life in the old warhorse yet, but in driving home the message the pony seldom appears to have more than one trick.
Few would have begrudged The Kinks a big hit with their seventeenth studio LP, but on release came the bittersweet irony of it quickly becoming (excluding compilations) their biggest selling album, failing by a whisker to make the US Top Ten, yet remaining on the charts for months. At the same time, however, it received a number of unfavorable notices, one reviewer describing it as 'a strange and graceless record.'
On repeated listens, then and now, one can only wonder where is the subtlety and lightness of touch that set Ray Davies apart from any other songwriter of his generation. But perhaps that is the ultimate irony of 'Low Budget' a Kinks record so obvious it was a concept album by proxy. The man at the heart of the story an ex-pat, veteran rock star living in New York who conjures a collection of tracks laden with cliched tunes and heavy-handed lyrics – then with tongue in cheek he watches it become a huge success and laughs all the way to the bank.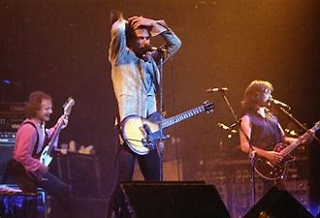 Opening cut 'Attitude' is full of the core bluster that prevails throughout. Lines such as 'The 80s are here, I know 'cos I'm looking right at them, but you're still waiting for the 60s to happen,' are valid enough, although when he yaps 'you talk like a docker but you act like a queer, you drink champagne then complain it's too dear,' Ray sounds like a man trying too hard to be fashionably provocative.
The driving, upbeat structure of the song comes across as something Tom Petty would have come up with at the time, if taken by the notion of writing a Kinks-styled piece that is, Ray using inflections from closer to home in giving the background vocals a distinct 'Who Are You' feel.
The strident piano work that 'Catch Me Now I'm Falling' is built upon deserves better than guitar decoration immediately reminiscent of 'Jumping Jack Flash' and stronger subject matter than a story told from the perspective of 'Captain America' – the superhero now reduced to complaining about being deserted in his time of trouble, a poor state of affairs given all the times he has saved the world, ('I bailed you out when you were down on your knees.')
Rightly acclaimed as one of the great players when it comes to serving a song, Dave contributes electric guitar work indistinguishable from any other fast, flash guitarist on the AOR circuit. He then turns his hand to some Chuck Berry licks on 'Pressure' whose 'yeah yeahs' and boisterous chorus would quickly begin to grate if Ray had not the good sense to wrap the whole thing up in less than two and half minutes.
Not too far removed from ground bands like The Cars were currently treading, 'Natural Health' is an ode to having a positive outlook in both body and mind. Ray uses a somewhat louche vocal to deliver a track similar in theme to 'Skin and Bone' from 'Muswell Hillbillies' but eight years on the writer opts for pomp rather than panache in making his point, Avory at least maintaining an interest through to the end with some impressive drumming.
If the four tracks so far have generated responses alternating between foot-tapping and indifference, the techno-pop of (Wish I Could Fly Like) 'Superman' is most likely to prompt a bout of head-scratching in regard to deciding whether this is noteworthy or just plain novelty.
The protagonist is another put upon victim of the times who bemoans his physical condition, mounting debts, in fact life in general ('Got to be a Superman just to survive'), his abiding wish the ability to fly away like the superhero of the title.
While tempted to say it has a degree of period charm, what cannot be overlooked is in the year previous the Rolling Stones ('Miss You') and Rod Stewart ('Do Ya Think I'm Sexy'), had both made a move on the disco market, each doing so with a less plodding track and dare it be said, more agreeable set of lyrics.
The 'Low Budget' title-track produces the strange quirk of Ray and Dave evoking two artists whose work has shown influence of the Davies brothers. From the off Dave fires out riffs reminiscent of 'Life's Been Good' a 1978 solo hit for Eagle guitar-whiz Joe Walsh, while the verses, leading to a repeated shouts of the title, bare resemblance to the new wave whimsy of Ian Dury – Ray making some amusing observations on personal finances as the 1970s drew to a close:
'We're all on our uppers, we're all going skint/I used to smoke cigars but now I suck polo mints.'
'In A Space' finds Ray in more wistful frame of mind, some wry comments atop of a soft-rock melody making it not too far removed from tracks of similar ilk on 'Sleepwalker' and 'Misfits' and while drifting along to reasonable effect it does so with the feeling that a better song is in there somewhere – the same sense of frustration also applicable to 'Little Bit of Emotion.'
With the captivating blend of acoustic and electric guitars producing a melody that is never less than engaging, Ray expresses views he might have aired as recently as the 'Misfits' title track – those of society finding no room for outsiders – yet this conscious effort to sound affecting is undercut by his decision to sing the chorus in an accentuated Cockney accent, the purpose of which is not clear.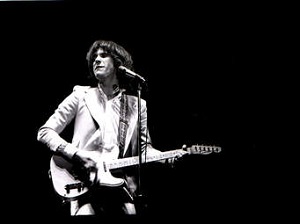 Is he reaffirming The Kinks originated from an enclave of N10 to become the golden boys of London pop? If so, then like most things on 'Low Budget' it feels the cheap option.
The pop-blues work out 'A Gallon of Gas' is narrated by a character who after years of saving finally has the means to buy a brand new Cadillac, ('It's got power-assisted overdrive and carpets on the floor'), the downside being a global oil crisis, sparked by the 1979 revolution in Iran, has made fuel scarce ('but it's parked out front like a dead dinosaur.')
There are, in fact, more obvious couplets than that found within a song sounding purposely written to hook the North American audience Ray had in his sights – hence, one supposes, 'A Gallon of Gas' rather than 'A Litre of Petrol.'
Penultimate track 'Misery' is an unrestrained tear-up in which Ray is advising someone to lighten up ('You're only happy when you're down') and while on a different Kinks album it might have provided light relief here it merely adds to the general frivolity. Closing cut 'Moving Pictures' also does a band of their stature few favours, opening line 'Life is only a moving picture, nothing in life is a permanent fixture' promises better than what actually transpires – the synth and drum patterns giving it the feel of a demo Ray made for his own amusement after listening to a mid-70s Bowie record.
If the end did indeed justify the means, then watching 'Low Budget' notch up huge US sales (it went barely noticed in the UK), legitimised each over-familiar guitar line and lightweight lyric. It came at the expense of a critical backlash, although after receiving plaudits but not top twenty placings for a succession of masterful albums, particularly in the late-60s/early 70s, then it was a price worth paying – even if Ray, as much as anyone, knew more was expected from The Kinks than contrived radio fare.
Due to its significant chart activity several tracks from 'Low Budget' quickly featured in the nightly set-list – in place of more reputable material – as the band undertook a US tour in support of the record, the raucous choruses and shout-a-long lines ideal for the vast arenas now hosting Kinks shows, venues they had for so long resisted in playing.
Perhaps with a laugh up their sleeves, the next studio album was entitled 'Give The People What They Want' (August 1981 – and an altogether more enjoyable set), the last words on this period of Kinks history, belonging naturally to Ray Davies – a line from 'Little Bit of Emotion' an inadvertent, but perfect synopsis of the 'Low Budget' era:
'It's all on the surface, It's all contrived.'
THE KINKS – LOW BUDGET (Released September 7 1979):
Attitude/Catch Me Now I'm Falling/Pressure/National Health/(Wish I Could Fly Like) Superman/Low Budget/In A Space/Little Bit of Emotion/A Gallon of Gas/Misery/Moving Pictures;
Hello – hope you enjoyed another exclusive production from SAMTIMONIOUS.com
In order to create the best experience for when you drop by to read a page or two, those with the power to ordain such things (me, actually), have decided to remove all external advertising from the site – in other words articles will no longer be subject to intrusive pop-up ads. BUT – and ain't there always one – should you wish to make a donation toward the on-costs of the most entertaining and original blog-site around, please press on the – 'DONATE' – button below. It will be greatly appreciated.
Stay safe everyone and thanks for dropping by – best wishes Neil
SAMTIMONIOUS.com – films, football and fabulous music at The Dominion of Opinion
NEIL SAMBROOK is the author of 'MONTY'S DOUBLE' – an acclaimed thriller available as an Amazon Kindle book.