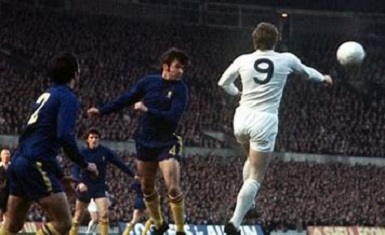 Writing exhaustively about English football in particular and popular music as a whole has brought the conclusion rock, in general, is more straightforward to assess, if for no other other reason than Twenty Great Albums of 1971 are exactly that – whereas Twenty Great Games from 1971-72 for example take in months from two different years given the format of a domestic season.
But just as a calendar year goes through changes in season, so a football campaign has periods where climatic conditions differ from one to the next. Any observer of 1970s football will recall how pitches were green and firm in August, yet brown and bog-like by November, things then coming to a climax on surfaces that from one penalty spot to the other were generally grey and grass-less – and all that before factoring in those oft-quoted assertions of the time relating to how crucial the Christmas and Easter periods were.
When analysing a season the turn of the year serves as a useful demarcation line, that feeling of change never more keenly felt when one decade moves into another – and never more pronounced when the 60s gave way to the 70s during some extraordinary days in the 1969-70 season.
In certain respects it is a nine month period in English football unlike any other and while the 70s would see the English club game climb to unprecedented levels of drama and excitement, 1969-70, while a season of breathtaking enthrallment, also feels the end of an era, the closing of a significant age.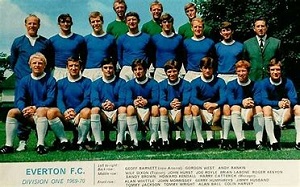 It was the last season that England reigned as World Champions, their tenure ending at the last eight stage of the 1970 Mexico World Cup 47 days after events on the home front had eventually come to an end. Those domestic issues were finally settled with an FA Cup Final replay on Wednesday 29 April, the first time in 58 years a drawn final had necessitated a second go to decide the outcome, the irony that it should be this season lost on few given The FA had decided upon the uncustomary early date of Saturday 11 April for the cup final, this to accommodate England and their World Cup preparations.
With three weeks lopped off the usual length of the season, the tight time frame was a partial contributing factor in deciding where the league championship, FA Cup and European Cup would ultimately go. Bidding for all three honours when April dawned, the intense fixture congestion faced by Leeds United saw them surrender the title and bow out at the semi-final stage of the European Cup, before being denied any trophy at all on losing the FA Cup Final replay to Chelsea.
But in acknowledging the unrelenting run of fixtures that would see Leeds end the season empty-handed is not to devalue those who either advanced at their expense or beat them to silverware.
In landing their first league championship in seven seasons Everton routinely produced innovative, thoughtful football, theirs a triumph for enterprise and ambition. The Corinthian manner in which they played not only delighted the purists, but defied puritans who had come to view the title race more in terms of attrition than ambition. The side fielded by manager Harry Catterick and containing the intuitive midfield trio of Colin Harvey, Howard Kendall and England World Cup winner Alan Ball, amassed 66 points – a total that would not be bettered until the last season of the 70s – a tally second placed Leeds (57) would have found hard to better even had their run-in come at a more manageable level.
While fatigue was clearly a factor, Leeds played 48 hours prior to their first-leg European Cup semi-final against Celtic and again the following day, for the most part manager Don Revie refused to offer it as an excuse in losing both games against the Scottish champions. Their all-round excellence, particularly in the Glasgow second-leg, left them poised to become the best in Europe for the second time in four seasons – only to produce a strangely uninspired display in losing the final to Dutch side Feyenoord
In between the European Cup clashes against Celtic, Leeds had drawn the FA Cup Final against Chelsea (itself their sixth game in a fortnight), having created enough chances to win an epic contest, but forced in the end to settle for a draw. Given the opportunities spurned by Revie's men, some began applying the old adage of 'their names' on the cup' – in this case that of Chelsea, who in the Old Trafford sequel would prevail in extra-time.
While luck did play a part, there was also the razzmatazz element to factor in, Chelsea an expressive, expansive side who had marked themselves out as the flamboyant outfit of the era.
Elsewhere Manchester City maintained their prominent position as a trophy winning unit by completing a League Cup and European Cup Winners Cup double, while across Manchester the Old Trafford 'holy trinity' of George Best, Denis Law and Bobby Charlton were still capable of producing dream football (in defence, however, United were starting to become simply dreamy).
Beyond them the likes of Bobby Moore, Jimmy Greaves, Martin Peters, Gordon Banks, Jeff Astle, Rodney Marsh and Derek Dougan were drawing spectators to grounds on the strength of their singular talents and if the domestic game was seen to be prospering it was joined in rude health by what English rock bands were achieving.
With remarkable albums such as 'Abbey Road', 'Let it Bleed' and 'Tommy,' The Beatles, Rolling Stones and The Who could be seen, to quote a phrase, 'kicking ass' for their home land – literally in the case of Pete Townshend, who when political activist Abbie Hoffman interrupted their show-stopping set at Woodstock to address the crowd, the Who guitarist put his boot with Peter Lorimer-like force to the backside of the interloper.
Back across the Atlantic in August 1969, one of the most momentous seasons English football would ever witness was underway, Everton and Leeds United preparing to close the month with a mouth-watering Goodison Park showdown that did not disappoint – a game in which the visitors rocket-shot winger Lorimer would just fail to score his fourth goal of the campaign.
But in what no doubt seemed the blink of an eye, by the following summer and although not sensing it at the time, the tide had turned against many of those those hitting high-water marks. Everton had won their last league title for fifteen years, success in the FA Cup the only domestic glory Chelsea would experience for a good while, the fall of Manchester United continued to hasten, Manchester City faced six seasons without a trophy and to cap it all, in April 1970 The Beatles called it a day.
Yet later the same month Arsenal, who had been without a trophy since the days of ration books, lifted the Inter-City Fairs Cup. Things were beginning to stir again at Highbury, the team developing a clear sense of purpose and ready to deliver on their potential.
Not that 1969 chart-toppers Thundercap Newman had any known affiliation to N5, but their summer number one 'Something in the Air' perhaps foretold the 70-71 double-date with destiny awaiting The Gunners.
TWENTY GREAT GAMES of 1969-70:
LEEDS UNITED v CHELSEA – FA Cup Final (11/4/1970): To a generation of football watchers, that sadly diminishes with each passing year, the 1948 Blackpool v Manchester United encounter was generally regarded 'the greatest post-war cup final' – but for those whose formative interest in the game occurred in the 1960s, the 1970 contretemps tend to stir the blood like no others.
At every turn perceived sub-plots abound – north v south, the hard-faced belligerence of Leeds up against the light-touch artistry of Chelsea, roundheads v cavaliers, dirty rotten scoundrels v the blue angels. The true picture, however, is more convoluted than the vegetable-patch Wembley pitch on which the drama unfolds.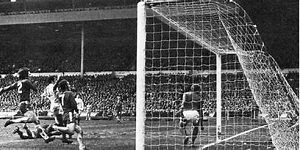 With the likes of David Webb, Ron Harris and Ian Hutchinson in the side, Chelsea could just as easily be labelled 'The Devil's Brigade' rather than their more recognized billing as 'The Buccaneers' – Leeds, on the other hand, with a wonderous talent like Eddie Gray in their ranks, are not always 'The Sons of Anarchy' they are depicted as.
The upshot is not just a great game of the time, but for all-time – a match so compelling it not only showed the skill, strength, stoicism fundamentals of English football to their highest degree, but provided that rare thing of an FA Cup Final befitting such a tumultuous season.
Leeds through Jack Charlton and Mick Jones twice take the lead, only to be pegged back each time as Peter Houseman, shortly before half-time and Hutchinson close to the end level for Chelsea. The subsequent half hour of extra-time produces chances at both ends, but neither side are able to find a winner.
Given the fixture congestion in which Leeds were embroiled a draw was perhaps inevitable – a rematch needed to settle the issue, while giving opportunity for the combatants to settle all their personal scores……….
QUEENS PARK RANGERS 2 CHELSEA 4 – FA Cup quarter final (21/2/1970): Given how the early months of 1947, 1951 and 1963 are often cited for the extreme bad weather that prevailed, it is surprising those of 1970 are not recalled in the same way – particularly in view of the atrocious condition of football pitches in evidence for practically every game of the period.
This rip-roaring quarter-final, doubling also as a West London derby, is played on a muddy Loftus Road surface bearing no grass but plenty of class.
Not for the last time that season Chelsea goals in the FA Cup are shared between Messrs Webb and Osgood, the hat-trick of the latter adding to his repute as the complete centre-forward in England at the time. Ironically, second division Rangers replay with goals from former Stamford bridge favourites Terry Venables and Barry Bridges, the game testament to just how adaptable players were in applying their skills no matter what the sludge underfoot.
Your genial host at SAMTIMONIOUS.com recently attended a fixture at W12, the pitch of pristine appearance. During his (very) modest playing career no surface such as that was ever encountered, most games taking place on pitches of the 1970 Loftus Road variety – a tenuous link, perhaps, to top level English football of the early-70s, but a connection all the same.
ARSENAL 3 ANDERLECHT 0 – Inter-Cities Fairs Cup Final Second-Leg (28/4/1970): Often corrected by Spurs supporting friends for referring to the former residents of Highbury as 'the' Arsenal, the habit continues on the basis that if it was done by my late dad, Don Howe and Kinks guitarist Dave Davies, it will do for me.
No matter how they were referenced, 'the' in relation to Arsenal through most of the 1950s and then 60s was in relation to 'the lean years' – the club without a trophy since Coronation Year.
Despite indifferent league form, consistent displays the previous season securing European qualification, steady progress in the Fairs Cup resulted in reaching the final. But the only redeeming feature of a torrid Brussels first-leg against Anderlect was a late consolation strike from Ray Kennedy – giving a crumb of comfort to the 3-1 defeat.
On what is often cited as the greatest night Highbury ever witnessed, the second-leg lifeline was duly grabbed. Almost 52,000 were present as goals from Eddie Kelly and John Radford restored parity – the marble halls reverberating to the roar that acclaimed a 76th minute winner from midfield man Jon Sammels.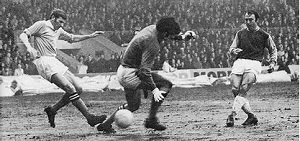 MANCHESTER CITY 1 WEST HAM UNITED 5 (21/3/1970): In seeking to compare football teams with rock bands of the time, if Chelsea had the edgy strut of the Rolling Stones, West Ham with their engaging ebullience, not to say drinking culture, were the Faces.
Fantastic one week, feckless the next, when World Cup winner Martin Peters joined Spurs in March 1970, as part of the deal Jimmy Greaves moved in the opposite direction – having the greatest goal-scorer of his generation (and the one against whom all others since have been judged) join their number enhanced The Hammers' capacity to score, but did nothing to bolster a defence that often seemed to rely on the great Bobby Moore being in three places at once.
Having scored on every debut appearance he had ever made, for Greaves to continue the sequence on a Maine Road mud bath looked a tall order, especially as an accomplished home side had recently lifted the League Cup and were also closing in on European glory.
But this is Jimmy Greaves we're talking about. By half-time he had scored twice and just to prove West Ham were having one of those afternoons when they could out dazzle anyone, midfielder Ronnie Boyce scores a goal of such skill and audacity, it still warrants a standing ovation today.
Under leaden Manchester skies West Ham pop the ball around with the bonhomie Rod and his mates were bringing to rock – and as both parties were renowned for their camaraderie, that must have been a jolly old train ride back to Euston.
EVERTON 3 LEEDS UNITED 2 (30/8/1969): Six games in to the season, both sides unbeaten, the reigning champions facing those most likely to impede their title-retaining ambitions – the first defining game of the campaign living up to all expectations as Goodison Park quickly has a classic on its hands.
Given the impression of having a train to catch, the home side start with such intensity Leeds appear caught in the headlights of the Everton express – Jimmy Husband and brace from Joe Royle establishing a 3-0 lead in spreading delirium across the land of Evertonia.
But in winning the championship Leeds had shown themselves a multi-faceted side full of steely, some would say confrontational, resolve – and while this is evident in a fight-back yielding replies from Billy Bremner and Allan Clarke too much has been left to do.
The first in a series of afternoons through the season to gladden Goodison hearts – one notable exception aside – ends with Everton coming through a major test of their title intentions with a pass mark.
MANCHESTER CITY 4 MANCHESTER UNITED 0 (15/11/1969): After their against-the-odds title triumph of 1967-68, (just a couple of years before a local derby for City meant a second division excursion to Bury), the Maine Road maestros had found the mantle of champions hard to carry. While two seasons of erratic league form followed, there remained no doubt that in the right frame of mind they remained formidable opponents, the point made with their 1969 FA Cup triumph – and days such as this, the first of five Manchester derbies of the season.
Ahead at half-time through a Neil Young goal, this was before rather than after the goal rush, their not-at-the-races neighbours are put to the sword after the break by virtue of a Colin Bell brace and David Sadler own goal.
While on such occasions it is usual to laud the quintessential City quartet of Summerbee, Bell, Lee and Young, this rout of the Red Devils owes most to the drive of midfield lynchpin Alan Oakes, whose contribution like those being made elsewhere by the likes of John Hollins, Mike Bailey and Howard Kendall, is essential but often overlooked.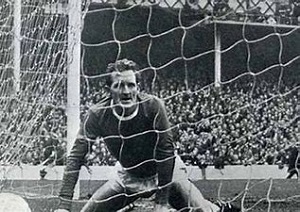 EVERTON 0 LIVERPOOL 3 (6/12/1969): It seems appropriate the last Merseyside derby of the 60s should be the first to be recorded in colour, particularly as both clubs had enjoyed their share of colourful moments during the decade – even if no major honours had appeared on either side of Stanley Park since the halcyon days of 1966 (Liverpool – league/Everton – FA Cup).
Given what the season would eventually entail, a resounding victory for Bill Shankly's Reds seems something of an anomaly – Everton after a rare defeat advancing relentlessly toward the title, a stop-start-stall campaign for Liverpool resulting in a ten point drop off and fall from third to fifth on their 1968-69 showing.
Yet this day belonged to them by virtue of second half efforts from Emlyn Hughes and Bobby Graham that are scored either side of the most referenced own goal in English football – a wrong end diving header by poor Sandy Brown resulting in lasting infamy, despite over 200 solid displays, a league championship medal and eight years loyal service to the Everton cause.
MANCHESTER UNITED 3 MANCHESTER CITY 0 – FA Cup round four (24/1/1970): It is often said revenge is a dish best served cold, so following their Maine Road and even more recent two-leg League Cup semi-final exit at the hands of those pesky Moss Side merchants from across town, a chilly Old Trafford afternoon was the best place for united to serve it up – especially as it knocked the holders out of the FA Cup.
Facing a United XI shorn of Law (sidelined) and Best (suspended), City would have fancied their chances, but from the moment Willie Morgan puts United in front with a first half penalty they never lose the upper hand – two well-taken second half goals from Brian Kidd having the bittersweet effect of securing a place in round five albeit with their last major victory of the season.
WEST BROMWICH ALBION 1 MANCHESTER CITY 2 – Football League Cup Final (7/3/1970): While much is rightly made of the shocking state of the Wembley pitch for the April FA Cup Final meeting of Leeds United and Chelsea, it is of bowling green condition compared to the surface on which the League Cup Final is played.
The annals of history seem confused whether 'The 1970 Horse of the Year Show' wrecked the turf prior to the League or FA Cup Final, but beyond dispute is that heavy snow fell in London just prior to West Brom and Manchester City crossing swords, the remnants of which can be seen behind both goals.
It is the Tunnel End goal where the seemingly unstoppable Jeff Astle (destined to be leading scorer in Division One that season), heads Albion into a fifth minute lead, thus becoming the first player to score at Wembley in both an FA and League Cup Final.
But for the second time in four seasons the Baggies take a League Cup Final lead only for their first half dominance to count for nothing. Centre-back Mike Doyle is on hand to fire City level as their second half pressure finally tells, the extra-time winner coming from an even more unlikely source, full-back Glyn Pardoe ending Albion resistance as boss Joe Mercer and coach Malcolm Allison took a third trophy to Maine Road in 22 months – and there was still six weeks of the season to go…………..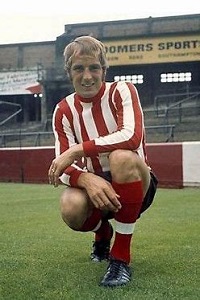 MANCHESTER UNITED 1 SOUTHAMPTON 4 (16/8/1969): In conjuring August 1969 it is hard to convey the aura of invincibility still surrounding Manchester United, particularly at Old Trafford. Fifteen months on from lifting the European Cup and with the golden triangle of Charlton, Law and Best still in harness, dropped points at home was headline news – making this pasting on their own patch a shock of seismic proportion.
That said, United were not the only side to suffer at the head and right foot of Saints' prolific Welsh centre-forward Ron Davies, who on the back of topping Division One goal-scoring lists twice in the past three seasons, scores with three superb far post headers and precise low drive – and all this after the home side had taken the lead through Willie Morgan.
With experienced campaigners such as Jimmy Gabriel, Frank Saul, Terry Paine and John McGrath in the side Southampton are nobody's fools, but most eye-catching is the superlative wing play of of John Sydenham whose inch-perfect crossing is meat and drink for Davies – who was afterwards described by Sir Matt Busby, no less, as 'the best centre-forward in Europe.'
CRYSTAL PALACE 1 ARSENAL 5 – (30/3/1970): Informed opinion states the England team played their most expansive and dynamic rugby in the year before conquering the world in 2003. While not qualified to offer an opinion either way, there is perhaps a parallel to be drawn with (the) Arsenal and the season prior to their double-winning feat – especially if this evidence is anything to go on.
Not only are they far too good for top flight newcomers Palace, based on a sumptuous Selhurst Park performance few would have been able to contain them – the home side ripped apart by flicks, feints and all manner of finery in keeping more with the Arsene Wenger rather than Bertie Mee era.
George Armstrong provides a goal and penetrative wing play, George Graham marks his exceptional performance by also scoring, John Radford the main beneficiary of classy approach work in scoring a hat-trick.
Continuing to play in this manner would have won Arsenal friends galore – but with a tightening here and narrower scope there, coach Don Howe went for prizes rather than platitudes. Not that patrons of the North Bank were complaining.
LIVERPOOL 1 MANCHESTER UNITED 4 (13/12/1969): Anyone looking for end of decade/end of era connotations could not miss the significance of this mid-winter Anfield dust up.
On one hand there is something reassuringly familiar about the names to be found on each team sheet, but on the other a sense the high road has run its course.
Based on their Goodison triumph of seven days before, a clutch of Shanks' mid-60s redoubtables showed they could still produce every-so-often greatness, but those days were becoming further apart – borne out by inconsistent league form and early exits from the League and Inter-Cities Fairs Cups. For their part United also have a tried and tested look and while a big win on the red half of Merseyside was never to be sniffed at, they look a team going from week to week rather than paying heed to the future.
The visitors go ahead courtesy of a Ron Yeats own goal but are pegged back a leveller from Emlyn Hughes, whose application marks him out as a foundation stone for the rebuilding process Shankly was soon to begin. After the break Willie Morgan and Ian Ure put United firmly in command, their afternoon capped with a trademark Bobby Charlton thunderbolt.
In the moment it is a thing of beauty – yet even then there is a feeling for all concerned of feast and famine becoming interchangeable on almost a weekly basis.
MANCHESTER CITY 2 GORNIK ZABRZE 1 – European Cup Winners Cup Final (29/4/1970): If 'Gasoline Alley' by Rod Stewart was the 'lost' rock masterpiece of 1970 ('couldn't give it away' reflected its creator years later), then the European Cup Winners cup triumph of Manchester City was the overlooked cup success.
Having the misfortune to clash directly with the FA Cup Final replay and thus denied live UK television coverage, while viewers in their millions were gripped by events at Old Trafford, out in Austria City were overcoming game opposition from Poland along with other obstacles such as winger Mike Summerbee failing a fitness test (although he was named among the susbtitutes) and early loss of influential centre-back Mike Doyle through injury.
But if any side had momentum during this era it was Manchester City, first half goals from Neil Young and Francis Lee (penalty) enough to secure victory despite the Poles, (whose number included Jerzy Gorgon and Wlodzimierz Lubanski, names that would become familiar in England three years later due to their involvement with the polish national side), reducing the arrears with twenty minutes left.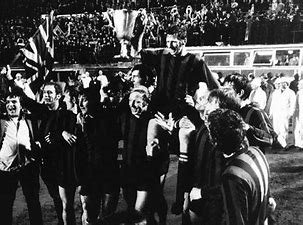 City even took the weather with them, heavy rain turning the pitch into a veritable Vienna flood, Maine Road continuing to be awash with trophies, this their fourth major prize in just less than two years – Joe Mercer's men thus emulating the achievement of Leeds from the previous year of winning a domestic and European honour in the same season.
For the time being, however, it would be their last, the recent run of glory halting at this point – or as Rod put it on a 'Gasoline Alley' track, 'It's All Over Now.'
WATFORD 1 LIVERPOOL 0 – FA Cup Round Five (21/2/1970): Given the fierce professionalism Bill Shankly instilled in his players, losing cup-ties in shock fashion to modest opposition was something that happened to other teams.
But even in a season when they made a second round Inter Cities Fairs Cup exit at the hands of Portuguese unknowns Vitoria Setubal, a fifth round FA Cup trip to second division Watford looked tricky but hardly problematic, a semi-final spot theirs for the taking.
After a league campaign that had peaked and creaked in almost equal measure, prolonged FA Cup involvement looked a sure way of finding salvation – but in what would prove a defining fixture in relation to how Liverpool moved through the early-70s, they reached the end of the line in more ways than one.
From the footage it looks a game they should have won, but as chances go begging, (most the result of fine crossing from Ian Callaghan, a player who would survive the coming shake-up, Shankly knowing enduring class when he saw it), it all comes with an air of being laboured and lacking in spark – the issue settled by a 64th minute header from Watford centre-forward Barry Endean.
With 'Sir' Roger Hunt having already departed, the World Cup winner sold to Bolton Wanderers three months before, the game was almost up for many of those with whom he had enjoyed league and FA Cup successes – defeat at Vicarage Road a short-term loss when set against the long-term gains to come.
ENGLAND 3 NORTHERN IRELAND 1 – Home International (21/4/1970): As World Champions every fixture played by England since the joyous days of July 1966 came with its own fascination, although few contained quite as much intrigue as this chapter late in the story.
Their last Wembley performance before heading down Mexico way to defend the title ensured a 100,000 full house, England led out by Bobby Charlton on the occasion of his 100th cap. Behind him were five of his 1966 World Cup winning brethren in a strange mix of old and new, the forthcoming FA Cup Final replay put Peter Osgood and a large Leeds contingent out of contention, hence debuts for Brian Kidd (Manchester United) and Ralph Coates (Burnley).
But even then the decision to play Nobby Stiles alongside Bobby Moore in central defence looks a strange one – Sir Alf paying no heed to the aerial threat posed by Derek Dougan, Everton totem and title-winning skipper Brian Labone presumably being saved for the avoid-defeat-at-all-costs trip to Hampden four days later.
The underfoot carnage witnessed at the FA Cup Final earlier in the month has undergone a semblance of repair, the pitch in no way to blame when England take a first-half lead – as was his forte, Martin Peters slipping his marker in a crowded penalty box to head home a Charlton corner.
The quickly churning surface also has no bearing when Northern Ireland level five minutes after the break – George Best showing incomparable balance in skipping past club-mate Stiles and shooting low past Gordon Banks.
England regain the lead shortly afterward through Geoff Hurst, this a 1970 England tale to indeed have a happy ending, Charlton marking his milestone by completing the scoring – the 48th and penultimate goal of his glittering international career occurring on what proved his last appearance at Wembley for either country or club. By way of irony the same would also apply to Best as the thread of his career became increasingly frayed.
NORTHAMPTON TOWN 2 MANCHESTER UNITED 8 – FA Cup fifth round (7/2/1970): In the 1976 film version of 'The Likely Lads' Terry Collier (James Bolam) refutes criticism from his pal Bob Ferris (Rodney Bewes) of perceived unchivalrous behaviour with the remark:
'Omar Sharif wouldn't be Omar Sharif if he lived in Gateshead.'
If seeking a football analogy on similar lines it would be something like, 'Maradona wouldn't be Maradona if he had to play on mud-heaps like the County Ground, Northampton.'
In early 1970 the pitch was in a right old state when the fourth division side hosted an FA Cup tie against the highest profile players in the land, namely those of Manchester United. Adding to the interest in this small fry/big fish encounter was the return to United colours of class-of-his-own high-profiler George Best – the current supreme talent of the English game having been serving a six-match suspension for falling foul of referee Jack Taylor in a recent Manchester-derby League Cup semi-final, knocking the ball from the hands of the official as they left the pitch.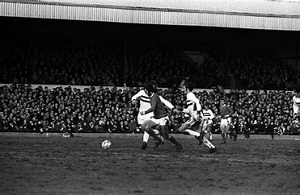 But if Best could be said to have petulantly dispossessed the man who in 1974 would take charge of the World Cup Final, then at Northampton nobody could take the ball from George – marking his comeback by scoring six times in a fifth round rout, his double hat-trick still a record haul for a Manchester United player in a competitive match.
So much for the surface being a leveler – but at this juncture no one was the same level as George Best and to have pulled off a shock, Northampton would have needed a wonderous talent of their own.
Someone like Maradona in fact.
CHELSEA 2 LEEDS UNITED 5 (10/1/1970): If, as the old saying goes, familiarity does breed contempt, then perhaps it is not surprising Chelsea and Leeds clashed so vehemently in the FA Cup Final and Replay – it was after all their fifth and then sixth meeting of the campaign.
Here in the fourth (Leeds winning an early season Elland road league encounter, Chelsea gaining revenge by advancing in the League Cup after a replay), this early January ruckus at the Bridge produces the most one-sided clash of the lot – Leeds mouthwateringly good in scoring four second half goals without reply to win at a canter.
The portents pointed to an interesting afternoon in SW6. One place below top of the table Everton, the visitors had lost just one of their last twenty league games, while just below them Chelsea had emerged as the only credible title challengers from the capital, suffering just one defeat in their previous fifteen Division One outings.
Ahead through a Mick Jones goal, Leeds find themselves 2-1 down at the break after John Hollins and Peter Osgood respond for Chelsea, but as good as they have been it is not enough to cope with a second half barrage that inside seventeen minutes finds Allan Clarke, Terry Cooper, Peter Lorimer and Johnny Giles (penalty) all appearing on the the scoresheet – Leeds all the while making a strong argument for being the best club side in Europe as the 70s dawned.
As for the niggle and narkiness manifesting between the two sides, of that we had not seen the last……….
LIVERPOOL 0 EVERTON 2 – 21/3/1970: If the FA Cup humbling at Watford a month before brought realisation to Bill Shankly that it was time to call time on some of those on whom he had once relied, then his plans would have hastened at the sight of their neighbours running around Anfield as if they owned the place.
Which in a manner of speaking on this spring afternoon they did. Indeed, if you are going to score a goal epitomising your top of the table credentials then where better to do it than against your old rivals on their own patch – the Everton opener progressing from a throw out by goalkeeper Gordon West that goes through each of the Ball-Kendall-Harvey midfield triumvirate, before an inch-perfect Johnny Morrisey cross finds the head of Joe Royle, who nods home in front of the Kop (containing what looks a fair smattering of Evertonians).
Into the second half and Everton have the look of a side who knew they are in good form, redemption of sorts also going the way of full-back Sandy Brown. After his own goal nightmare in the pre-Christmas Goodison clash, it is his free-kick that eventually finds its way to Alan Whittle who settles the contest.
In little more than a fortnight they would be crowned champions at what looked the start of a trophy-laden era, which it soon was, only for Liverpool – Everton having just won their last major honour for fourteen years, 1984 also being the next time they would win at Anfield.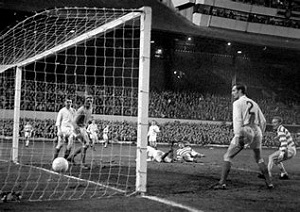 CELTIC 2 LEEDS UNITED 1 – European Cup Semi-Final second leg (15/4/1970): As the league champions of England and Scotland had never previously drawn each other in the European Cup, the press somewhat predictably dubbed this semi-final pairing as 'the battle of Britain' – the opening skirmish between them at Elland Road a fortnight earlier, ending in advantage Celtic due to a 1-0 victory, the 1967 European champions winning more comfortably than the scoreline suggests.
On the Saturday prior to the return meeting in Glasgow – now switched to Hampden Park in accommodating colossal interest in the game (confirmed by a gate of over 135,000 that remains a competition record) – both sides had contested domestic cup finals and while Leeds toiled to a draw against Chelsea, Celtic suffered a shock 3-1 reversal at the hands of Aberdeen.
If Don Revie's side drew encouragement from that, then they were right back in business when skipper Billy Bremner silenced the heaving Hampden masses with a superbly struck 14th minute shot to level the aggregate.
Yet in truth all it did was rouse Celtic into proving that when the occasion demanded they were the superior side. Winger Jimmy Johnstone showed how unplayable he could be, in midfield Bremner and Johnny Giles were bested by Bertie Auld and first-leg scorer George Connolly, second half goals from John Hughes and Bobby Murdoch the upshot of the conclusive dominance imposed by Jock Stein's side.
On this evidence Celtic advanced into the final as overwhelming favourites to defeat Feyenoord and become champions of Europe again – but in many respects their best had come a game too soon, theories of over-confidence doing the rounds on the back of a curious 2-1 extra-time defeat.
LEEDS UNITED 1 CHELSEA 2 – FA Cup Final Replay (29/4/1970): 17 days on from their first and on occasion feisty set-to, the teams decamped to Old Trafford to have it out once and for all – and in front of a record television audience for an FA Cup Final (and the sixth highest in UK history), commit acts of violence not seen on an English field since the Civil War.
What cannot be overlooked in assessing the two jousts is the desperation of each side to win the FA Cup for the first time. Chelsea, having lost to Spurs in the 1967 final, were in urgent need of a major trophy for substance to be added to their King's Road swagger – the stakes arguably now even higher for Leeds who four weeks before had an armful of trophies in their sights, only to be faced with the prospect of finishing the season empty-handed.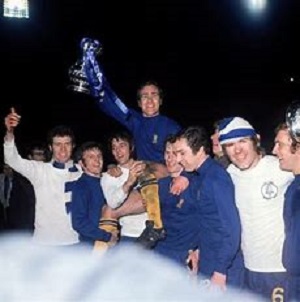 Even taking into account the tempestuous nature of another gripping contest, it is sometimes hard to detect whether desperation or genuine dislike is at the root of some strong and at times, savage tackling.
Yet for all the overt physicality there are still passages of enthralling, high energy play. Those players who hit the deck are there through being clattered rather than in connivance to win a free-kick, but in the course of an intense two hours, the referee, one of the few on the pitch to adopt a 'hands-off' approach, takes just one name in allowing the feuding to proceed – and then it is for time-wasting.
Again Leeds take the lead, a first-half goal from Jones not truly reflective of their dominance but Chelsea once more hit back, levelling with a 75th minute diving header from Peter Osgood who thus maintains his run of scoring in every round of the 69-70 competition, 'Ossie' the undisputed 'King of Stamford Bridge' the last player to achieve the feat and in these current times of squad rotation quite likely to remain so.
With the game fourteen minutes into extra-time, a long throw-in from Hutchinson is flicked to the far post where Webb is on hand to nod home – and ahead for the first time in the two matches, Chelsea safely negotiate their way to victory.
Those at the time who acclaimed it as a victory for finesse over force, the Arabian Knights somehow outsmarting The Wild Bunch, would in time have reason to think again.
Galvanized by their succession of disappointments, Leeds remained at the forefront of English football for the first half of the 1970s, while in contrast the King's Road would in time become desolation row – Chelsea condemned to relegation in April 1975, the same month as Leeds secured a place in the European Cup Final.
Hello – hope you enjoyed another exclusive production from SAMTIMONIOUS.com
In order to create the best experience for when you drop by to read a page or two, those with the power to ordain such things (me, actually), have decided to remove all external advertising from the site – in other words articles will no longer be subject to intrusive pop-up ads. BUT – and ain't there always one – should you wish to make a donation toward the on-costs of the most entertaining and original blog-site around, please press on the – 'DONATE' – button below. It will be greatly appreciated.
Stay safe everyone and thanks for dropping by – best wishes Neil
SAMTIMONIOUS.com – films, football and fabulous music at The Dominion of Opinion
NEIL SAMBROOK is the author of 'MONTY'S DOUBLE' – an acclaimed thriller available as an Amazon Kindle book.