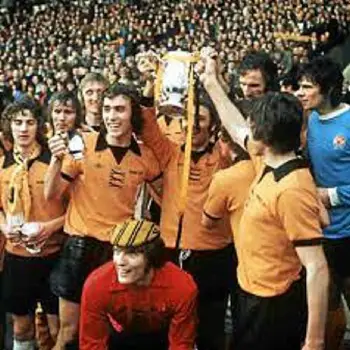 Just as encyclopedias are full of events that through the ages it was believed could never happen, so the annals (or annuals in my case), of English football history are filled with instances of teams widely thought to be relegation proof – only to lose, for a season at least, their top flight status.
Long before 'you don't win anything in October' or 'when you look at their bench compared to ours' had become standard football parlance, the phrase 'too good to go down' was bandied about in relation to a seemingly talented side who could not free themselves of relegation worries – in many cases disproving what people said about them by failing to beat the drop.
The 'too good to go down' theory was no doubt being applied before the 1970s, yet this was the decade when it became most quotable and proved untrue with the greatest frequency. Time after time one apparently useful side after another tumbled into Division Two – their descent sometimes taking such a rapid hold they slipped from top half of the table one season to basement the next.
Very often the decline and fall of what had previously been a solid outfit flew in the face of logic, but that was 70s football for you. In an era when two clubs won the FA Cup from the second division, far more – including Division Two cup-winners Sunderland and Southampton – achieved the bitter-sweet double of winning a major honour, while at some point during the same period could be found losing their place among the elite.
The most high profile location of the 'it couldn't happen here' school of thought was Old Trafford, although in truth the 1974 demotion of Manchester United was pretty much the result of a long-established malaise. Even so, it was still a shock their cluster of international players could not stave off an eventuality that in the near future would bring trips to Orient, Oxford and Oldham.
Between 1970 and 1974 Chelsea and Spurs reached seven major finals that saw them collect five trophies. But as years passed and glory days turned to times of tribulation, both suffered the indignity of going down before the decade was out – Chelsea for their part able to prove the old adage that lightning could strike twice in the same place, dropping out of Division One in 1975 and then again four years later.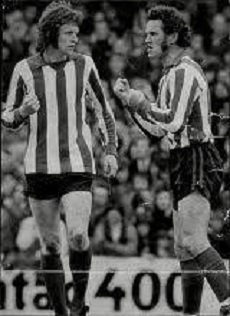 The capital gains that brought honours to Stamford Bridge and White Hart Lane early in the 70s became significant losses from 1975 onward, with at least one London club relegated in four of the last five seasons of these strange times – West Ham sinking in 1978 three years after winning the FA Cup, the same time scale as QPR finishing second in 1976 and then third bottom as the 1980s loomed.
In some respects, however, that was an eternity compared to the mere 26 months that elapsed between Wolves winning the League Cup and having Hereford United appear on their fixture list. Notable individual achievements were also no guarantee of survival – England striker Mick Channon topped the first division goal-scoring charts in the season his club side Southampton succumbed.
Despite its overt present day opulence there is, however, compelling evidence to suggest the top division of English football was a far more competitive place in the years between 'Let it Be' and 'London Calling,' than it is now.
Recent times have seen creation of a band of clubs who bounce between the Premiership and Championship, thus relegation fears of half the top flight clubs are eased by likelihood that at least one, more often that not two, of the promoted sides will occupy relegation slots in any given season – this in contrast to the 70s when of the 24 clubs who won promotion just three (Luton Town, Carlisle United and Sunderland) went straight back down.
By the same token, in a time long before parachute payments, only four of the two dozen to be relegated (Manchester United, Norwich City, Wolves and Spurs) returned at the first attempt – the pitches may have been quagmires, but the playing field itself was level to a far greater degree.
Ultimately, as those who follow the game often say, the league table does not lie, the rightful place of a team determined by where they finish after 42 games.
Then again, between 1970 and 1979 sides containing such talents as Channon, Frank Worthington (Huddersfield Town), Lou Macari (Manchester United), Tony Currie (Sheffield United), John Richards (Wolves), Glenn Hoddle (Spurs), Trevor Brooking (West Ham) and Ray Wilkins (Chelsea) all failed to beat the drop – the 70s giving rise to a notion of it not always being the worst teams who go down………………
THE DIVISION ONE CELLER DWELLERS – 1970-79:
1970-71: 21st – Burnley (27 pts)/22 – Blackpool (23):
At least in relation to relegation from Division One the 1970s begin in straightforward manner – with precious little pleasure to be found at Blackpool who make an immediate return to the second tier. The final playing season of the great Jimmy Armfield produces just four league victories, the fewest by any side relegated from Division One during the decade (although they still manage to avoid the dubious distinction of the lowest points tally).
Without a win in September, October or November, the autumn is best encapsulated in the visit of Chelsea – winning 3-0 at half-time, Blackpool succumb to a 4-3 defeat which prompts the resignation of promotion winning manager Les Shannon. With their only two point haul after Christmas not arriving until late-April when the game was up anyway, the mid-season gloom had been briefly lifted by 4-0 FA Cup third round demolition of West Ham (who finished third bottom, but seven points clear of danger), an otherwise dispiriting campaign at Bloomfield Road ending with success in the Anglo-Italian Cup – Blackpool in theory the only team of the era to win a trophy and be relegated in the same season.
They were joined in the basement by Lancashire neighbours Burnley, whose total of seven wins was meagre return for a side being heralded as 'The Team of the 70s.' But a clutch of talented youngsters, whose combined age was barely 70, learnt fast and after a season to reset their bearings returned to the top flight in 1973 as second division champions.
1971-72: 21. Nottingham Forest (25) 22. Huddersfield Town (25):
No two relegated clubs experienced such differing fortunes before the 1970s was out than the back-markers of 1971-72. Finishing on the same number of points, but still five short of safety, Forest closed the decade by climbing to the highest rung on the ladder of European football, Huddersfield slipping down all the snakes to Division Four.
Neither had looked especially vulnerable in the season before going down, but only four away wins between them in 1971-72 allowed their fellow strugglers to breathe more easily than they should.
1972-73: 21. Crystal Palace (30) 22. West Bromwich Albion (28):
With a points tally that would have been enough for both to survive in the two seasons previous, it was the turn of Crystal Palace and West Brom to lose their first division footing – the sickener for those at Selhurst Park being they secured one more point than the amount they survived with 12 months before.
Things already looked touch and go for their survival hopes when Malcolm Allison swapped Manchester City for Croydon in late March 1973, but only two wins from the last eight matches was not the effect it was hoped 'Big Mal' would have – even if he had the personal satisfaction of a win at Maine Road on the final day of the season.
In finishing bottom Albion saw their points tally drop by seven from the year before, two wins in the last 13 matches indication of how a once proficient team were now on the slide – previous over-reliance on the Jeff Astle/Tony Brown strike partnership painfully evident with Astle netting just five times in an injury-plagued season.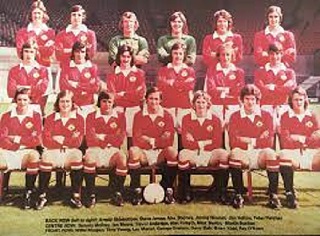 1973-74: 20. Southampton (36) 21. Manchester United (32) 22. Norwich City (29):
As an epithet of 70s football, the 'too good to go down' label is most attached to Manchester United and their Class of '74. In the first season of three down/three up it was always likely someone would bemoan their luck in falling foul of the change, but in this case it was Southampton not United who could feel most hard done by – their haul of 36 points the most amassed by any relegated top flight side during the decade in question.
In normal circumstances 21 goals from Mick Channon should have been their trump card, but not even he could score at the rate needed to bail out a Saints' defence at sixes and sevens – literally in the case of heavy defeats at Derby and Ipswich.
After surviving with a buffer of two points in 1972-73, a poor start combined with the November resignation of manager Ron Saunders left Norwich City, already bottom of the table, facing what even at this stage looked a fait accompli. Unbeaten in eight of their twelve matches during the last two months of the season under John Bond, such improved form came too late avoid the inevitable, but served as a promising portent for the following season.
Following a run of indifferent seasons since being crowned European Champions in 1968, the years of stagnation finally caught up with Manchester United as floundering developed into fully-fledged free-fall. Despite Bobby Charlton and Denis Law departing Old Trafford at the end of 1972-73 and George Best, the other point in the 60s 'Golden Triangle,' making only a fitful contribution in the first half of 73-74 – before leaving for good in early January – there were still enough accomplished and experienced performers, not to mention a seasoned manager in Tommy Docherty, for United to bed down comfortably in mid-table.
That they could not suggests an acute lack of application – points were rarely gained after conceding the first goal – from an array of internationals, (among whom Martin Buchan, Jim Holton and Willie Morgan would be part of the Scotland World Cup squad that summer), whose collective failings were at odds with their individual reputations.
But irrespective of surmising, the plain facts cannot be denied. While their defensive record was none too shabby, half of the division conceded more, in front of goal United were woeful, netting the fewest number of 'home' goals (25) with Northern Ireland international Sammy McIlroy finishing as top scorer with just six.
Yet even in the face of such adversity the average attendance for Old Trafford league games was close on 45,000, the season in Division Two about to ensue providing many memorable moments due to the fast, enthralling football Manchester United were to conjure on a weekly basis – they and Norwich the first sides of the decade to bounce right back on being relegated.
1974-75: 20. Luton Town (33) 21. Chelsea (33) 22. Carlisle United (29):
In what is generally regarded as the most curious season of the 1970s, Derby County won the title with the fewest number of points since the mid-50s – with only twenty separating third bottom Luton and the league champions.
For the first time in the 70s not one, but two of the promoted teams went straight back down. Carlisle United famously went from top after a week to being relegated with a fortnight still to play, yet even then there is still something to admire about their efforts. With 29 points and boasting a decent away record the season is not quite the calamity often perceived – indeed, in the land of Evertonia, losing home and away to the Cumbrians is still cited as the reason the title did not end up at Goodison.
Joining Carlisle in a swift return to life in the middle lane were Luton, who despite being embroiled in a season long relegation battle, maintained hopes of survival until the very last day – three wins and a draw in their final four matches not quite enough to keep their heads above water. They would not lose again following the 2-1 reversal at fellow-strugglers Spurs on April 5, but the White Hart Lane defeat proved costly.
Their turn of the decade strut and swagger now consigned to memory, Chelsea had seen star turns such as Peter Osgood and Alan Hudson make their exits and although for a while the base still looked sturdy there was no longer any eye-catching decoration. Over £500,000 was received when the aforementioned duo were sold, most of which went on servicing a debt incurred by construction of a main stand for the 80s, rather than here and now investment in a team on the wane.
On paper at least Chelsea looked no worse than several others in the bottom half but a 7-1 March mauling at Molineux – against a home side whose own inconsistency had ominous overtones – was indicative of a team wracked by defensive ineptitude and failure to grasp the predicament they were in.
The situation became even more parlous with a 2-0 April defeat in N17, Spurs themselves only surviving with a point to spare – but with Chelsea winning only once in the last 12 matches and not at all in the final six, it confirmed good times on the King's Road had become down time.
1975-76: 20. Wolves (30) 21. Burnley (28) 22. Sheffield United (22):
By some distance the hardest relegation roster of the 70s to fathom. With their sixth placed finish of the previous season, Sheffield United had finished just a point shy of UEFA Cup qualification and although neither Burnley or Wolves had pulled up any trees, both were rooted firmly in mid-table.
So just how did things unravel to the extent they occupied the basement berths with only Birmingham as company for the entire season?
Injuries to key players were a factor but with all three there is a sense that come the final weeks the talent on the books will find a way out of trouble. For Sheffield United and then Burnley the escape route proved too well hidden, but Wolves, who twice scored five and did the double over the three sides around them, kept up the struggle until the very end, entering the last match of the season still harbouring hopes of survival.
But in a dramatic Tuesday night finale in early May, fourth-bottom Birmingham ensured their first division status by winning at Bramall Lane while at the same time Liverpool, in clinching the title with a 3-1 Molineux victory, consigned Wolves (who needed to win and defeat for Birmingham to escape their fate) to Division Two – your genial host thinking it the end of the world until being astounded by a magnificent set from The Who at The Valley, home of Charlton Athletic, three weeks later.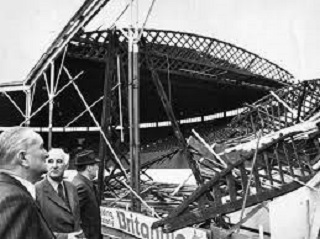 1976-77: 20. Sunderland (34) 21. Stoke City (34) 22. Spurs (33):
For the first time during the decade all three relegated clubs break the 30-point barrier – but to no avail as not even a combined total of 101 can save them.
With only five points separating the bottom eight Sunderland finish third last, 34 a decent effort for a newly-promoted side (enough to beat the drop in the two seasons before and after).
Their immediate return to Division Two was confirmed, some would say contrived, by the fact the fourth and fifth bottom clubs Coventry City and Bristol City chose not to land a glove on each other for the last quarter hour of their last match 2-2 draw – aware each was safe with a point.
This blatant bout of shadow-boxing came about after news arrived the Black Cats had lost 2-0 at Everton, the score broadcast over the PA system at Highfield Road where the game had kicked off fifteen minutes late due to crowd congestion.
Coventry and in particular managing director Jimmy Hill, received an FA reprimand for their conduct, but the result stood – those of Wearside persuasion pointing out to this day there was a far bigger crowd at Goodison Park, where the match still kicked off at the scheduled time…………..
Elsewhere Stoke after finishing fifth and twelfth in the proceeding seasons paid the relegation price of scoring just 28 goals, their lack of firepower and plunge down the table a consequence of selling five front-line players. Sean Haselgrave, Ian Moores, Jimmy Greenhoff, Alan Hudson and Mike Pejic were moved on in order to address bank arrears accrued in part by damage inflicted on Victoria Ground by gale force winds in January 1976 – the club already in debt, reportedly to the tune of £250,000 (a fortune by 70s standards), before the destructive weather occurred.
As the fire-sale of top rank performers continued, long-serving manager Tony Waddington resigned in frustration before March 1977 was out – one win in the next thirteen games bringing an end to the first division status Stoke had held since Waddington guided them to promotion in 1962.
Whereas a section of roof came off in the Potteries the sky came in at Tottenham, whose brush with the drop in 1974-75 looked to have been rectified with a ninth placed finish the following season. But thoughts of a new dawn were wide of the mark and dispelled altogether by an 8-2 thrashing at Derby in October 1976, after which the campaign lurched from one miserable run of results to another – the most goals conceded (72) and highest number of defeats (23) leaving nothing to the imagination.
Most weeks Tottenham fielded a side that included trophy-time throwbacks such as Pat Jennings, Terry Naylor, Steve Perryman, Ralph Coates and John Pratt along with the emerging genius that was Glenn Hoddle – but failure to find suitable replacements for Martin Peters, Mike England, Alan Gilzean and Martin Chivers had resulted in exactly that.
Spurs and Stoke thus became the latest members of a 70s 'double' club – that of winning a trophy (three in the case of Tottenham) and going down in a relatively short space of time. Meanwhile 1977 made triple-timers of Sunderland and Manchester United (by virtue of winning the FA Cup), clubs who within four years had experienced promotion, relegation and winning a major honour – and there were still two seasons of the decade left.
1977-78: 20. West Ham United (32) 21. Newcastle United (22) 22. Leicester City (22):
While Nottingham Forest were taking the top flight by storm in completing a title and League Cup double, Newcastle and Leicester also recorded 'doubles' (admittedly unwanted), as they made unceremonious departures.
Only separated by goal difference in registering a meagre 22 points apiece, bottom of the pile Leicester scored the least amount of goals (26) and won the fewest number of games (5), while an equally inept Newcastle had the worst defensive record (78 conceded) and racked up the most losses (26). Of two dismal campaigns there is not much else to say, fifth and eleventh placings of the previous season not counting a jot for two clubs who had completely lost their way.
Three years after winning the FA Cup West Ham once again found themselves mired in relegation trouble, but after surviving 12 months before with 36 points managed four fewer this time out – six wins from the last nine games still not enough to retrieve the situation.
Defeats to Manchester United and Liverpool in the last week of the season were hammer blows, so to speak, which allowed forthcoming FA Cup winners Ipswich and London rivals Queens Park Rangers to sleep more easily – and if the prospect of Upton Park hosting second tier football for the first time in twenty years was not sobering enough for the Boleyn faithful, painful League and FA Cup exits at the hands of Nottingham Forest (0-5) and QPR (1-6) were the salt in a wounding campaign.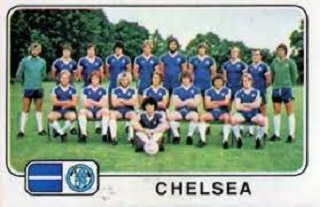 1978-79: 20. Queens Park Rangers (25) 21. Birmingham City (22) 22. Chelsea (20):
Just like the first season of the 1970s, the relegation certainties here were soon established – QPR, Birmingham and Chelsea destined to be playing second division football in 1980 even before 1978 had been waved goodbye.
At Loftus Road it was all a far cry from the swinging, second-placed days of 1975-76 when Gerry Francis and 'Stan the Man' were in their pomp, the winter of discontent manifesting in a miserable run of just one win in twenty games.
Birmingham had felt breeze from the relegation axe whistle past on a couple of times in prior seasons, but now it fell with a heavy thud, Blues in the danger zone from early-September onward. The 5-1 November home defeat of Manchester United was a notable triumph, not least as it was their first of the season. Eight straight defeats from December through to late-February put paid to any hopes of surviving, the million pound sale of Trevor Francis to Nottingham Forest academic in regard to avoiding the drop.
Due to ongoing financial constraints Chelsea only had youngsters rather than cash to throw at their problems. With only two wins prior to Christmas – the festive period beginning with a 7-2 drubbing at Middlesbrough – things deteriorated further after the turn of the year, Chelsea shipping six at Forest and five at Highbury, the last 18 matches producing just one win.
If the ignominy of going down for the second time in four seasons was not bad enough, Chelsea were also lumbered with the humbling statistics of mustering the smallest points total and conceding a record number of goals (92) by any relegated first division side of the 1970s.
It could not have been further removed from the dawn of the decade when Ossie, Huddy and Cookie were taking defences to the cleaners in front of packed houses, the mid-70s relegation and second season return from Division Two perceived as realignment rather than start of a rocky road leading to places such as Shrewsbury and Wrexham.
From memory, in 1979 nobody used the term 'too good to go down' in relation to QPR, Birmingham or Chelsea and after such a wretched season for all three, it was more a case of 'too damaged to come back?'
Each would need differing amounts of time to answer the question.
Hello – hope you enjoyed another exclusive production from SAMTIMONIOUS.com
In order to create the best experience for when you drop by to read a page or two, those with the power to ordain such things (me, actually), have decided to remove all external advertising from the site – in other words articles will no longer be subject to intrusive pop-up ads. BUT – and ain't there always one – should you wish to make a donation toward the on-costs of the most entertaining and original blog-site around, please press on the – 'DONATE' – button below. It will be greatly appreciated.
Stay safe everyone and thanks for dropping by – best wishes Neil
SAMTIMONIOUS.com – films, football and fabulous music at The Dominion of Opinion