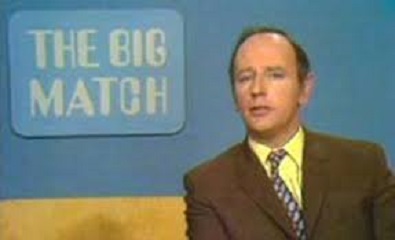 At last cause for celebration. After weeks of lock down TV misery when listings have been dominated by guest house owners falling out, desperate dinner parties and a building renovation show that could easily have been renamed chateaus for whackos, we have some football to enjoy. Games full of excitement, great goals, drama, tough tackling and exquisite skill – references of course to 'THE BIG MATCH REVISITED' currently being shown on ITV 4.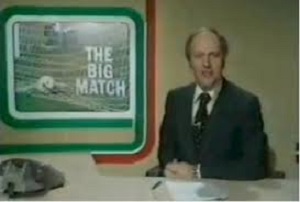 Hosted by the late Brian Moore, for three decades the voice of football on ITV, 'The Big Match' was a Sunday afternoon highlights programme which concentrated on London-based clubs in the way 'Star Soccer' covered clubs in the Midlands area and 'The Kick Off Match' focused on those in the North West.
With a slot in the afternoon schedule around 2pm, an hour of football action from the previous day, following on from a roast dinner, constituted a 'Super Sunday' long before an advertising executive thought up the phrase to pedal live, televised football in the new millennium – the exec in question likely not even born in 1976, the 1976-77 season being revisited in editions of 'The Big Match' currently being shown.
Beginning with the first edition of a new season, broadcast on Sunday 22nd August 1976, the notion that 70s pitches were either soggy or scorched, is quickly dispelled, highlights from Highbury and Portman Road revealing  playing surfaces in pristine condition – something of an irony as at The Oval England are being thrashed by the West Indies, Viv Richards and co blasting the ball across (or over) a threadbare outfield showing the consequences of a hot, dry summer without a drop of rain since late May. 
Not that a pitch immaculate in appearance – and so commented upon by Moore early in commentary – is of benefit to home side Arsenal, as a packed-to-the-rafters crowd, many drawn by the debut of record close-season signing Malcolm MacDonald, see newly promoted Bristol City record a 1-0 win.
Their energetic, combative display (back in 1976 'a high press' had no football meaning and merely referred to someone who ironed four floors up) snuffed out an Arsenal side containing MacDonald, Alan Ball and six survivors of their 1971 'Double' winning side.
Despite the glorious sunshine it proved a dismal opening day for clubs from the capital with defeats for West Ham, QPR, Arsenal and Spurs, who go down 3-1 at Ipswich – 'London Falling' so to speak. 
'Go Down' in fact would be an operative phrase at White Hart Lane eight months later as Tottenham suffer the indignity of relegation, the season as a whole largely forgettable for London's top flight quartet.
Flattering to deceive Arsenal finish eighth, although they are shown to much better effect than on their opening day flop in defeating Manchester United by the odd goal in five on the Saturday before Christmas – the marble halls echoing to the acclaim bestowed on Liam Brady, the young Irishman giving a virtuoso display in the Arsenal midfield that would become his trademark.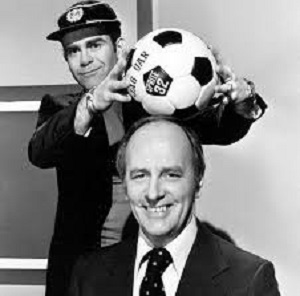 This fast-paced, exciting encounter (a Manchester United team of great attacking intent would go on to win the FA Cup five months later) that illuminated an otherwise gloomy North London afternoon, was the centre piece of the December 19th edition of 'The Big Match' – an episode differing from the others in being presented not by Moore, but rock star Elton John, who is joined in the studio by England internationals of the day, Kevin Keegan and Mike Channon. 
Despite the temptation to view their gentle joshing through a prism of 21st Century cynicism, there is something engaging and kindly about the whole thing – the festive aspect pushed to the hilt when Keegan and Channon join Elton at the piano for a jolly rendition of 'We Wish You A Merry Christmas.' 
The seasonal bonhomie had been helped a few minutes earlier when Elton (by then chairman of fourth division Watford) announces there is not time to do a quiz – twelve perspective 'lucky' winners avoiding a signed copy of his recent 'Blue Moves' album, which a month before had been lambasted by the UK music press (in football parlance, the NME could be said to have left its foot in).
To his credit and the amusement of Keegan and Channon, Elton jokes about the pile of (double) albums on the desk in front of him saying, 'if you can't sell 'em, give 'em away.' 
Two weeks before the quiz prize had been a Tottenham goalkeeper jersey signed by Pat Jennings (Mr Wilson from Sittingbourne, the lucky winner) and given the choice, even Arsenal supporters would have gone for the shirt of their future goalkeeper over an autographed, but fitful Elton John record.
Indeed, a pair of Pat's unwashed Tottenham socks would have been less odorous than an album described by one reviewer as 'pretentious obfuscation and plain boring.' 
Despite being among the football elite, during the autumn of 1976 both Arsenal and Spurs lose out in terms of screen time to second division Fulham, whose profile has been raised by the signings of George Best and Rodney Marsh – joining a side already including England World Cup winning captain Bobby Moore.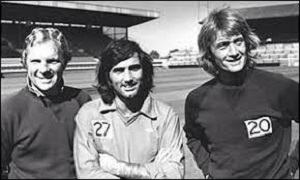 Early in the season hapless Hereford are demolished in front of the cameras as Best and Marsh put on a display that is a mixture of skill and slapstick – although anybody turning up to play Fulham, as opposed to acting as straight-men, finds them a soft touch as a 4-1 defeat at Southampton (Best sent off for dissent) and 5-1 home reversal at the hands of Notts County attest.
After the latter, during which Moore is barracked by a section of the home crowd, Brian Moore and Fulham coach Bobby Campbell say how appalled they are at a player of his stature being treated in such a way. Both are quite touching in their defence of him, football far more benevolent toward great players back then than it is now.
If the star of Bobby Moore had begun to wane it had taken ten years – for players of today it can take ten matches.
Of the programmes shown so far, the most engrossing is the one originally broadcast on Sunday 12th December 1976. The main feature is the Chelsea v Wolves second division fixture, played twenty fours hours before on a mish-mash Stamford Bridge pitch, rock hard in the shadow of the huge main stand, but turning soft where exposed to the wintry sun. 
On a cold afternoon, the conditions are challenging to say the least – yet none of the outfield players are wearing gloves – and while erratic defending offers explanation as to why both clubs have recently dropped out of Division One, some of the attacking play is remarkably inventive. (Both would be promoted at the end of the season).
Sharing six goals, Chelsea score twice late on to salvage a point and it comes over as a fine game of football, the players and referee making allowances for the conditions in their tackling and decisions –  a situation no doubt helped by Ron 'Chopper' Harris' being confined to the Chelsea bench for the afternoon as substitute.
At one point the cameras leave the pitch to reveal US Secretary of State Henry Kissinger is sitting in the Directors Box. Brian Moore makes reference to him and then suggests his diplomatic skills may be required to quell a fight taking place in the crowd.
While it is easy to become misty-eyed over 70s football – and judging by 'The Big Match Revisited' there were some murky Saturday afternoons in the autumn of 1976 – with his off-the-cuff remark, Moore serves to remind us that hooliganism and indeed, racist chanting, was becoming a huge blot on the football landscape. 
The second match to feature in this edition is an Anfield meeting of Liverpool and QPR. Through the mist and mizzle, the teams who finished first and second the previous season show commendable discipline in keeping the ball on the deck and pleasing inclination to switch defence into attack.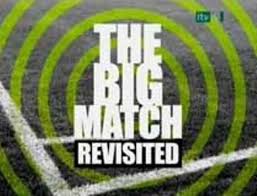 'The Big Match Revisited' serves as a telling, sometimes poignant reminder of when football had nothing like the financial orientation of today, the game while still stimulating, becoming less edifying as a consequence.
Viewing footage of remembered matches brings a sense forty four years has passed in a flash, in the way anyone looking back the same length of time in 1976 would find themselves in the 1930s – which to a mid-70s teenager seemed like the Middle Ages. 
Suffice to say, anybody under thirty who stumbles upon the programme will likely consider it highlights of football played at walking pace on mud heaps, the only connection to what they envisage as a 'Super Sunday,' being the fact it was recorded in colour.
Back at Anfield in December 1976 and with a midfield quartet of Callaghan, McDermott, Kennedy and Heighway in formidable form, Liverpool eventually gain the upper hand against QPR and run out 3-1 winners. Come the end of 1976-77, a supreme Liverpool team will be champions again.  
Strange, forty four years later and with football returning to television screens, that phrase is about to be heard once more. 
'The Big Match Revisited' is being shown on ITV 4 – Saturday & Sunday (10.30 am).
This article was first published on 19/6/2020.
Hello – hope you enjoyed another exclusive production from SAMTIMONIOUS.com
In order to create the best experience for when you drop by to read a page or two, those with the power to ordain such things (me, actually), have decided to remove all external advertising from the site – in other words articles will no longer be subject to intrusive pop-up ads. BUT – and ain't there always one – should you wish to make a donation toward the on-costs of the most entertaining and original blog-site around, please press on the – 'DONATE' – button below. It will be greatly appreciated.
Stay safe everyone and thanks for dropping by – best wishes Neil
SAMTIMONIOUS.com – films, football and fabulous music at The Dominion of Opinion
NEIL SAMBROOK is the author of 'MONTY'S DOUBLE' – an acclaimed thriller available as an Amazon Kindle book.
REBEL REBEL – Seven Wayward Sons of 70s Football