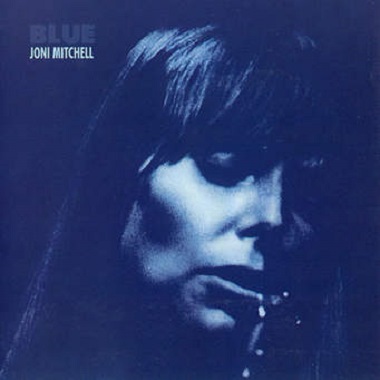 In the history of rock music there are a handful of albums, 'Pet Sounds,' 'Astral Weeks' and 'What's Going On' among them, that have attained masterpiece status. Beyond them stands 'Blue' by Joni Mitchell.
The most astonishing combination of poetic, poignant lyrics and stark but imaginative melodies ever conjured, 'BLUE' (June 1971) is simply incomparable. Its description by one critic as being 'the most gutting break-up album ever recorded' alludes to the primary themes of love and loss, but misses the wider terms of reference, especially that of looking for truth and meaning from experiences good and bad.
Throughout this serene, intimate, yet often haunting song cycle, Mitchell seeks a balanced view, almost as if swinging between the peaks and pitfalls of a love affair can eventually constitute balance – Joni searching for this equilibrium in songs throughout the piece.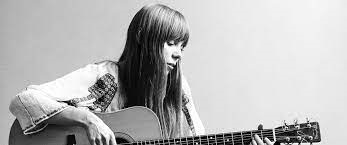 In the broadest sense it is a confessional singer-songwriter album, but Mitchell is far too disarming and honest to offer a one-dimensional perspective of the scenes she describes.
Much like Bob Dylan on his 1975 'Blood on the Tracks' set – the only other album of its kind to have 'mentioned in the same breath' standing – the self-analysis is raw, intense, yet not without moments of sly humour among the emotional turmoil.
Her fourth album, 'Blue' followed 'Ladies of the Canyon' (1970), an LP that brought Mitchell critical acclaim and widespread commercial success, huge sales generated by the hit single 'Big Yellow Taxi' – an environmental protest song with a nice line (several in fact) in irony and also 'Woodstock,' her immortalising of late-60s hippie ideals. The song had been covered earlier in the year by kings of the counter-culture Crosby, Stills, Nash & Young – Mitchell already having close attachments to that aforementioned aggregation.
Born Roberta Joan Anderson in Alberta, Canada on November 7 1943, she eschewed intentions of becoming a commercial artist in order to take up folk music. Marrying Chuck Mitchell in June 1965, the couple moved to Detroit, only for the marriage to be dissolved within two years. Local success led to engagements in New York, where the word wizardry of her songs brought notice from acts such as Judy Collins, Tom Rush and Fairport Convention. 
At the end of 1967 Mitchell met Elliot Roberts who became her manager and signed to Reprise Records, she cut a debut album 'Songs For a Seagull,' the sessions produced by former-Byrd David Crosby. The first LP and self-produced follow-up 'Clouds' were essentially folk-based records with little instrumentation (Stephen Stills playing bass on both) – and with the fledgling Crosby, Stills & Nash trio (soon to be joined by Young), sharing the same management, Mitchell, by now residing in Los Angeles, began a romantic liaison with Graham Nash.  
Living in their Laurel Canyon house with two cats in the yard, the cosy domesticity Nash portrayed in song ended when Mitchell finished the relationship before 1970 was out. In reaction to the break-up and conflicted by her sudden celebrity status, she made a trip to Europe visiting Greece, France and Spain, but on returning to Los Angeles became romantically involved with fellow song-smith James Taylor.
Each of these episodes inform the songs that would appear on 'Blue' – prior to which the passionate, if tempestuous affair with Taylor would end. But not before she contributed backing vocals to his 'Mud Slide Slim and Blue Horizon' album, he returning the favour with some acoustic guitar work on her imminent release. The two of them also appeared together for Carole King, singing back-up on the reworked version, ironic in retrospect, of  'Will You Love Me Tomorrow' that would soon appear on 'Tapestry,' Mitchell next into the same Hollywood studio to begin recording.
Armed with a batch of songs revealing her recent upheavals, most purveying a sense of detachment caused by doomed love affairs or being far from home, Mitchell once again keeps the musical arrangements simple and uncluttered – allowing her distinctive, flute-like vocals to sound personal, direct, but often vulnerable at the same time. 
Accompanying herself on piano and guitar, contributions from Taylor, Stills, drummer Russ Kunkel and pedal-steel maestro 'Sneaky' Pete Kleinlow are used sparingly – although the opening notes to be heard come from a dulcimer. Making the first of several appearances, it was an instrument Mitchell taught herself to play on her recent European sojourn. 
From the opening lines it is clear she is looking for something that so far, be it a state of mind or stage in a relationship, has remained elusive, ('I'm searching for something what can it be?'). Reported to be about her coupling with Taylor, as her voice flutters along there is hopeful intention 'to bring out the best in me and you too,' but insecurities are also present, ('I hate you some, I love you some,'/'do you see how you hurt me/so I hurt you too,').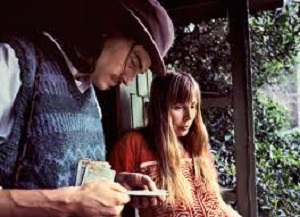 The other song reportedly about Taylor is the title track (allusion to 'Mud Slide Slim and the Blue Horizon' perhaps), Mitchell alone at the piano for a lullaby aching with melancholy and despair.
In addressing his heroin addiction, 'Ink on a pin, underneath the skin/An empty space to fill in,' she also chronicles the chaos of his life in language that later in the decade would become the domain of LA song-noir king Warren Zevon ('acid, booze and ass/Needles, guns and grass/Lots of laughs'). 
Mitchell also had no truck with the live fast/die young mythology now beginning to pervade rock music, Janis Joplin just one recent drug casualty – Taylor left in little doubt of how she feels by the observation:
'Everybody's saying hell's the hippest way to go/Well I don't think so.'  
Said to be about Nash 'My Old Man' – a phrase she had previously used in 'Big Yellow Taxi' – once more finds Mitchell sitting at her piano but here love, for all its contradictions, is not without tenderness and light ('He's my sunshine in the morning/He's my fireworks at the end of the day'), her voice at its most airy here than any other part of the record. While Nash composed 'Our House,' at the piano, she comes up with an altogether more strident tune, his account of their domestic idyll given light and shade in her telling of their story:
'But when he's gone me and them lonesome blues collide/The bed's too big, the frying pan's too wide.'   
The first of two pieces with their origins in her journey across Europe, 'Carey' sounds positively sprightly, its rhythm shaped by bass and guitar from  Stills with Kunkel adding percussion. Detailing her acquaintance with an American exile, later revealed as Cary Raditz, on the Greek island of Matala, even against the calypso mesh of dulcimer and guitar, she sounds confused, unable to make her mind whether she wants to stay or return to LA – simple island life, nights in the Mermaid Cafe with wine and laughter, opposed to missing 'my clean white linen and fancy French cologne.'  
She appears drawn to Raditz while accepting 'this is really not my home,' her hesitancy taking in superlative lines such as 'the night is a starry dome.' Describing him as a 'mean old Daddy, but I like you,' Raditz turns up again in the equally jaunty, 'California' ('I met a redneck on a Grecian Isle/He did the goat dance very well/He gave me back my smile/But kept my camera to sell.').
Yet by now Joni is alone in Paris, contemplating a return to her adoptive state. She wants to be rid of loneliness and to see Californian sunsets – this despite headlines she sees from from home being lamentably bad, the conflict in Vietnam showing no sign of ending:
'Sitting in a park in Paris, France/Reading the news and it sure look's bad/They wouldn't give peace a chance/That was just a dream some of us  had.' 
Casting California as a 'make me feel good rock 'n roll band' she has taken the decision to return even if her indecision is final, 'Will you take me as I am/Strung out on another man/California I'm coming home.' 
Travel is also to the fore on 'This Flight Tonight.' The pedal steel guitar, given license on 'California' to create a relaxed atmosphere, is used here to convey frustration and doubt. Mitchell is aboard an aeroplane with her estranged lover (presumably Nash) left behind, her decision to leave now a source of regret. Seeing both his foibles and strengths ('You've got the touch so gentle and sweet/But you've got that look so critical,') she wants nothing more than to 'turn this crazy bird around' admitting, 'I shouldn't have got on this flight tonight.' 
According to the folklore built up around 'Blue' Nash is also the person of interest in 'A Case of You' and 'River.' In the former their affections are deep, inescapable, but come with a sense of right person/wrong time. Over a delicate dulcimer/guitar arrangement, Mitchell reaches for religious imagery to describe the dilemma:
'You're in my blood like holy wine/You taste so bitter and so sweet.' 
Shaped by a plaintive 'Jingle Bells' refrain at the beginning and end, 'River' is nothing less than heartbreaking. While rivers had been a constant source of inspiration to song-writers, most notably Ray Davies in his masterful 'Waterloo Sunset,' here Mitchell views it as means of escape from what appears despair of her own making, a Christmas out of context with how she feels beneath the LA sun ('It doesn't snow here, it stays pretty green') – a frozen river providing opportunity to skate away.
Sitting at the piano, she reflects on the sadness coming from within, 'I'm so hard to handle, I'm selfish and I'm sad/Now I've lost the baby I've ever had.' But then, in a moment of excruciating sadness, she delivers the most resonant line on a record containing countless, 'I made my baby cry.' It is delivered with such poignancy, the constitution of a boulder would be required to remain unmoved.
Even accounting for what Lennon, Townshend, Van Morrison, even Dylan had come up with, 'Little Green' and the closing 'The Last Time I Saw Richard' are two of the most ambitious lyrical works so far attempted. 'Little Green,' its acoustic guitar melody not that dissimilar to 'I Don't Know Where I Stand' from 'Clouds', while a touch cryptic in places can now be heard as references to the daughter Mitchell had by now given up for adoption (this episode of in her life revealed many years later). 
In a what comes across as a conversation explaining the situation (the baby assigned the name 'Little Green') she describes a heart-wrenching process from a third person perspective: 'So you sign all the papers in the family name, you're sad and you're sorry but you're not ashamed/Little Green have a happy ending.'  
'The Last Time I Saw Richard' if anything is even more cinematic in sweep, Mitchell describing her last meeting with 'Richard' (generally thought to be ex-husband Chuck) in minute detail. Together in a Detroit barroom back in 1968, they debate the vagaries of love and romance, Richard telling her, 'you like roses and kisses and pretty men to tell you all those pretty lies.' 
By the third verse we learn 'Richard got married to a figure skater and he bought her a dishwasher and coffee percolator/And he drinks at home now most nights with the TV on.' In what stands as the final dichotomy on 'Blue' the question left hanging in the air is whether Joni is mocking 'Richard' for his unadventurous existence or envious of him given her 'love now/pay later' approach to life.
Either way it is a lyric of stunning scope and vitality, Bruce Springsteen no less attempting songs of similar range across his first three albums.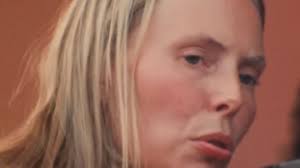 Reflecting on the album in 1979, Mitchell told Rolling Stone magazine: 
'On the 'Blue' album there's hardly a dishonest note in the vocals. At that period of my life I had no personal defences. I felt like a cellophane wrapper on a pack of cigarettes. I felt like I had absolutely no secrets from the world and I couldn't pretend in my life to be strong. Or to be happy.' 
Also describing it a 'turning point' in her career, on release in June 1971 'Blue' rose steadily up the album charts on both sides of the Atlantic, but with it came tests for her uneasy relationship with fame. Nevertheless, at a time when rock bands were playing a hundred times louder, their records had not one iota of the power or honesty to be found on 'Blue', the critical laurels heaped upon it remaining in place to the present day. 
Indeed, just last year only 'What's Going On' and 'Pet Sounds' were placed above it in a poll of the 500 Greatest Albums Ever Made, although from a personal perspective any shuffle of the top three would brook no argument. Staying close to home, some years ago when a member of a book review group, a discussion of outstanding literary figures was growing in intensity when I blurted out, 'I think Joni Mitchell is Shakespeare reincarnate.'
Despite the mirth around the table it is an assertion I stand by. 
But perhaps the final word on such a monumental contribution to contemporary culture belongs to Crosby, the man who produced the first Joni Mitchell album and was an early champion of her cause. 
'By the time she did 'Blue' she was past me and rushing toward the horizon.' 
Don't feel too bad about that Croz – by the time of 'Blue' Joni Mitchell had left everyone behind.  
JONI MITCHELL – 'BLUE' (Released June 22 1971) Produced by Joni Mitchell;
All I Want/My Old Man/Little Green/Carey/Blue/California/This Flight Tonight/River/A Case of You/The Last Time I Saw Richard;
Hello – hope you enjoyed another exclusive production from SAMTIMONIOUS.com
In order to create the best experience for when you drop by to read a page or two, those with the power to ordain such things (me, actually), have decided to remove all external advertising from the site – in other words articles will no longer be subject to intrusive pop-up ads. BUT – and ain't there always one – should you wish to make a donation toward the on-costs of the most entertaining and original blog-site around, please press on the – 'DONATE' – button below. It will be greatly appreciated.
Stay safe everyone and thanks for dropping by – best wishes Neil
SAMTIMONIOUS.com – films, football and fabulous music at The Dominion of Opinion
NEIL SAMBROOK is the author of 'MONTY'S DOUBLE' – an acclaimed thriller available as an Amazon Kindle book.