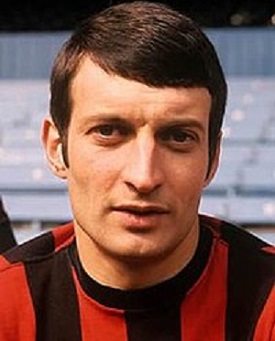 To offset the hype and hoop-la that surrounds the start of a new football season and as an antidote to all the hyperbole the next nine months will bring, I spent an evening this week watching a three DVD set entitled MATCH OF THE DAY – The Best of the 60s, 70s and 80s.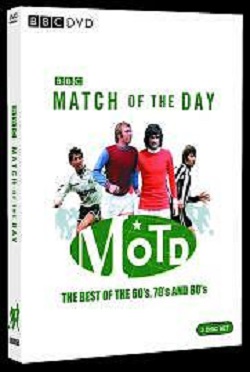 Now well into my sixth decade as a student of the game, my interest in football nowadays is less studious than it once was – tempered by the latest petulant act from a player with a modicum of talent who football has had the temerity to turn into a millionaire or a manager stewing with indignity at a refereeing decision received with less dignity than an episode of the Jeremy Kyle Show.
Without wishing to sound like Victor Meldrew (but no doubt doing so) these days my mental alignment is closer to that of Terry Collier, the malcontent character played superbly by James Bolam in 'Whatever Happened To The Likely Lads,' a man persistently taken to reflecting on a past when the beer, music, television programmes and (particularly) the football was better.
Looking back it seems strange that when Terry Collier and his cohort Bob Ferris (played with equal aplomb by the late Rodney Bewes) were lamenting a bygone golden age for football ('Whatever Happened To The Likely Lads' first broadcast in early 1973), Manchester City manager Malcolm Allison, a man then possessed with arguably the most forward thinking brain in the game, had already stated his belief the football currently being played in England was the best seen since the war.
An innovative coach who had been instrumental in taking four major trophies to Maine Road around the turn of the decade, the great Manchester City team assembled by Allison and Joe Mercer feature prominently on the 1960s disc of the 'Match of the Day' trilogy – in which a host of luminaries illuminate grainy black and white footage with skill that is technicolour in audacity.
True, the game has made huge advances since the 60s and 70s with the top players of today faster, fitter and at a level of technical accomplishment unimaginable even thirty years ago  – but whether the dashing cavaliers of now would cut such a dash on the cabbage patch surfaces of yesteryear is open to debate.
Watching Mo Salah or Kevin De Bruyne glide across surfaces with the sheen of a billiard table and then comparing it to George Best or Jimmy Greaves taking defenders to the cleaners on pitches with the consistency of porridge, is rather like choosing between the latest avocado-themed salad or the bangers and mash my mother used to make. Which says as much about my mum's cooking than it does about fields of play that almost defied football – but were still unable to hinder the mastery of Denis Law and Bobby Charlton.
Following a brief montage of black and white clips featuring Law, Best, Greaves, Charlton, Bobby Moore, Alan Gilzean, Peter Osgood, Roger Hunt and Alex Young, strangely enough after all my references to muddy pitches, the 60s disc begins on a bright afternoon at Anfield with highlights of the fixture shown on the very first episode of 'Match of the Day' in August 1964 – an opening day meeting between League Champions Liverpool and Arsenal, 'brought to you on BBC 2', says commentator Kenneth Wolstenholme, 'from right here in Beatleville.'
Although Liverpool win the match 3-2 in front of a Kop teeming with adoration for Hunt, Ian St. John and manager Bill Shankly, what is most noticeable – apart from the sight of a spectator swigging from a beer bottle during the opening credits, (bottles being banned from grounds by the end of the decade) – is the polite applause around Anfield when Arsenal score, very much in the manner of a batsman reaching a half century in a Test Match, another facet of football that would gradually disappear as the years moved on.
As the decade unfolds so the football becomes even more sublime – even if the pitches never look anything but soaked (was there a Saturday between September and April in the late 60s when it didn't rain?).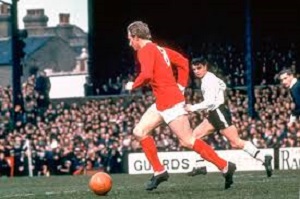 For Bobby Charlton a twenty yarder represents a tap-in, Denis Law oozes panache with every touch, while George Best sends full-backs and the world into a spin as Manchester United win two titles and the European Cup within three years – but right across Division One there is talent in abundance.
Greaves and Alan Gilzean make Spurs an enthralling watch, Hunt and St John keep the Kop beguiled and defenders on their heels, with the blue half of Merseyside enraptured by the 'Golden Vision' that was Alex Young.
Elsewhere Gordon Banks was defying gravity in becoming the best goalkeeper in the world – look out his save from Law in the England-Scotland game of 1967 where he seems to be levitating in preventing a goal.
At West Ham three of his World Cup winning team-mates, Moore, Geoff Hurst and Martin Peters are involved in some of the most extravagant football of the day, their propensity to entertain sometimes leading to high-scoring defeats – the 'Match of the Day' cameras often present to witness the great Bobby Moore looking like General Custer at Little Big Horn as those around him are overrun at every turn.
From memory it was still a time when people were drawn to grounds to see certain players rather than give partisan support to one team. I have a distinct memory of a friend of my Dad saying he was going to Wolves on Saturday – the nearest top flight team to where we lived – not just to see the top draw likes of Charlie Cooke and Eddie McCreadie, but a burgeoning young talent called Peter Osgood.
In one 'Match of the Day' clip a wonderful dribble by Osgood, who was just establishing himself in the Chelsea team, is described by Kenneth Wolstenholme as 'reminiscent of Alex James in his prime.'
The Great War had only been over ten years when James became immortalised as a Scottish Wembley Wizard, scoring twice in their 5-1 defeat of England in 1928, but when Wolstenholme made his comment it was still well within living memory – no different now to recalling Kenny Dalglish scoring the winner for Liverpool in the 1978 European Cup Final, which to those of us of a certain vintage does not seem that long ago at all.
In 1969 'Match of the Day' can be seen moving with the space age times when it goes into colour, the first Merseyside derby of this new era occurring at Goodison Park in December 1969. The match is notable for being a rare defeat for Everton on their way to becoming League Champions that season, but best remembered for an own goal by Toffees' full-back Sandy Brown – his calamitous header becoming for many years the standard by which own goals were measured.
For a long time afterward putting through your own net on parks pitches became known as doing 'a Sandy Brown' (later shortened to a 'Sandy'), the joke becoming a little less funny when he signed for my hometown team Shrewsbury Town three years later.
If that was the Father of own goals, the Mother of all rocket shots was the one unleashed by Ronnie Radford for non-league Hereford United when they knocked first division Newcastle United out of the FA Cup in 1972, a goal that brought youths dressed in parka coats onto television screens in a way not seen since Mods had dominated teenage fashion.
The 70s brought a new wave of star players, Kevin Keegan (Liverpool), Charlie George (Arsenal), Malcolm MacDonald, who was in the losing Newcastle side on that fateful day for them at Hereford, but the most complete team performances early in the decade were produced by Don Revie's Leeds United who generated acclaim and animosity in almost equal measure.
With a trophy roster going back five years they were perennial league title contenders – a 29 match unbeaten run from the start of the 1973-74 season saw them become champions for the second time in six years – but this was elegance cut through with a hefty dose of cynicism, the football public at large finding their curious mix of skill and skulduggery hard to stomach.
Not that it would have mattered a jot inside Elland Road when they were producing displays like the one that took Southampton apart in February 1972 – the 7-0 annihilation of the Saints described in fine style for 'Match of the Day' by commentator Barry Davies.
But by the middle of the decade Leeds just like everybody else had been usurped by Liverpool, whose relentless gathering of trophies began in earnest in 1976, two years after Bob Paisley had replaced Shankly as manager. It is easy to forget when caught up amongst all the trophy statistics just how good Liverpool were.
Sure they were best drilled and most disciplined (in terms of team play) but some of their football was breath taking and the knack of turning the good players they signed into great ones and in the case of Kenny Dalglish a great one into a world beater, did them no harm either. Towards the end of the 70s disc Liverpool come to dominate screen time, the 1979 annihilation of Arsenal in the Charity Shield a masterclass in purposeful, inventive football.
The 80s disc has some great moments, but the longer it goes so begins to loom the terrible spectres of Bradford, Heysel and Hillsborough. Indeed, as the decade progresses antiquated grounds begin to resemble prisons where people go to watch football, with some clips somehow looking more dated than those from ten years before.
When the series ends at the end of the 1989-90 season it is bewildering to think Manchester United had not won the first division for twenty three years and even more astonishing is the notion that Liverpool, twenty eight years later, would still be waiting to add to their list of league title wins – the Premiership, an outlandishly expanded European Cup, transfer windows, foreign ownership of clubs, colossal television revenues, gargantuan transfer fees and wages, all mere flights of fancy or more likely, still unimaginable, in the long gone days of 1990.
Throughout the four hours this DVD set runs I was struck by how many clips I recognised and how much of the accompanying commentary had stuck with me. The football equivalent of going back and listening to 'Abbey Road' or 'Every Picture Tells A Story' after a long absence, the footage I was most taken by were match highlights I had not previously seen before, a Manchester City v Tottenham Hotspur encounter in December 1967.
Played under a suitably leaden sky, the crowd look like figures from a Lowry painting as they watch a game played on a snow covered pitch that was no doubt given only a cursory glance before being declared fit for play.
Despite the difficult surface both teams show an admirable tendency to keep the ball on the floor, but after Jimmy Greaves (naturally) displays marvellous balance in giving Spurs the lead, City, in their title-winning season, rally superbly and run out 4-1 winners, the game no less a spectacle for the inclement weather.
None of the outfield players are wearing gloves, there was no discernible dissent toward the match officials with the players and referee making allowances, but not noticeably hindered by the tricky conditions.
With a series of sweeping passes involving Colin Bell, Mike Summerbee and Francis Lee (a triumvirate of growing renown) Manchester City advance on the Tottenham goal, one final incision creating the opportunity for Neil Young to score the fourth goal – Bell, Summerbee, Lee and Young driving a Maine Road express in much the same way Crosby, Stills, Nash and Young would ride the one from Marrakesh two years later.
The 60s and 70s discs in the 'Match of the Day' set book-ended by 'Rubber Soul' and 'Quadrophenia' for me constitute a Super Sunday – no matter what pronouncements Sky Sports make in the coming months.
Hello – hope you enjoyed another exclusive production from SAMTIMONIOUS.com
In order to create the best experience for when you drop by to read a page or two, those with the power to ordain such things (me, actually), have decided to remove all external advertising from the site – in other words articles will no longer be subject to intrusive pop-up ads. BUT – and ain't there always one – should you wish to make a donation toward the on-costs of the most entertaining and original blog-site around, please press on the – 'DONATE' – button below. It will be greatly appreciated.
Stay safe everyone and thanks for dropping by – best wishes Neil
SAMTIMONIOUS.com – films, football and fabulous music at The Dominion of Opinion
NEIL SAMBROOK is the author of MONTY'S DOUBLE – an acclaimed thriller now available as an Amazon Kindle Book.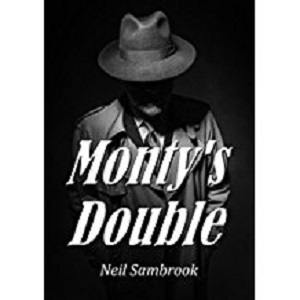 The article was first published on 12/8/2018.