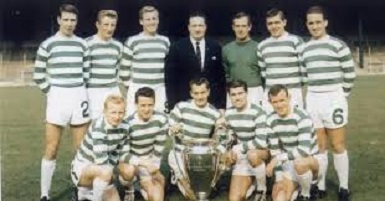 Just as a book should not be judged by its cover, so the title of a football documentary currently being shown cannot be taken at its word. The ITV made 'EUROPEAN CUP WINNERS – THE BRITISH PIONEERS' spends roughly half the time reflecting on the 60s triumphs of Celtic and Manchester United and the rest revisiting the story of how Aston Villa lifted the trophy in 1982 – making them European champions yet hardly pioneers as English clubs had won the competition for the past five seasons.
Which is no way decrying the achievement of Aston Villa in winning the European Cup, indeed far from it.
ITV have made stand alone programmes documenting the three Liverpool triumphs and two of Nottingham Forest between 1977 and 1981, so it does seem a slight on Villa their success of 1982, should not be assigned an episode of its own. Culminating with an against-the-odds victory over redoubtable West German champions Bayern Munich, there is also enough off the field drama to make it a worthwhile proposition.
In fact 'European Cup Winners – The British Pioneers' often seems muddled, something of an irony as the former Aston Villa players asked for their thoughts on what took them to the top of European club football, refer to 'clear thinking' and 'thorough preparation' – tactics the documentary makers might have adopted in producing a more enjoyable watch.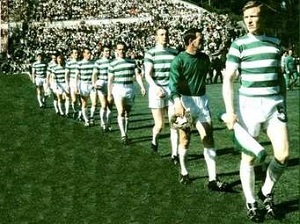 After brief opening references to the European Cup domination of Real Madrid and to a lesser extent Benfica in the first twelve years of the competition (from its 1955 inception until being expanded into the Champions League in 1992, entry was attained through winning a domestic league or being European Cup holders), the players of Celtic and Inter Milan are taking the field on a May afternoon in Lisbon for the 1967 final.
In quick succession comes Inter going ahead with a penalty, the thunderous equaliser from Tommy Gemmill and then Steve Chalmers netting from close range as Celtic make it a clean sweep of trophies for the season – the fifth and final one making them the first club in Britain to become Champions of Europe.
Over joyous scenes of celebrating supporters and skipper Billy McNeill lifting the cup, narrator Gabriel Clarke informs us that in 13 years as Celtic manager Jock Stein won ten league titles, but on returning to the European Cup Final his side would lose 2-1 to Dutch side Feyenoord in 1971. Which is a touch careless, not only because Celtic were as much fancied to beat their Dutch opponents as they are underdogs against Inter Milan – but because it was actually 1970.
If their positive, fluent football was vindication for Scottish ambition (all eleven of the 'Lisbon Lions' were Scots, ten of whom were born within a dozen miles of Celtic Park) over Italian attrition, then a year later in 1968 raw emotion helped see Manchester United home against Portuguese big-guns Benfica.
Ten years on from the February 1958 tragedy at Munich Airport, when the plane carrying the United party back from a European Cup quarter-final in Yugoslavia where they had overcome Red Star Belgrade, crashed on take-off killing 23 passengers including eight members of a young team known as the 'Busby Babes' – Manchester United, still managed by Matt Busby, became the first English team to reach the European Cup Final.
In revisiting the night at Wembley in May 1968 when United defeated Benfica 4-1 after extra-time, the documentary relies mainly on clips from a 1982 programme where Busby and captain Bobby Charlton, both of whom survived the Munich disaster, watch a re-showing of the game on television.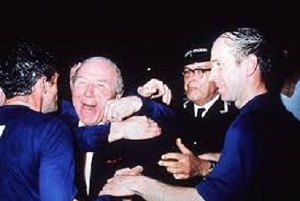 In a very affecting passage they both recall how 'overawed' and 'emotional' they were when the match ended, memories of those who perished in the crash uppermost in their minds.
There is clearly a deep empathy between the two, Bobby appearing to blush when Busby describes his second goal of the night (United's fourth) as an 'exquisite finish' – while as the final whistle sounds at ninety minutes, Charlton smiles and says, 'right Sir Matt, what are going to say to your players?'
From the Aston Villa segment of the programme there comes no sense of manager Ron Saunders having a close bond with any of his charges, described in such terms as 'ruthless' and a 'hard nut.' But there is also no doubt Saunders was an excellent judge of a footballer and had a clear vision of the team he wanted to create.
Such was his prowess for finding square pegs for square holes, while all the time developing its collective strength, Saunders guided Villa to the League Championship in 1981. By February of the following year they had advanced to the European Cup quarter-finals, but following a dispute with the board over the terms of his contract, Saunders resigned.
In contemporary interviews and archive footage Villa players Dennis Mortimer, Peter Withe, Tony Morley and Gordon Cowans express their surprise at the timing of Saunders' departure (Withe still not enamoured with how the board acted).
Succeeded by his assistant Tony Barton, 56 days later on May 26 1982 Aston Villa travelled to Rotterdam in order to meet Bayern in the final – although not before almost being eliminated from the competition due to crowd disorder during the second leg of their semi-final against Anderlecht in Brussels.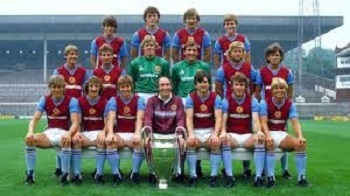 In the final Villa were given little chance, but a second half goal from Withe brought them European Cup glory.
Their cause had been further hampered when goalkeeper Jimmy Rimmer was forced off with a shoulder injury barely ten minutes into the match – but replacement Nigel Spink, with only one previous first team appearance to his name, turned in a superb display.
Despite being outplayed for long periods, Villa, feeding off the tactical discipline instilled by Saunders and lucky breaks that come their way, recorded one of the more unlikely European Cup triumphs.
Just as welcome in presenting a fuller picture of how Aston Villa continued the astonishing winning streak of English clubs in the European Cup would be some insight into how Barton came to be sacked two years later – and why five years on from housing the European Champions, Villa Park was hosting second division football.
Both are mentioned only in passing as the documentary winds to a close – ITV having opportunity to give Villa their full due and address these matters as the 40th anniversary of their 1982 achievement draws ever closer.
Indeed, the whole concept of British European Cup pioneers deserves examination, the exploits of Rangers (1960), Tottenham Hotspur (1962), Liverpool (1965), Manchester United (1966) and particularly Dundee (1963) in reaching the semi-finals worthy of acknowledgement – each a notable stop along a trail Celtic would eventually blaze into Lisbon.
Hello – hope you enjoyed another exclusive production from SAMTIMONIOUS.com
In order to create the best experience for when you drop by to read a page or two, those with the power to ordain such things (me, actually), have decided to remove all external advertising from the site – in other words articles will no longer be subject to intrusive pop-up ads. BUT – and ain't there always one – should you wish to make a donation toward the on-costs of the most entertaining and original blog-site around, please press on the – 'DONATE' – button below. It will be greatly appreciated.
Stay safe everyone and thanks for dropping by – best wishes Neil
SAMTIMONIOUS.com – films, football and fabulous music at The Dominion of Opinion
NEIL SAMBROOK is the author of 'MONTY'S DOUBLE' – an acclaimed thriller available as an Amazon Kindle book.