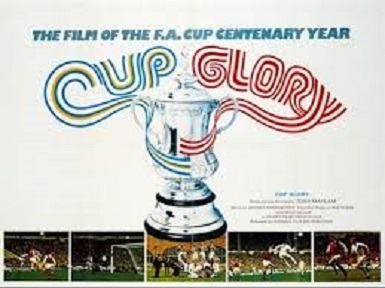 As a card-carrying member of the FSA (Football-Seventies-Always), whose pre-requisites also include a loathing for pretty much anything related to the modern game, it was with gleeful curiosity I came across, quite by chance, a film entitled 'CUP GLORY' (dir Tony Maylam, 87 mins, 1972), a documentary piece made to commemorate the centenary of the FA Cup.
Narrated by actor/director Richard Attenborough – his knighthood not yet bestowed, but Chelsea supporting credentials long since established – the film unfolds as a potted account of the 1972 FA Cup competition, footage of the Arsenal v Leeds United 'Centenary Final' accounting for over a third of the screen time.
There are occasional forays back in time to notable finals of yesteryear, rounded off by a latter-day reenactment of the first FA Cup Final, played in 1872.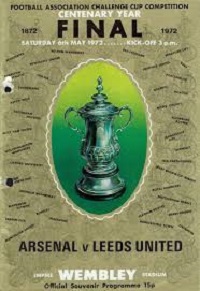 Made on the same lines as 'Goal' the FIFA film of the 1966 World Cup, although with an inferior script, 'Cup Glory' from the prog-rock soundtrack to mud-bath pitches is very much reflective of its time, right down to including a voice-over interview with George Best, the most famous footballer of the era – whose thoughts are heard over footage of Manchester United playing a fifth round tie at second division Middlesbrough, Best scoring a superb individual goal as United record a comfortable 3-0 win.
While his initial comments are based on the importance of a 'good FA Cup run' no matter what size the club (an altogether different perspective in evidence today) and the 'great atmosphere' generated by a big cup-tie crowd, Best also makes some interesting points about the dribbling style of Stanley Matthews and his role within a Manchester United side currently managed by Frank O'Farrell.
But it is the FA Cup remarks that hold the lasting resonance. As  Attenborough points out Best would have to go on waiting for an FA Cup winners medal, United losing at Stoke in the next round. The Victoria Ground defeat not only ended their Wembley dreams for another year, but proved his last FA Cup match in a Manchester United shirt – Best being AWOL for the third round in each of the next two seasons, before leaving Old Trafford for good in January 1974.  
'Cup Glory' begins with shots of young boys playing football on a patch of waste ground cleared between demolished streets, the tower blocks looming on the periphery an evocative image of the time – the early 70s from memory, a time when buildings were either going up or being torn down.
Over this opening scene, Attenborough states: 'Football is a universal game – and the English are football mad.' After a brief description of how Charles Alcock devised the FA Cup competition a hundred years ago, he then asks the rhetorical question, 'but where does it start every season?' 
The answer comes as 'small towns up and down the country – places like Burscough, Lancashire, population 4,000.' Over strains of a lone trumpet playing a variation on the 'Coronation Street' theme, scenes of the high street give way to film of the home team playing Ellesmere Port in a third  qualifying round fixture, the visitors recording a 1-0 win.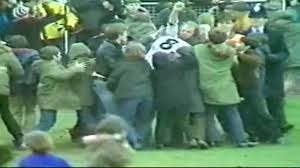 'Burscough' concludes Attenborough, 'will never win the FA Cup and neither will Hereford United. But on February 5th 1972 they created the biggest FA Cup upset of modern times – Hereford of the Southern League beating first division Newcastle United in a third round replay.' 
From this point onward, 'Cup Glory' takes on the 'Road to Wembley' template, next stop being the aforementioned giant-killing at Edgar Street.
The familiar footage of Ronnie Radford's rocket shot has a slightly different feel, as rather than excitable commentary from John Motson events are described in Attenborough's calmer tones ('Hereford show great heartedness' not a phrase associated with a football match commentator).  To the uninitiated it would also appear a generation of skinny schoolboys, wearing identical parka coats, spent their Saturday afternoons invading muddy football pitches.
In emphasising the significance of their 2-1 victory it is duly noted Hereford had become the first non-league club to knock a top flight side out of the FA Cup since 1949, the point almost gleefully made that two Newcastle players, striker Malcolm MacDonald (£180,000) and Scottish international midfielder Tony Green (£150,000), cost more individually than the entire Hereford team. 
The part-time status of the Hereford players is further emphasised when the cameras follow centre-forward and professional carpet-cleaner Billy Meadows into a meeting with his boss to ask for an afternoon off in order to play in a midweek away fixture.
An entire day off, however, is required for a trip to East London, their reward for beating Newcastle a fourth round home tie against West Ham United, whom they hold to a goalless draw – necessitating an Upton Park replay that due to power restrictions relating to the Three-Day Week (a 70s phenomenon if ever there was one), takes place on a Monday afternoon.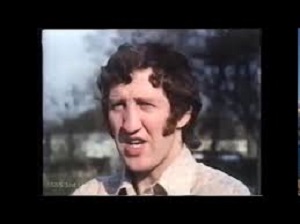 Six special trains are laid on for travelling Herefordians, the 5,000 or so who make the journey sending the attendance to over 40,000. On a pleasant late-winter day, although a fug of cigarette smoke rising from the packed terraces is still evident, Hereford reach the end of their FA Cup road for the season.
'Gallant' in defeat they are beaten 3-1 as England striker Geoff Hurst scores a hat-trick for a West Ham team including fellow World Cup winner Bobby Moore and established Division One players such as goalkeeper Bobby Ferguson, Billy Bonds, Trevor Brooking, Harry Redknapp and Clyde Best.
'Cup Glory' does not reveal what happened to West Ham in round five (they lost 4-2 at Huddersfield Town), but no doubt to Attenborough's displeasure, the fate which befalls Chelsea receives five minutes of intriguing exposure. 
Coasting toward the sixth round when they take a 2-0 lead at Leyton Orient, they are rolled into the Brisbane Road mud as the second division side come back to win 3-2 – the second half collapse of the Kings Road fancy-Dans best summed up by the catchphrase 'they don't like it up 'em,' popularised by a highly-enjoyable sitcom of the time.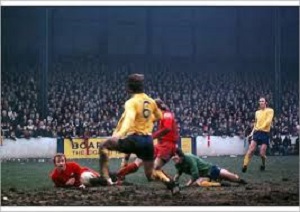 Leyton Orient are followed into the next round, the quarter-finals bringing a home tie with reigning double-doers Arsenal, whose ranks have been bolstered by the mid-season signing of World Cup winner Alan Ball from Everton. Ball scores the only goal as Arsenal prevail, the pitch undergoing a dramatic change since round five – cabbage patch to threadbare, pockmarked with sawdust, in just a few weeks.  
In one semi-final Leeds easily beat Birmingham City at Hillsborough, while the other a repeat of the previous season as Stoke and Arsenal once again meet.
Their drawn (1-1) Villa Park encounter at times resembles an England v Australia rugby union international as Stoke (white shirts) and Arsenal (yellow) share several fiercely contested rucks – and with the players all speaking English, verbal abuse prompts reaction or is just laughed off. 
As players on the receiving end of robust tackles crash to the ground, they do so to the accompaniment of what would be called in parlance of the time 'zany' music – think chase scenes in 'The Benny Hill Show' – which somewhat undercuts Peter Storey scowling at any number of Stoke players.
By winning through 2-1 in a Goodison Park replay, Arsenal reach the cup final in successive years, opponents Leeds contesting their third in eight seasons, but have yet to lift the trophy. From views of a deserted Wembley on the morning of the final, focus switches to arriving Leeds supporters moving around Central London, their playing up to the cameras in Oxford Street and Trafalgar Square done to the sound of a 'Streets of London' styled folk ballad the likes of Lindisfarne or Fairport Convention would have used as a B-side – if at all. 
Before coming to highlights of the game, the 'Centenary Final' is given historical context with short clips of past FA Cup finals. The first decade of the century is represented by grainy images of Barnsley v Newcastle United in 1910 (it is not within the realms of possibility a participant or someone among the 77,000 crowd at Crystal Palace may have still been alive in 1972). 
Surprisingly the 20s are not given over to the 1923 Wembley 'white horse' final, but the 1920 meeting of Huddersfield Town and Aston Villa. Of particular interest are contemporary interviews with Jimmy Guthrie, who captained Portsmouth to their shock 4-1 victory over Wolves in 1939 and Stan Mortensen – a three-time finalist with Blackpool (1948, 1951 and 1953), his hat-trick, along with some touchline trickery by a winger named Matthews, seeing them to a 4-3 victory over Bolton Wanderers in Coronation Year. 
While writing down references to the poor standard of goalkeeping, especially in 1948 and 1951, goals from the 1971 final suddenly appear – Bob Wilson caught out of position by Steve Heighway when Liverpool take the lead, only for a breakdown in communication between Ray Clemence and his defenders to gift Eddie Kelly an equaliser. But it remains highly unlikely any goalkeeper on the planet would have saved the shot from Charlie George that won Arsenal the cup and secured the League and FA Cup double.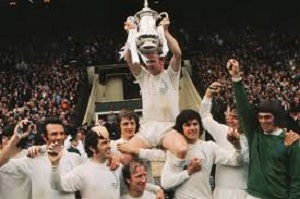 Attenborough describes the Arsenal v Leeds encounter as a 'hard and unrelenting contest,' a euphemism perhaps for some tasty fouls and ferocious tackling.
Even without David Coleman proclaiming 'Clarke – 1-0' as Allan Clarke secures Leeds their victory with a diving header, it still conjures a flashback to the front room of a semi-detached house in Shrewsbury – most of those present likely to be found in the same chair on the first Saturday in May for a few years to come. 
'Cup Glory' is an enjoyable, if on occasion unorthodox telling of the FA Cup story, while at the same time casts light on an era that now only exists on 'Youtube' (where the film can be found) or to those such as myself who live in a permanent state of 1976.
Sometimes described as a match that 'did not live up to expectations' the 1972 FA Cup Final still comes across as far more engrossing than any final of recent memory. At one point, in front of an advertising hoarding that reads 'Embassy – Best for Smoking' Alan Ball and Leeds' Scottish captain Billy Bremner – two hugely-talented, fiercely competitive players who epitomised the 'give a knock, take a knock' ethos of the period – square up to each other. 
On arrival of the referee, things calm down with a handshake followed by  wry smiles all round. Amongst it all there must have been a thought that in a couple of weeks time they would be going at it just the same in a Scotland v England international. 
Hello – hope you enjoyed another exclusive production from SAMTIMONIOUS.com
In order to create the best experience for when you drop by to read a page or two, those with the power to ordain such things (me, actually), have decided to remove all external advertising from the site – in other words articles will no longer be subject to intrusive pop-up ads. BUT – and ain't there always one – should you wish to make a donation toward the on-costs of the most entertaining and original blog-site around, please press on the – 'DONATE' – button below. It will be greatly appreciated.
Stay safe everyone and thanks for dropping by – best wishes Neil
SAMTIMONIOUS.com – films, football and fabulous music at The Dominion of Opinion
NEIL SAMBROOK is the author of 'MONTY'S DOUBLE' – an acclaimed thriller available as an Amazon Kindle book.