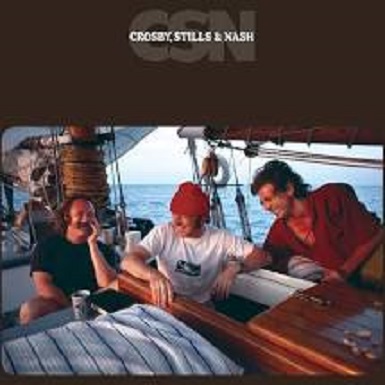 By the mid-70s many major rock artists were spacing out time between new releases like never before. As the summer of 1977 approached, the Rolling Stones were fifteen months on from 'Black and Blue,' Bruce Springsteen and The Who already two years down the road from previous albums, with none of that illustrious trio on the verge of ending their hiatus.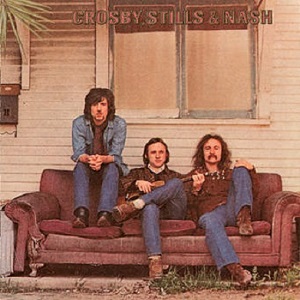 It may be a touch incongruous adding Crosby, Stills & Nash to that list, particularly as Crosby and Nash had made, aside from solo efforts, three albums as a duo during the 1970s, the most recent 12 months before in 1976.
But since their best-selling, highly acclaimed debut of 1969, Crosby, Stills and Nash had not recorded as a trio, the prospect of new recordings unlikely even a year earlier – but in 1977 the seven year itch was scratched with the appearance of 'CSN'.
While Graham Nash was later to say 'of all our permutations Crosby, Stills and Nash is the one that works best,' harnessing this combustible soft-rock threesome was the rock equivalent of herding cats.
Following their era-defining bow, top cat song-writer/guitarist Neil Young joined the troupe for counter-culture manifesto 'Deja Vu' (1970). It drew 'new Beatles' and 'spokesmen of a generation' epithets to a group whose rampaging egos offered little hope for longevity – this always loose aggregation evolving into four solo artists before the year was out.
Stills was first out of the blocks, releasing an excellent solo album ('Stephen Stills') as 1970 drew to a close, following up with a less-assured sequel the following year. His reputation was revived, enhanced even with the outstanding double-set 'Manassas' (1972), Stills at the head of a superb ensemble also including ex-Byrd Chris Hillman.
But from here to the eventual CS&N reunion of 1977 the road became bumpy for Stills, a fine guitar player and imaginative writer – the Manassas players reconvening for 'Down the Road' (1973) although given the lacklustre performances and sub-par material most wished they hadn't.
By all accounts Stills was last on board for the 1974 CSN&Y summer stadium tour, the shows proving his guitar skills remained exemplary, even if drink and drug excesses were eroding a previously distinctive voice. When plans for a reunion album from the four hit the buffers, he returned to solo work with 'Stills' (1975) that warranted better reviews than it received and 'Illegal Stills' (1976) which deserved most of the flak that came its way.
Crosby and Nash meanwhile made a memorable solo album apiece in 1971 ('If Only I Could Remember My Name'/'Songs For Beginners'), then joined forces for the worthwhile 'Crosby & Nash' (1972). Prior to the 1974 tour Nash put out the underwhelming 'Wild Tales' and when the shows were done he and Crosby pooled their resources for 'Wind on the Water' (1975), an appetising slice of laid-back LA rock – only for the standard of composition to drop noticeably on 'Whistling Down the Wire' (1976).
The lukewarm response to 'Illegal Stills' and 'Whistling Down the Wire' coincided with speculation a Bi-Centennial CSN&Y engagement was on the cards, only for recording sessions to bring a predictable round of tiffs and tantrums – the result being a short-lived alliance between Stills and Young that produced the ultimately disappointing 'Long May You Run.'
When all trace of Crosby and Nash was erased from the Stills/Young songs they had contributed to, the normally relaxed Nash was so incensed he declared: 'I will never work with Stephen Stills again.'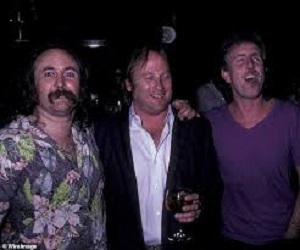 Yet such was the contradictory, turn-on-a-dime interaction between the protagonists, within weeks Stills came off the naughty step – two once again becoming three as plans to record in Miami came to fruition.
Their efforts yielded an uneven twelve song set that in turn is affecting, laboured and smooth – the reinstatement of their trio status ensuring good business in the marketplace.
The first three songs of 'CSN' introduce the cast and the differing elements they bring to the piece, the individualism shaped into a collective sound by their distinctive harmony vocals.
Opener 'Shadow Captain' written by Crosby and keyboard maestro Craig Doerge has jazz rock textures built upon an engaging piano riff, the tone for an album that asks many questions, both literal and oblique, set from the first line:
'Oh captain, what are we hiding from?' and running through to 'Who guides this ship, dreaming through the seas.' 
The themes of passing time, coping with change and gaining awareness, that prevail as the record unfolds, are pretty much encompassed in 'See The Changes' which finds Stills looking back to make sense of the present:
'Ten years singing right out loud, I never looked was anybody listening/Then I fell out of a cloud, hit the ground and noticed something missing.' 
With three-part harmonies set against a lone acoustic guitar, it bares comparison to 'Hopelessly Hoping' or 'You Don't Have to Cry' from their auspicious debut outing, a sense of lessons learned informing the lines, 'It gets harder as you get older, and farther away as you get closer.' An instantly impressive track, emphasising strengths in the composer along with their vocal agility, it set a standard Stills was unable to maintain through his other four contributions. 
Nash enters the fray with 'Carried Away' a pleasant if insubstantial musing on a love affair not expected to last, his harmonica break keeping the song anchored to a gentle folk-rock base when pedal steel guitar would have sent it toward Eagles/Poco territory – an area 'CSN' goes out of its way to avoid. 
Using a stellar back-up crew consisting mainly of Doerge (keyboards), Russ Kunkel (drums), George Perry (bass) and Joe Vitale (keyboards/drums), several melodies have overtones of where Steely Dan had been and the Doobie Brothers were heading.
Despite ongoing signs of decline in his output – certainly as a lyricist – Stills maintained a knack of conjuring concise melodies formed on interweaving keyboards and Latin-influenced percussion. Continuing a trait he began some time back, the patterns would be noted by the likes of Christopher Cross, whose Grammy-winning 1979 debut LP bore many Stills hallmarks. 
Listening to the light-blues shuffle of 'Fair Game' (whose superb background vocals are offset by some clumsy lyrical couplets) and the closing 'I Give You Give Blind,' a broken romance tale whose drama is found in the keyboards, guitars and string arrangement rather than lyrics, there is little doubt Stills cast a long shadow. Captured in carefree mood with his two pals on the deck of a schooner for the album cover, it is tempting to suggest the origins, in every sense, of yacht rock can be found on 'CSN'.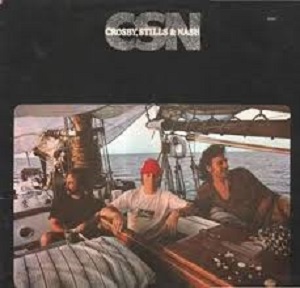 His other two offerings are not without merit, 'Dark Star' an update of what Stills began on 'Manassas.' Interlocking acoustic guitars, keyboards, drums and congas frame this end of romance lament, while on 'Run From Tears' the supporting cast are stripped back to drums, bass and organ, Stills stretching out on lead guitar in the hardest rocking song to be included.
The vocal support of Crosby and Nash make it sound akin to something Fleetwood Mac would have recorded – but probably rejected – for 'Rumours.' 
Given his standing as a song-writer in the James Taylor mould, Nash injects 'CSN' with its major surprise – his five minute 'Cathedral' a curious blend of light prog and heavy piano ballad, the overall effect sounding like a cross between Yes and Dan Fogelberg. 
Describing an acid trip Nash experienced while visiting Winchester Cathedral, he evokes religion, paranoia and death, the imagery wrapped in a swirling melody emphasising the time-travelling notions of the lyric. It is an intense effort lacking little in terms of ambition and although a touch over wrought in places, makes his other two contributions sound routine by comparison. 
'Cold Rain' treads similar ground to 'Carried Away,' focusing on a life, rather than love, left behind. The hit single 'Just A Song Before I Go' (reputedly written in twenty minutes to win a $500 dollar bet), is a charming, well-crafted pop song that found a soul mate that year in James Taylor's 'Your Smiling Face.' Fleshed out with some restrained guitar work from Stills, Nash may have written it in a hurry but sounds full of equanimity when singing 'Just a song before I go, to whom it may concern/Travelling twice the speed of sound, its easy to get burned.' 
Neither of the two remaining Crosby songs would have been considered suitable as singles, but each have interesting moments. 
With smart piano work from Deorge to the fore, 'Anything At All' finds Crosby, mouthpiece for the Woodstock generation, inviting questions from his audience:
'Anything you want to know just ask me, I'm the world's most opinionated man.'
These attempts at clearing up existential confusion are continued on 'In My Dreams,' the acoustic interplay between Crosby and Stills, along with the vocal phrasing, prompting recollections of 'Guinevere' from the 1969 debut set.  
Seven years on from exemplifying the denim clad LA hippy ethos, Crosby, Stills & Nash returned at a time when the Eagles, sons of the pioneers in this respect, were selling albums at off-the-scale proportion. The group who capitalised most on the acoustic/electric vibe created by their musical forefathers back in the day, they received widespread critical acclaim for 'Hotel California' (1976) easily eclipsing the somewhat dismissive reviews of 'CSN' – although when the Eagles returned with 'The Long Run' in 1979, its tedium brought critical comparison with the Crosby, Stills and Nash effort of two years before. 
Put beside 1977 debut albums from The Clash, the Sex Pistols, Elvis Costello and Television, 'CSN' was clearly not the most relevant release of the year, but at least showed Crosby, Stills and Nash could come up with mid-tempo rock that was palatable and polished.
The songs by and large, were an improvement on what had been managed for 'Whistling Down The Water' and 'Illegal Stills' and while that alone could not turn 'CSN' into a resounding triumph, their audience supported Nash in his 'three together' claim – its rapid rise to Number Two in the US album charts (selling more copies over time than the debut) making the reunion an unqualified success.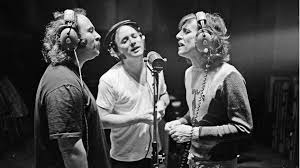 Despite the lofty chart placing and subsequent sold-out tour, it would be five years before Crosby, Stills & Nash again recorded together. The time between 'CSN' and 'Daylight Again' (1982) was marked by the escalating cocaine use of Stills and particularly Crosby, whose misdemeanours would result in a nine month prison sentence during 1985. 
Gathering Crosby, Stills and Nash into a cohesive unit had always been and would remain a tall order (the outspoken Crosby currently out of favour with the rest), Stills once complaining the others rebelled any time he tried to show leadership.
In the song 'In My Dreams' Crosby may have been more literal than previously thought in asking:
'Who gets to be boss of this bunch? Who will steer?' 
All this time later it remains the unanswered question from 'CSN'. 
CROSBY, STILLS & NASH – CSN (released June 1977):
Shadow Captain/See The Changes/Carried Away/Fair Game/Anything At All/Cathedral/Dark Star/Just A Song Before I Go/Run From Tears/Cold Rain/In My Dreams/I Give You Give Blind;
Hello – hope you enjoyed another exclusive production from SAMTIMONIOUS.com
In order to create the best experience for when you drop by to read a page or two, those with the power to ordain such things (me, actually), have decided to remove all external advertising from the site – in other words articles will no longer be subject to intrusive pop-up ads. BUT – and ain't there always one – should you wish to make a donation toward the on-costs of the most entertaining and original blog-site around, please press on the – 'DONATE' – button below. It will be greatly appreciated.
Stay safe everyone and thanks for dropping by – best wishes Neil
SAMTIMONIOUS.com – films, football and fabulous music at The Dominion of Opinion