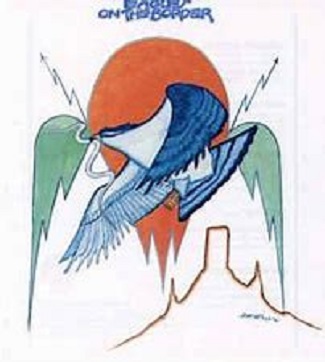 Two years into the arc of their career, at the onset of 1974 the Eagles could have been forgiven in thinking they had so far managed a couple of forward steps, taken one back and now reached a state of inertia.
Forming in 1971, initially as a backing band for golden-voiced songstress Linda Ronstadt, the LA-based quartet of Don Henley (drums), Glenn Frey (guitar/keyboards), Bernie Leadon (guitar/banjo) and Randy Meisner (bass), had struck gold with the engaging country rock of their 1972 self-titled debut album – a collection yielding three hit singles and elevating the band to a level of recognition that had eluded fellow purveyors such as Poco and The Flying Burrito Brothers despite their many more years of trying (and some would argue superior records).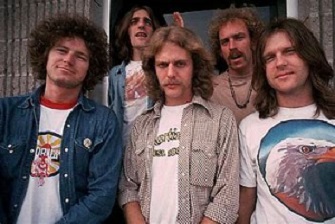 An early signing to Asylum Records, a Los Angeles record label founded in 1971 by David Geffen, rather than release a safe, consolidatory follow-up, for their second album the Eagles, once more working in London with renowned producer Glyn Johns, took the bold, somewhat adventurous step of recording a record whose theme was the violent, bank-robbing exploits of the Doolin-Dalton gang, a crew of cowboy outlaws of the old west.
Entitled 'Desperado' – from which the title-track would go on to become a 70s standard – they had been assisted by input from Asylum stablemates J. D. Souther and Jackson Browne on an album containing a number of fine songs, but no hit single. For the most part this 1973 release received positive reviews, but ran aground in the marketplace where it fared poorly in relation to its predecessor.
Concerns they were treading water increased when work on their next album came to a halt, Johns and the Eagles finding they could no longer accept the working practices of the other. The group wanted a harder edge to their sound, Frey apparently assailing Johns with 'we're a rock band man' which prompted a retort of 'no you're not, The Who are a rock band' from a producer ('Who's Next' among his previous credits) whose 'no drugs in the studio' directive was the last straw for Frey – the association coming to an abrupt end when the Eagles, in a growing state of disillusionment, headed back to L.A. with only two songs in the can.
On their return maneuverings on the part of manager Irving Azoff put them in the same room as Bill Szymczyk, who had recently worked on two albums by guitar whizz and human wrecking ball Joe Walsh (destined to be an Eagle himself three years later). Encouraged by what they heard in each other, Szymczyk was placed in charge of resurrected sessions for the third album that transpired at the Record Plant, Los Angeles.
Recording a further eight tracks to go with the pair cut with Johns in London, the Spring of 1974 brought forth 'ON THE BORDER' – an album reflecting their county origins, penchant for soft rock balladry, but also a move toward the tougher rocking territory Henley and especially Frey wanted the Eagles to inhabit. The shift in this direction was hastened by recruitment of Florida-born Don Felder, an assertive guitarist who on the album sleeve is credited as a 'Late Arrival' in extending the group to a quintet.
Felder is heard at his most prominent on upbeat cuts such as 'Already Gone' and 'Good Day In Hell' which along with strident pieces such as the title-track and 'James Dean' are testament to how well Szymczyk understood the pristine, soft rock finish most of the group wanted to apply – the exception being Leadon whose credentials had been set out during time spent as a Burrito brother, his country instincts and songwriting contributions shrinking since the debut album.
Just as the Faces' first offering had been a collaborative project with most of the band, in various permutations, chipping in with songs before the Rod Stewart/Ron Wood partnership came to dominate, so the Eagles output became governed by the Henley-Frey axis. The duo had taken the reins for most of 'Desperado' and in effect did not let go thereafter, their names to be found on four of the ten 'On The Border' tracks (Henley writing a fifth with Souther), which along with three covers – the last to be included on a 70s Eagles album – left Leadon and Meisner in the margins with just one song each.
Of the five on which Henley receives a co-write credit, the first, in sequential order, is second track 'You Never Cry Like a Lover' – he and Souther penning a piano-based ballad that reads as a litany of complaints about the woman in the other half of a doomed love affair.
The title is the first of many criticisms levelled at his lover, the song often cited when Eagles' lyrics are renounced for their misogyny – despite being a cover 'Already Gone' is also used as an example – and although a degree of compassion for the poor waif is found during the second verse, which Henley as ever, sings eloquently, ('I thought I saw somebody I loved, sleeping deep inside you/If I could catch you in an unguarded moment/I'd stay right here beside you'), you do wonder what attracted the narrator to her in the first place.
While this somewhat mournful track is not dissimilar to those contributed by Souther to the forthcoming debut LP of country rock 'super group' The Souther-Hillman-Furay Band, (assembled around this time by Geffen perhaps concerned the Eagles were running out of steam), it is a well-recorded, smartly arranged piece, beefed up by a sharp guitar solo, presumably by Leadon, with Frey occupied on piano. One of the songs captured by Johns, it is unlikely he batted an eyelid at the lyrical sexism – having worked in the previous couple of years with Led Zeppelin.
The title-track, which closes side one, gives clearest indication of how the Eagles were evolving. The forthright opening guitar chords set up a chunky rock song on which there is no hint of country music, despite Leadon receiving a co-writing credit.
With its handclaps and rolling drums, components that would return on 'Heartache Tonight' five years later, the narrative makes oblique references to Nixon-era America and in particular paranoia fueled by Watergate – the lyric depicts a tapped telephone call with the spectre of political intrusion brought to bear in the final verse. After vocal lines have been tossed between Meisner, Leadon and Frey, Henley weighs in with:
'And we wanna know whose wing are you under/You better step to the right or we can make it hard.'
Between the distinctive background vocals and vociferous guitar work, the song falls somewhere between The Chi-Lites and Crazy Horse. True, for the Horse Neil Young would have come up with a more direct set of lyrics, but for the Eagles it was another significant step away from their sons-of-the-desert debut album demeanor.
The belligerence is maintained on 'Good Day in Hell' (credited to just Henley and Frey), the band back on familiar turf in being wronged by a duplicitous woman ('You been wondering why she haunts you/Beauty in the devil's disguise'). The writers share lead vocal duties while Felder excels in producing some fiery electric guitar lines, the closing couplet, 'All this gratification/And sick conversation/Someone get me out of town' ensuring this, the penultimate track, exists in a world closer to the Faces than Flying Burrito Brothers.
There is no shortage of energy either in side two opener 'James Dean' – a tribute to the brooding American actor, whose death in a road accident nineteen years earlier at the age of just 24 had elevated him to cultural icon status.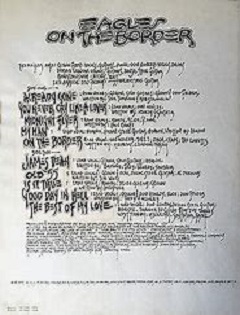 Over rumbling drums and fizzing electric guitars, Frey sings lead (along with he and Henley, the song is also credited to Souther and Browne), the lyrics nicely contrived in referencing the film Dean was best known for ('You were the low down rebel if there ever was/Even if you had no cause'), and also the make of vehicle he was driving when killed ('Along came a Spyder, picked up a rider').
As the song races to a conclusion the sound of a sports car is heard speeding into the distance, the closing epithet, 'You were too fast to live, too young to die, bye bye,' used ever since to describe everyone from Keith Moon to Kurt Cobain to Amy Winehouse.
For his songwriting contribution Leadon also writes a homage – the song 'My Man' evoking, especially in the second verse, country rock pioneer Gram Parsons, with whom the composer had once been a Burrito brother. Succumbing to a drug overdose at just 26 years of age in September 1973, through his groundbreaking work with The Byrds and then Burritos, Parsons had been one of the first to explore the notion of fusing country with rock, a well from which the Eagles were now drawing.
Despite being dismissive of the polish they had brought to the crossover possibilities he had pretty much begun, his friendship with Leadon had endured, as some deeply moving lines testify.
To the accompaniment of acoustic and pedal steel guitar, Leadon, in remembering his former band mate, tugs on the heart strings even more with mention of 'Hickory Wind' – a serene Parsons composition that appears on The Byrds' 'Sweetheart of the Rodeo' album:
'I once knew a man a very talented guy, he'd sing for the people and people would cry/You knew that his song came from deep down inside/You could hear it in his voice, see it in his eyes.'
With great wistfulness, Leadon continues in the same heartfelt manner:
'So he travelled the road, touched your heart and then be gone/Like a flower he bloomed 'till that old hickory wind called him home.'
Former Byrd and Burrito brother Chris Hillman recalled Parsons in his song 'Heavenly Fire' on the Souther-Hillman-Furay debut record and while a touching testimony, it is the Eagles with their soaring backing vocals and affecting words of Leadon, who produce the definitive eulogy.
Their impressive bank of harmony voices also feature on 'Ol 55' a reading of the Tom Waits song that first appeared on his 1973 'Closing Time' LP. With Frey and Henley again taking turns at singing lead, ruminations on life and love as seen from the driver seat of a 1955 car are expressed – the melody by and large performed on piano and pedal steel. Chronologically the last studio cover the Eagles would include on their run of 70s albums, it was a fine way to finish, even if not everybody heard it that way.
When announcing the song at a late-90s Eagles concert, Frey quipped: 'We heard old Tom didn't much like our version – then the cheques' started rolling in.'
Some were not enamored either by 'Midnight Flyer' this cover of a Paul Craft song described 'a dud' by Rolling Stone magazine in their review of the album.
Which is slightly unfair as the song, an ode to, you guessed it, a demanding woman taking a man for a fool, (his exit planned on the train giving the piece its title), is sung effectively by Meisner and performed in sprightly fashion.
With Leadon prominent on banjo, which he plays with undeniable gusto, the overt country feel to 'Midnight Flyer' is a throwback to side two of the debut album, until that is the last ninety seconds when Frey interjects on slide guitar. The purpose is seemingly two-fold – creating the effect of a moving train, while also showing how the band were moving away from the track they had started on. So rather than a dud, it is perhaps, more a muddle.
That said, the harmonies once again are excellent, the same of which can be said for 'Is it True?' where Meisner once again sings lead, only this time on his own song.
As a mid-paced country rock track of the period it works well enough, the reflective lyric while no great shakes, is delivered clearly by the composer, whose normally understated bass playing is pushed up in the mix. If anything the overall performance is greater than the parts, serving notice that in terms of country rock outfits the Eagles are already way ahead of the field in song execution alone.
Proof they were now at the centre of a triangle whose points were country, rock and pop, was evident on opening cut 'Already Gone' – a rousing run through of a song co-written by Robb Strandlund and Jack Tempchin, the latter having contributed the contrasting 'Peaceful Easy Feeling' to their first album, which became a Top 30 hit when released as a single.
Surrounded by a battery of electric guitars, Frey tells the tale of how he does not intend to be left on the shelf after hearing from a friend he is about to be dumped. With no hint of the funk that was currently infusing Little Feat albums or the jazz inflections being utilized by Steely Dan, the Eagles play things dead straight with this slice of well-heated power pop, souped-up by stylish guitar lines and crystal clear vocals.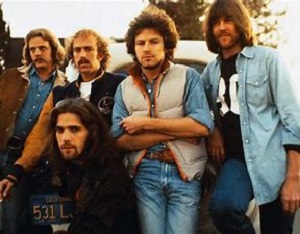 While the lyrics of 'Already Gone' have not a shred of vulnerability, album closer 'Best of My Love' is a genuinely poignant acoustic ballad depicting a relationship on the brink of collapse.
Attributed to Henley, Frey and Souther, it is the first in a long line of mature, well-crafted romance-in-ruins songs Henley would have a hand in as an Eagle and then his acclaimed solo career. After two expressive verses where he recounts their troubles without blame or bitterness, the third is even more emotional as hopes of reconciliation appear to be fading:
'Every morning I wake up and worry what's gonna happen today/You see it your way I see it mine/But we both see it slipping away.'
With Leadon underlining the sorrow with rueful pedal steel guitar breaks, 'Best of My Love' asserts without doubt that in Henley and Frey the Eagles had two exemplary vocalists and aligned to Meisner and Leadon they could harmonize rings around the opposition. By way of irony, it was this song, one of the two that survived the lamented London sessions with Johns that would provide the group with their biggest hit to date, rising to top spot on the US charts when put out as a 45 early in 1975.
Such success came on the back of an album that peaked at number 17 on US listings, 'On The Border' attaining gold record status within six weeks of release. Just as importantly, however, it dispelled any thoughts of the Eagles losing their early momentum – healthy sales allowing them to join fellow front-runners Linda Ronstadt and Jackson Browne in leading the charge of the L.A. 'light' brigade, whose melodic soft-rock sound would become a defining element of 70s music.
Critical reaction to 'On The Border' had been generally favorable, Rolling Stone magazine, with whom the group always had an uneasy relationship, described it ('Midnight Flyer' aside) as 'competent and commercial' which in terms of praise was as grudging as it is possible to be, their overview referring to a 'tight and likeable collection.' While not exactly a glowing endorsement, it was certainly more flattering than labels of 'slick professionalism' and 'smug detachment' the same publication would attach to the next two Eagles' albums, each LP an improvement on the last.
Indeed, with their 1974 release, the Eagles began an unstoppable march that would see them become the most successful rock band on the planet, reaching a creative zenith with 'Hotel California' (1976).
By now Walsh had replaced Leadon to give them three lead guitarists steeped in rock on a sometimes dark, often remarkable record that explored the decadent aspects of Los Angeles culture, a journey that began when they extended their line-up and changed producers – prior to which had been some months of uncertainty, the Eagles themselves spending time, on the border.
EAGLES – ON THE BORDER (Released 22 March 1974):
Already Gone/You Never Cry Like a Lover/Midnight Flyer/My Man/On the Border/James Dean/Ol' '55/Is It True?/Good Day in Hell/Best of My Love;
Hello – hope you enjoyed another exclusive production from SAMTIMONIOUS.com
In order to create the best experience for when you drop by to read a page or two, those with the power to ordain such things (me, actually), have decided to remove all external advertising from the site – in other words articles will no longer be subject to intrusive pop-up ads. BUT – and ain't there always one – should you wish to make a donation toward the on-costs of the most entertaining and original blog-site around, please press on the – 'DONATE' – button below. It will be greatly appreciated.
Stay safe everyone and thanks for dropping by – best wishes Neil
SAMTIMONIOUS.com – films, football and fabulous music at The Dominion of Opinion
NEIL SAMBROOK is the author of 'MONTY'S DOUBLE' – an acclaimed thriller available as an Amazon Kindle book.