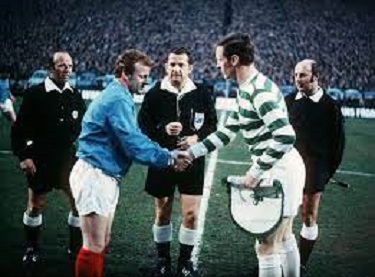 I – Friday 20 March 1970:
Arriving back in his office after a morning training session, Leeds United manager Don Revie sat down wearily in the chair behind his dark wood desk, intimating to chief scout Maurice Lindley that he move the pile of dossiers stacked on the only other seat in the room and sit.
For the boss of the reigning league champions, current first division leaders and perspective FA and European Cup finalists, the room was surprisingly compact but meticulously set out. The same could be said for the dossiers; observations on the players and tactics of Wolverhampton Wanderers who Leeds faced in a crucial league game the following day – such paperwork (compiled by Revie and Lindley) and handed out to each member of the team in regard to the opposition Leeds were about to face.
For the next few minutes the two men made small talk in relation to playing Wolves and also the FA Cup semi-final replay against Manchester United at Villa Park on Monday, the first encounter, played at Hillsborough the previous Saturday, ending in a goalless draw.
Following that rumbustious affair, Leeds had then shown admirable resilience in overcoming Standard Leige in a second-leg European Cup quarter-final on Wednesday night to book their place in the last four. The topic of conversation then moved to what had given the practice pitch and Elland Road in general that morning its buzz – anticipation of the semi-final draw and speculation on who Leeds would be paired with.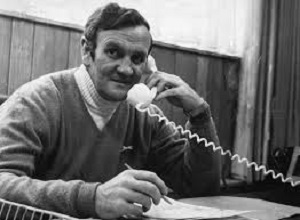 As midday rain began spotting against the office window, for a moment Revie and Lindley sat in nervous silence while awaiting a phone call from club secretary Keith Archer – who at that moment was attending the draw at UEFA headquarters in Berne.
'If it's Celtic Don,' began Lindley, bringing the brief period of quiet to an end, 'I'll head up there tomorrow as they've got a home match with Ayr.'
'Given the choice I'd prefer to avoid them,' replied Revie, 'good final us and Celtic.'
'Feyenoord are decent,' continued Lindley, 'saw Holland at Wembley in January who had a few of their players in the side. Couple of them looked very useful, comfortable on the ball. Kindvall the Swede who plays up front for Feyenoord is a handful. To be honest I don't know much about Legia War...'
Before he could complete the sentence the telephone began to ring in a sharp, insistent manner.
'Here we go,' shrugged Revie, reaching across to lift the receiver, 'you watch, it'll be Celtic.'
On answering he said, 'Thank you' while awaiting the process of connecting him to Archer in Switzerland to be completed. 'Go on then Keith, let's have it………………really. April 1st and 15th with us at home in the first-leg. We'll take that I think.'
Before confirming with Archer they would rendezvous at Molineux tomorrow, Revie quietly mouthed 'We've got Legia Warsaw,' across the desk to Lindley – the thoughts of the chief scout immediately turning to a visit beyond the Iron Curtain for a look at the team standing between Leeds and a first appearance in the European Cup Final.
On ending the call with Archer, Revie made telling the players his next priority. Going through the door marked 'Players & Officials Only' to enter the inner sanctum of Elland Road, Revie and Lindley were walking down the corridor when through the wall they heard an almighty crash.
On seeing Billy Bremner emerge from the source of the commotion, namely the 'Home Team' dressing room, Revie asked his captain: 'What the hell was that Billy?'
'Norman's just broken a leg boss.'
Revie responded with a look of confusion as behind him Lindley said, 'Oh no, not another bloody injury.'
Having taken off his boots, but otherwise still in training kit, Bremner smiled as he looked at them. 'No. He was showing one of the apprentices how to go into a tackle – but followed through and broke the leg on the dressing room table.'
'Well I'd wish he'd be more careful.'
'Said he got the ball first, boss.'
'Alright Billy,' replied Revie indicating toward the dressing room door, 'get yourself back in there – I've got the European Cup semi-final draw.'
II
Despite Bremner, Norman Hunter and Johnny Giles all failing pre-match fitness tests, hopes of retaining the title were maintained with a 2-1 win at Wolves. All three returned for the FA Cup semi-final against Manchester United on Monday, only for a stalemate to necessitate a second replay three days later. The Thursday night encounter at Burndon Park, Bolton, was ultimately decided by an early goal from Bremner, who the day before had been named 'Footballer of The Year' by the Sports Writers Association – his eighth minute strike sending Leeds through to an FA Cup Final meeting with Chelsea on Saturday 11 April.
But three gruelling matches in six days had taken a heavy toll – and when Southampton arrived at Elland Road on Saturday 28 March, Revie found himself shorn of six first team regulars, each one an international. His makeshift side succumbed to a 3-1 defeat, the first match they had lost in any competition since Boxing Day.
With the visit to Derby County on Easter Monday (30 March) beginning a sequence of four matches in six days, Revie realised his worn-out first choice players needed respite and turned up at the Baseball Ground with a second string – the subsequent 4-1 reversal, combined with another victory for fellow Championship contenders Everton, all but ended the chance of Leeds winning an unprecedented treble.
Everton were duly crowned champions with a 2-0 home win over West Bromwich Albion on Wednesday 1st April – the same night Leeds resumed their European Cup campaign when Legia Warsaw arrived at Elland Road for a first-leg semi-final meeting.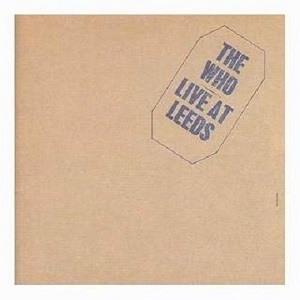 On a hastily arranged edition of 'Sportsnight With Coleman' (moved from its usual, at the time, Thursday night slot, to a Wednesday), host David Coleman introduced the programme before handing over to Kenneth Wolstenholme – who began his commentary by inadvertently name-checking a record only days away from being acclaimed as the greatest 'in concert' rock album ever made.
'Tonight we are live at Leeds…….for this first-leg European Cup semi-final.'
Even the half-hour highlights package gave evidence to just how fatigued Leeds had become and although still missing key defender Hunter, managed to keep a clean sheet. When they summoned the spirit for a spell of late pressure, a foul on Scottish winger Eddie Gray resulted in an 80th minute penalty that was converted by England striker Allan Clarke.
Leeds now had a slender advantage for the return in Warsaw, although hopeful notions of a first all-British European Cup Final hung in the balance after Celtic suffered defeat in Rotterdam, full-back Tommy Gemmill opening the scoring in a match Feyenoord came back to win 2-1.
Due to the FA and Football League setting early completion dates for the 1969-70 season in order to accommodate the preparations of world champions England ahead of the Mexico World Cup, twenty four hours on from the rigours of a first-leg European Cup semi-final, Leeds saw their intense fixture schedule reach new levels of unrelenting engagement – the following night (Thursday 2 April) bringing a visit to West Ham.
With the club fined £5,000 by the Football League for fielding an under-strength team in the recent fixture at Derby, Revie named seven of the team who faced Legia Warsaw the previous day, only for disaster to strike defender Paul Reaney who sustained a broken leg in the Upton Park encounter – an injury that not only sidelined him for the rest of the season, but cost the ever reliable full-back a place in the England World Cup squad.
Two goals from Clarke earned Leeds a draw at West Ham – a chastening, traumatic week ending with Eddie Gray scoring twice in spectacular fashion as Burnley were beaten 2-1 at Elland Road.
With a week clear of fixtures before the FA Cup Final showdown against Chelsea, preparations centred on ensuring the walking wounded would all be fit, indispensable utility man Paul Madeley already assigned the number two jersey usually worn by Reaney.
On Tuesday morning, after visiting those players being treated for injuries in the medical room, Revie found Lindley in his office, the chief scout delivering a clutch of dossiers on their Stamford Bridge opponents. While giving his thoughts on how Chelsea would line-up and their likely formation, Lindley paced the room, pausing to look out of the window. Beneath pale sunshine he saw two magpies land on the practice pitch and knowing Don to be a superstitious man, brought them to his attention.
'You know Maurice, I think this is an omen – a good one,' said Revie on seeing the birds for himself, 'on Saturday rather than come with us to Wembley, I want you at the Scottish Cup Final taking a look at Celtic. I reckon that might serve us well further down the line.'
As the back pages continued building up an FA Cup Final with north v south, Roundhead v Cavalier connotations (Chelsea seen as the football embodiment of Swinging London), interest in the game was momentarily overshadowed on Friday morning when Paul McCartney announced he had left The Beatles.
With the press sensing a huge transfer story, rumours were rife Jack Bruce, bass player of now defunct super group Cream would be signed as a replacement – but the speculation was quashed when it emerged Lennon, Harrison and Starr had no interest in continuing the group, The Beatles announcing they had split before nightfall.
III
As Saturday unfolded the title of the current number one hit record, 'All Kinds of Everything' by Irish songstress Dana, was being interpreted as reference to an atrocious Wembley pitch comprising of sand, mud and a small smattering of grass – the Chelsea pensioners invited to attend believing the surface had been recreated in their honour as a World War One battlefield.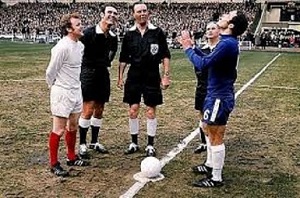 Despite the mess underfoot an absorbing contest soon developed, Leeds rewarded for their early dominance when Jack Charlton headed them into a 20th minute lead. With Gray giving the Chelsea defence, particularly full-back David Webb, a torrid time their control of the match increased – only for their advantage to be wiped out four minutes before half-time, goalkeeper Gary Sprake misjudging a speculative low drive from Peter Houseman as Chelsea unexpectedly drew level.
Continuing to hold sway after the break, it appeared they had clinched victory when centre-forward Mick Jones fired them back in front with six minutes left, but within ninety seconds Ian Hutchinson had levelled for Chelsea to force extra-time – and with no further scoring in the additional half-hour, the FA Cup Final went to replay for the first time since 1912.
Thus was created another fixture for a group of players, many of whom had already played over 50 matches during the season with a minimum of four still to play – one of which would be the FA Cup Final replay, now scheduled for Old Trafford on Wednesday 29 April.
IV
During the flight to Poland on the morning of Tuesday 14 April, Lindley spent half an hour in the seat next to Revie going through the notes he had taken at the Scottish Cup Final played the previous Saturday when Celtic, already crowned league champions north of the border, were surprisingly beaten 3-1 by Aberdeen. The upshot of the diagrams and note-taking was Leeds, should they prevail against Legia Warsaw, would likely be facing Feyenoord in the final.
Twenty four hours after arriving in the Polish capital, Revie sent a team unchanged from the one who contested the FA Cup Final onto the field of the Wojska Stadion. With the final words of his team talk, Bremner and Giles were reminded of their responsibilities in stemming the threat posed by highly-regarded Legia midfield man Kazimierz Deyna, whose named featured prominently in the scouting report submitted by Lindley.
In their Arsenal-styled red shirts with white sleeves, the home side were initially cautious in their quest to wipe-out the first leg deficit, concerned by the threat Leeds posed with the breakaway pace and penetration of wingers Gray and Peter Lorimer.
Satisfied with their compact and resolute first half display, at the break Revie asked for more purpose in attack, his instructions carried out to the letter when on the hour Jones and Gray combined to create a shooting opportunity for Bremner – who from twenty yards drove a sweetly-struck shot into the Legia net.
Faced with no option other than throw caution to the wind of a chilly Warsaw night, Legia found the Leeds defence in no mood to yield, but with less than ten minutes left were thrown a lifeline when Sprake was beaten by the flight of cross – the ball forced home from close range after rebounding off the post.
The Leeds goalkeeper made amends by saving bravely at the feet of Robert Godacha who had been played into space by Deyna (two players who would be synonymous with a momentous night for Polish football in London three years later), but as a result of the collision Sprake suffered a knee injury that forced him to leave the field – substitute goalkeeper David Harvey having to endure an uncomfortable five minutes before the final whistle called time on a 1-1 draw that secured Leeds their place in the European Cup Final.
In a dressing room jubilant for the first time since the FA Cup semi-final success against Manchester United, Revie had just finished extolling the players on their efforts when secretary Archer entered to whisper a message to the manager.
Receiving the news with a nod of his head, Revie called for quiet and informed the players: 'Lads, when we go to Milan for the final next month we'll be playing Celtic – who tonight came back to beat Feyenoord 3-1.'
Unbeknown to Revie, who was not aware of the match details, he had uttered something of an understatement, as 90 pulsating minutes at Celtic Park had seen the home side concede the first goal to go 3-1 down on aggregate. The tables were turned during an extraordinary second half when goals from John Hughes and Bobby Murdoch levelled the tie – skipper Billy McNeill then heading a late winner to spark thunderous delirium among the near 75,000 crowd.
V
When the match-tired, travel-weary Leeds players reported for training on Friday morning the newspapers were pursuing the 'Battle of Britain' European Cup Final angle – but before flying out to face Celtic at the San Siro Stadium on Wednesday 6 May, Leeds had their final two league matches and the FA Cup Final replay to contest.
There were no such demands on the Scottish champions, however, who would be wrapping up their domestic programme at St Mirren the following day while Manchester City were visiting Elland Road.
One consequence of Leeds prolonging their season by reaching the European Cup Final was those players who were included in the England World Cup squad would be unable to travel to Mexico with the rest of the party when they departed on May 1st.
The quartet of Jack Charlton, Norman Hunter, Terry Cooper and Allan Clarke, were withdrawn from a pre-tournament training camp organised by England boss Sir Alf Ramsey and also made unavailable for the Home International fixture against Scotland at Hampden Park on Saturday 25 April – a match for which Celtic trio of David Hay, Tommy Gemmill and Jimmy Johnstone received permission to play in from manager Jock Stein, despite the impending 'Shoot Out at The San Siro Chorale' as it was being dubbed in certain newspapers.
Revie gave dispensation, however, for his England contingent to appear with the rest of the squad in an appearance on 'Top of the Pops' in performing the 'Back Home' England World Cup song. The four hurried back to Elland Road to resume club duties, but also to inform their Scottish team-mates the track was in fact, written by a Scot – dressing room banter reaching the level of 'it'll be the closest a Scotsman will get to being involved in the World Cup this summer.'
On Saturday 18 April while Celtic were defeating St Mirren by the odd goal in five at Love Street, only six of the players who performed so heroically in Warsaw were in the Leeds team facing Manchester City – who would be contesting the European Cup Winners Cup Final against Polish side Gornik Zabrze in Vienna on the same night as the FA Cup Final replay.
In the event it proved a comfortable afternoon for Joe Mercer's men who ran out 3-1 winners, Harvey continuing in goal for Leeds with Sprake remaining on the injured list.
There were fewer still recognised first-teamers on duty when Leeds closed their league campaign at Ipswich three days later – a 3-2 defeat of no consequence with the title surrendered and second place long since ensured.
Aside from long-term absentee Reaney, Revie was confident all his front-line performers carrying knocks would declare themselves fit for the FA Cup Final replay, leaving him with a selection dilemma over who to play in goal as the recently error-prone Sprake was ready to resume, despite Harvey performing well since coming into the team.
Faced with the choice between experience and current form, Revie had his options described as 'Catch 22' by one newspaper, who evoked the title of a Hollywood film currently doing good business at the box office, the two goalkeepers pictured side by side in the process of 'catching' a ball. On the morning of the match most papers in predicting Harvey would play were proved right, Revie otherwise selecting the same ten outfield players who started the FA Cup Final and European Cup semi-final second leg.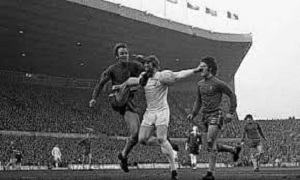 In an attempt to quell the wide threat from Gray, Chelsea switched the roles of Webb and skipper Ron Harris – and in his new role of full-back an early scything tackle by Harris on the Leeds winger set the tone for a brutal, confrontational affair; referee Eric Jennings seemingly deciding the players were best left to their own crime/retribution devices, taking only one name on the night and that for time-wasting.
Between the fouls and flare-ups there was also some excellent football, Leeds rewarded for their greater share of possession when Jones fired them ahead seven minutes before half-time. After the break they continued to hold sway, but with less than a quarter of an hour remaining, a lapse in concentration afforded Chelsea striker Peter Osgood the room to head home an equaliser.
Through extra-time the match grew into a much more even contest, but it was the Stamford Bridge side who landed the decisive blow – Webb nodding home from close range after a long-throw from Ian Hutchinson had been flicked to the far post.
In being denied their first FA Cup success Leeds had seen realistic aspirations of winning three trophies narrow to just one in barely a month. Nobody at Elland Road viewed the European Cup as a consolation prize but Leeds were left to reflect on two FA Cup finals they had largely dominated – four hours of football in which they had trailed for just 16 minutes, the time between Webb scoring and the final whistle.
VI
Despite a week between the FA Cup Final replay and the European Cup Final, it remained touch and go whether Gray would be ready to face Celtic. Having swapped shirts with Harris at Old Trafford the winger had sportingly given the Chelsea captain his studs back as well, his fitness giving Revie one issue to mull over, another being a possible recall for Sprake, the Welsh goalkeeper deemed fully fit by the club doctor.
After training at the San Siro 24 hours before kick-off, Revie decided that when the stadium was a cauldron of noise it would be no place for nerves so decided to reinstate Sprake, the player informed during the bus journey to the stadium just as it passed Piazza Mercanti that for the past 24 hours had become a sea of green and white – one photograph depicting a huge swathe of Celtic supporters captioned 'The Italian Battalion' in one Glasgow paper.
With a UK television audience predicted to rival the 28 million who had tuned in for the FA Cup Final replay seven days before, Brian Moore hosted the ITV coverage, joined in a London studio by former Celtic player and Manchester United European Cup winner Pat Crerand and Manchester City coach Malcolm Allison, who a week before with manager Joe Mercer had masterminded their triumph in the European Cup Winners Cup Final – the two men now on opposite sides of the broadcasting divide with Mercer alongside Coleman at the BBC.
Hugh Johns was assigned commentary duties for ITV, while on BBC the familiar voice of Wolstenholme set the scene by saying, 'At the beginning of March, Leeds United looked capable of winning everything and anything including the General Election. At the that time they seemed unbeatable, but now, at the beginning of May………..'
After an evenly contested opening twenty minutes that produced no clear-cut chances, a spark was required in order to make the match befitting of the two best sides in Europe – it arrived when a sweeping Celtic move put Lennox through in the Leeds penalty area, his low shot well saved by Sprake.
But when Auld sent over the ensuing corner, the goalkeeper hesitated on leaving his line allowing John Hughes to score with a firm header from six yards. Despite passing an eleventh hour fitness test, Gray was receiving no change from full-back David Hay and when forward on an overlap it was Hay who delivered the cross that caused more panic in the Leeds goalmouth – Hughes on hand to score his second as Celtic took a 2-0 lead into the break.
From the opening minutes of the second half Leeds began committing more players forward in an effort to respond, but the Celtic defence soaked up spells of pressure without undue alarm and not even the disruption of having to replace Lennox who was injured in a tussle with Giles affected their hold on the match – substitute Connolly racing clear to score from a pass by Johnstone after he had skipped away from two defenders.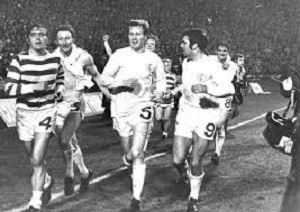 Yet still Leeds found the determination not to go down without a fight. With ten minutes to go Hunter headed home from a Lorimer corner, the deficit reduced further on 88 minutes when Giles was on hand to score after a tiring Celtic defence failed to clear their lines.
In a season that often seemed it would never end, Leeds went all out to extend it by another half an hour, but ultimately were denied the extra thirty minutes when Jones was thwarted at point blank range by Evan Williams – the Celtic goalkeeper mobbed by team-mates seconds later as they held out to become European champions for the second time in four seasons.
Afterward, with Celtic celebrations echoing from their dressing room and the streets around the San Siro, Revie expressed his disappointment, but was magnanimous in defeat:
'We feel hurt, but I'm proud of the Leeds United players who have given their all and were prepared to go on giving all as long as there was something left to fight for. Celtic deserved to win tonight, but I'll never stop wondering what the result might have been had we been fresher. Congratulations again to Celtic for bringing the trophy back to Britain and hopefully in a couple of months England can bring the World Cup back to our shores as well' – the Scottish reporters in the group he was addressing apparently not having the shorthand for his last remark.
VII
After fulfilling his obligations of speaking to the press Revie went to seek solace in the dressing room, but on arrival found it deserted, the players he assumed already back on the coach in readiness for returning to the hotel. As he sat down, the air still clammy from the heat of the showers, on the bench beside him had been left one of the dossiers prepared on Celtic, Revie by chance opening it on the page that said 'Connolly breaks from midfield onto passes from Johnstone.'
After taking a moment to reflect his team had played fourteen matches in forty six days and still finished empty handed, he stood up to leave when following a knock at the door, Stein, followed by Matt Busby and Bill Shankly entered, Stein handing Revie a bottle of Italian beer.
'Thought you might fancy this Don,' said the Celtic manager.
'Thanks Jock,' said Revie taking the drink in one hand while shaking hands with Manchester United and Liverpool counterparts with the other, 'and good luck in retaining it next year. With any luck one of us will be in there challenging you the season after next.'
'We were just talking about that,' remarked Busby, 'Jock was saying how someone from UEFA had mentioned to his chairman that plans were being discussed at allowing the team who finishes runners-up in a league to qualify for the European Cup.'
'Have you ever heard anything so ridiculous,' said Shankly, sharpness evident in his broad Scottish tones, 'being rewarded for finishing second – no offence Don. The supporters wouldn't want it, the players wouldn't want it – have they forgotten its called the European Champions Cup for a reason.'
'I can't see it happening for exactly the reasons you've said,' said Revie taking a sip of beer, 'which makes it about as likely as my old team Sunderland winning the FA Cup.'
AUTHORS NOTE:
When creating a parallel universe to conjure an alternate history of British football in the 1970s, it is always done with a sense of plausibility in mind – although where Leeds United and the closing weeks of the 1969-70 season are concerned, fact is often stranger than fiction.
In the running for the League title, FA and European Cups with April fast approaching, an unrelenting run of fixtures in a time frame unimaginable today – due, as stated, to England preparations for the Mexico World Cup – saw them fall short on each front, injuries and fatigue ultimately taking a heavy toll.
In admiring the resilience of Leeds and Don Revie in stretching their resources as far as they did, is not to undermine the achievements of a splendid Everton side who won the league, the swagger of Chelsea in winning the FA Cup or a strong Celtic outfit who started the 1970 European Cup Final against Feyenoord heavily fancied to win – only to be surprised by highly competent opponents and not helped either by a touch of complacency on their own part.
In that respect playing a team with the repute of Leeds, irrespective of their tiredness and injuries, would most likely have produced a superior display to the one Celtic actually produced in Milan on May 6 1970.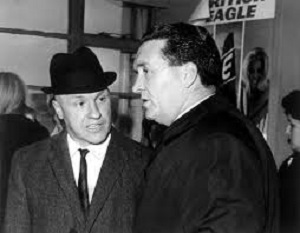 When considering what events to change came temptation to spare poor Paul Reaney the agony of a broken leg in the fixture at West Ham – Bill Shankly only too aware of how Leeds were impacted by that misfortune.
'Few people realise how big a blow Leeds suffered when they lost Reaney,' he said, 'his absence upset the whole rhythm and balance of the side. Madeley should have been kept where he was because Bremner and Giles rely heavily on his ability to win the ball for them. His presence in that area of the field enables them to concentrate on playing a positive game.'
The words attributed to Kenneth Wolstenholme at the start of his European Cup Final commentary are a slightly revamped paragraph from the FA Cup Final replay match report written by Geoffrey Green of The Times, but everything else, all the contrivances, spurious music and film references are the work of the author – who for all his flights of football fancy could never come up with anything as outlandish as Nottingham Forest winning the League Championship and the first of successive European Cups at the end of the 70s.
Or as Don Revie (might have) said, Sunderland winning the FA Cup.
Hello – hope you enjoyed another exclusive production from SAMTIMONIOUS.com
In order to create the best experience for when you drop by to read a page or two, those with the power to ordain such things (me, actually), have decided to remove all external advertising from the site – in other words articles will no longer be subject to intrusive pop-up ads. BUT – and ain't there always one – should you wish to make a donation toward the on-costs of the most entertaining and original blog-site around, please press on the – 'DONATE' – button below. It will be greatly appreciated.
Stay safe everyone and thanks for dropping by – best wishes Neil
SAMTIMONIOUS.com – films, football and fabulous music at The Dominion of Opinion
NEIL SAMBROOK is the author of 'MONTY'S DOUBLE' – and acclaimed thriller available as an Amazon Kindle book.